Last week I was on Google+ (a rare occurrence) an noticed a post from Terrance Gaines of BrothaTech.com about his 30-Day Windows Phone Challenge.
I was intrigued.
The gist is he's gonna toss his iPhone 5 into a drawer for the next month and exclusively use his Windows Phone to see what he thinks. As you all know, I also have a Windows Phone, a Nokia 928 that the gracious people at Verizon provided to me to play with for a while.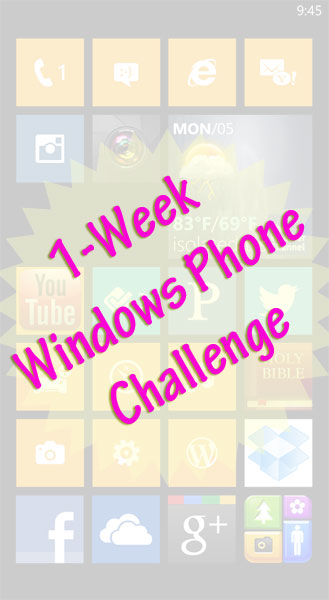 I must admit that, I've had my Nokia 928 for a month or 2 now and I don't really use it. I have some things I love about the phone and I'm quick to pick it up for those specific things (camera, music, maps), but for the most part I'm still not swayed enough to not just grab my Samsung SIII Android phone and make it do what it do. Well BrothaTech's challenge was so inspiring that I immediately picked up my Nokia and started earnestly playing around with it and the Windows Phone Operating System like I never had before. Then I took it a step further and vowed to do my own challenge, a … wait for it …
1-Week Windows Phone CHALLUUUUUUUUUNGE!
lol
Yes boo boos, a 1-Week Windows Phone Challenge right here on Glamazini.com for your viewing pleasure brought to you compliments of Verizon and moi.
Here's the gist:
From Sunday August 4th – Saturday August 10th I will be using my Nokia Lumia 928 Windows Phone "exclusively". I put exclusively in quotes because I can't figure out for the life of me how to automatically forward my text messages from my current phone so I still use it for that until I figure it out. I can't stay out of touch with my son's therapist because of a phone challenge #loveyallbutlovemysonmore.
I sorta already started on Saturday the 3rd, but I'll make Sunday to Saturday the official week. I have to admit that even after a couple days so far I'm more versed in this phone than I was in the past few months, I just had to give it a chance.
I will be updating this post below with my thoughts as the week progresses so bookmark it and be sure to return.
Do you have a Windows Phone? What are your thoughts on it?
:::::::::::::::::::::::::::::::::::::::::::::::::::::::
UPDATES AFTER MY 1-WEEK CHALLENGE 
:::::::::::::::::::::::::::::::::::::::::::::::::::::::
I wrote this update the other night then my blog decided to eat it and it made me have the sads LOL. I'm back again because I know this will help someone so here goes nothing *clicks save*:
All in all my week of Windows Phone usage went very well. I must admit I was not a fan of the operating system when I first started the week. I've had the phone for a while now but only found myself picking it up for the camera for exceptional photos and video and the sound quality when listening to music. It also has a sweet build quality that I so wish my Android phone had. This challenge really … well … challenged me to get over my irks and dive in. I'm so glad I did!
I can't say I love the phone or the Windows Phone operating system, but I can say I "get it" and it didn't take that long. Maybe after 2-3 days I felt like I knew what was going on. The learning curve, even for this former web interface designer, was steep but not insurmountable and, once I gave the phone a chance it's really not difficult at all. #whoknew
One thing I did notice overall is when I found the app I wanted in the App Store (about 80% of the time to my surprise), it typically had less functionality than it's Android counterpart. That was probably the most frustrating part of the week. I also would have liked the interface of the Windows Phone O/S to allow for less bulky elements on the screen. I think because of the whole "live tile" concept everything becomes kind of boxy with thick lines and less sleek. I did fall in LOVE with the 6tagram app for Instagram and even realized that the YouTube App I downloaded made it easier to manage my YouTube inbox than on my Android phone. In a week I was able to download and use over 30 apps (6tagram, Adobe Reader, Alarms, Amazon Mobile, Bible, Calculator, Camera, Dropbox, Facebook, Fhotoroom, Flashlight, Foursquare, gCalendar (for my Google Calendar), Gluey (for Get Glue), Google Plus Viewer, Jusgramm Free, MyFitnessPal, Nokia Drive+ Beta, Page Manager for Facebook, Pandora, Panorama, PhotoGrid, Photos, Redbox, Rowi [lite], Settings, Shazam, SkyDrive, Stopwatch, Twitter, Weather, Woman Calendar, WordPress, Yahoo! Mail, and YouTube) so I consider this a huge success!
Here are my tweets using the hashtag #glamwinphone.  Feel free to still follow that hashtag as I may still use it in the upcoming months.:
Enjoy!
::::::::::::::::
Gonna do 1-Week Challenge! ☞"30-Day #WindowsPhone Challenge" via @BrothaTech bit.ly/15lOVOI #brothawinphone #VZWVoices #style #Nokia
.@BrothaTech you inspired me to take #Nokia #Lumia for weeklong exclusive spin & see how really handles w/ no #android net. #brothawinphone
Instance is telling me my IG username & password have changed. Not sure what to do so I'll uninstall & reinstall. #Windowsphone
.@AskKim potentially. I had lots of problems last week, but @BrothaTech mentioned API issues fixed so I had hope.
Ugh … #Rowi now is saying there's some issue so I'm uninstalling & sticking with the #Windowsphone Twitter app #aintnobodygottimefodat
Screenshot on #Nokia #Lumia 920/928 #windowsphone? Short press LOCK & START buttons 2gethr Pict goes to SCREENSHOTS album #vzwvoices #style
Ok just downloaded my fav UberSocial on #windowsphone & only has 1 star rating & is UberSocial Tweets⁉