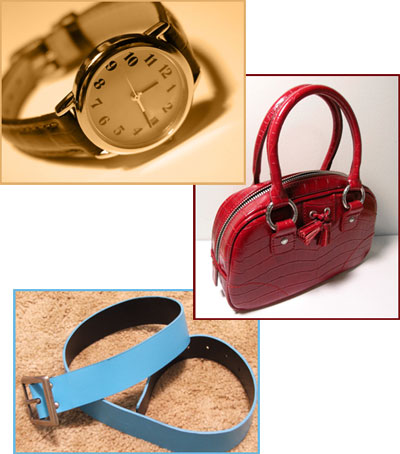 by Brenda Lyttle 
Just as it is the case with your halloween costumes that seem incomplete without the right accessories, undermining the importance of a good accessory to team up with your dress is one of the biggest fashion mistakes you can make.
Accessories sizzle up any outfit like nothing else. A chunky bracelet, a cuff, a stylish handbag…they can all make a plain dress look trendy in no time. In fact, you can also use these accessories to help you update your wardrobe from previous season until you get something new. Here are some of the accessory trends of Spring 2012 that are popular:
Gold Cuffs – Whether your outfit is floral or bright, and whatever the length of the sleeves, these versatile gold cuffs are just perfect. They are bold and eye-catching.
Dazzling Sandals – Flashy and dazzling sandals are going to rule the season. Don't forget to get your feet in a fabulous condition as you are going to wear gem-studded strappy sandals. Make sure that your outfit is, however, not studded too much or you will end up looking like a decked up Christmas tree.
Bright Scarves – These are not something from winter. The bright and trendy scarves that you see this spring are from the previous spring. Wear them over your tees, tank tops or any other top that seems right to you. They are available in vibrant colors and look good.
Pilot Shades – Get some warm sun on your face with these pilot shades. The oversized shades of last spring have been replaced with these pilot shades that show more of your face. This is an accessory that will suit everyone irrespective of the shape of face.
Shoulder Bags – Shoulder bags are back with a bang. After the satchels and hobos of last spring, it is time to take a break and get these well-loved shoulder bags.
Oversized Floral Rings – Floral dresses and floral rings? These oversize floral rings make a statement about your style and personality. Pick up some bright colors that draw attention to your outfit.
Bright Tights – Black tights are no longer needed. What you need to keep up with the colorful spirit of spring is bright tights. Get bold colors that scream for attention. Colors like purples, yellow and teal are the ruling jazzy colors of tights of Spring 2012.
Manly Watches – Along with the bright colors and floral prints, manly watches are popular too. Like the cuff, gold watches are preferred. Don't miss this hot trend that will make you stand apart.
Thin Belts– Fat is out and slim is in! No, this is not about how you look, but about your belt. Store those thick belts and add colorful thin belts to cinch your tops, jackets and sweaters. Keep it high above your waist and look cool.
Bold Boots – With colors everywhere, why should these booties stay far behind? Black is out and colors are in. Choose colors for rain or sun and show them off.
Spring 2012 is all about bright and bold colors. Toss away black and usher in colors into your wardrobe – whether it is accessories or outfits.
~~~~~~