An online friend forwarded me the information for this calendar saying "it reminds me of you". Once I checked it out I was so humbled and 1000% in love with the calendar.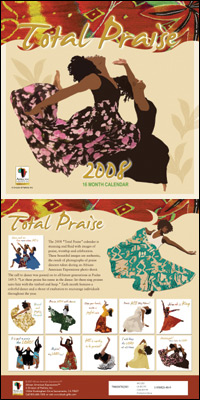 And of course I heart all the natural hair in this sucka too! … So I bought 3 of them, 1 for me, 1 for my SIL Quiana and one for my girl Lolita

The 2008 "Total Praise" calendar is stunning and fluid with images of praise, worship and celebration. These beautiful images are authentic, the result of photographs of praise dancers taken during an African American Expressions photo shoot. The call to dance was passed on to all future generations in Psalm 149:3: "Let them praise his name in the dance: let them sing praises unto him with the timbrel and harp." Each month features a colorful dance and a shout of exaltation to encourage individuals throughout the year. "
Check out Black-Gifts.com if you'd like to have one for yourself.