Now that I'm back into doing make up I've been watching video on Youtube

 & could not help but here everyone and their mother rave about
Urban Decay Cosmetics Eyeshadow Primer Potion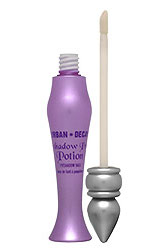 Basically a primer is used to help make up last longer, basically it helps it stick.  I used MAC Paint in Tan Ray for years as my eyeshadow primer, but after hearing the reviews on UDPP I had to try it.
Long short: The stuff is incredible! 
I can put on make up in the AM circa 7AM and when I get home that night at 9PM there is barely a crease in the shadow after applying UDPP (focusing on the crease line especially).  I have extremely oily skin and w/o a primer my shadow as creased and vacating my lids after just a few hours. Now this is no longer an issue!!

You can buy this @ Sephora.

 BRAVO!