Here we are at the end of the week already; day 7 of my 30 Days of Thanks series for the month of November. If you missed day 6 you can read it by clicking HERE or catch up on the entire series right HERE.
On this 7th day of November
I am thankful for …
… the perspective that one year can give.
Earlier today a friend posted on Facebook about the "suddenly ability of God" and his ability to switch things up on you in a moment and make a way when you think there is none.
Well last November I was at home tending the wounds of my 4 month old son, not leaving the house because I was  a first time mother fearful of him getting sick or an infection in his wounds. This November heading out to celebrate my anniversary while my family watches my son for the weekend.
Last year I had no clue if my son would be verbal and this year he's babbling away and even telling me "no!" (the nerve).
Last year I felt like there was no hope for my depression. This year I'm implementing techniques and feeling much better.
Last year I was 25lbs heavier.
Last year I thought I would never get back into my Zumba class and this year I've gone for months on a weekly basis!
Last year I was wishing I could be in the Virgin Islands away from all this, this year I will be.
Last year I could barely see myself leaving the house with my son without major anxiety, this year I've already flown with him solo to Florida.
Last year my son's medical issues could have weighed my marriage down but this year my husband and I are better than ever.
Last year my laptop was a mess, this year I have a new laptop.
Last year I was wishing for a new camera, this year I've gotten to use an awesome camera for free!
Last year I had to skip the BlogHer conference, this year I went.
Last year I could not see past the upcoming minute and this year I'm feeling like 2014 will be my year and prepping for just that.
Last year I felt stuck, this year I feel hopeful.
What a difference a year makes!  It's all about perspective. Can't wait to see what the next year brings!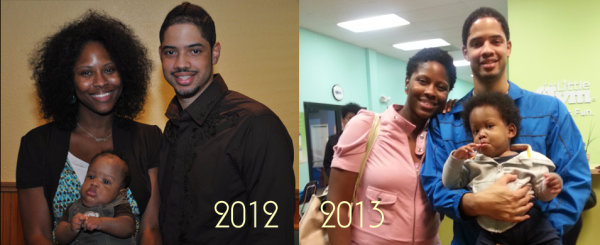 What are you thankful for? Let me know in the comments below.
See you tomorrow.