Aw, the summer travel season is upon us. I didn't think I'd be going anywhere this year but turns out God had other plans. I'm traveling to Chicago right now (as in today) to attend the BlogHer 2013 conference. I'll be driving up from St. Louis with my girls Kesha from Uncommonchick.com and Danyelle from TheCubicleChick.com, and rooming with them and Yolonda of NotoriousSpinks.com and, as you can imagine, I'm beyond excited. I was a bit over going to conferences, but this particular one has eluded me for a couple years so I'm thrilled to have the opportunity to attend. Not only that but I'll be off mommy-mode for a few days and your girl needs the break *wipes brow*.
Now onto hair…
… since I cut my massive head of hair off a few months ago, you would think my regimen on this trip would practically non-existent but that's not necessarily the case. With longer hair I could wear a twisted style and take nothing more than some moisturizer, a shower cap, a bonnet and some bobby pins with me. Now that I have this teeny weeny afro (TWA) action going on, I actually have to WET and "style" my every morning. Sounds like more work to me lol … so much for easy peasy. Either way, I've gotten my styling down to a science so it should not be too bad, and I figure since I'm going and I have this handy dandy blog I would share the products & tools I'm traveling with to make it all happen.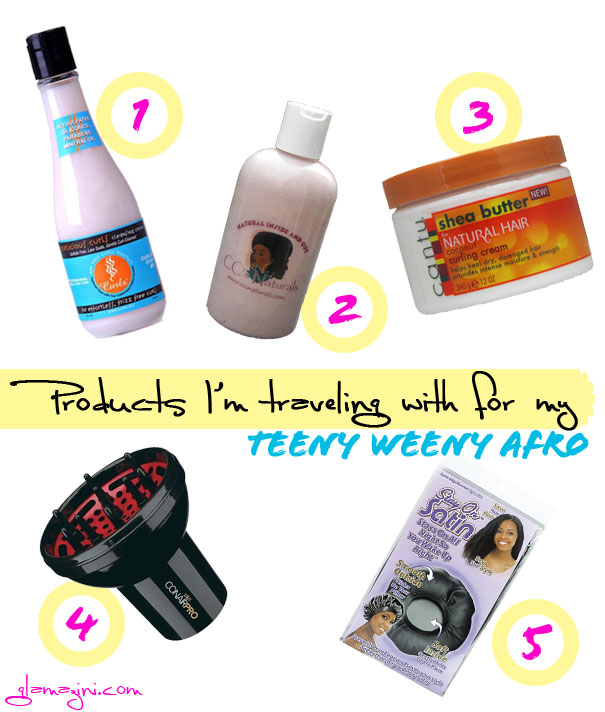 Products I'm traveling with for my TWA:
1. Curlicious Curls Cleansing Cream
I purchased this product TWO years ago and have only used it once. Typically during the week I will conditioner wash or just wet my hair in the shower, then on the weekends I will wash with shampoo. Since this is in the shampoo family except much milder (think a cross between conditioner and shampoo that doesn't lather), I'm hoping it will do the trick as my morning cleanser without the need for additional conditioner. We will see. If I try it once and my hair needs a little something more I will use the hotel conditioner and report back to you all stat!
2. CC's Naturals HIbiscus Leave In Conditioner
This leave in conditioner was my gifted Natural Hair Box and I've been using it for maybe a month now with great results. Although I do have issues with the packaging, the product inside the bottle is a light, pleasantly scented leave in that my hair seems to love. Also it's been working well with product #3 below, with no buildup so if it ain't broke don't fix it!
3. Cantu Shea Butter Coconut Curling Cream
Cantu sent me this product to review and I must admit it's a winner! It smells like pina colada #yum and gives my curls hold without crunch and adds a little bit of sheen. I put this on right after my leave in.
4. Conair Pro Tourmaline Universal Finger Diffuser
I started using this about a month ago when I achieved enough hair length to have curls. It really helps set the curling cream, remove the dripping water from my hair so I can go on with my morning and not disturb the curls. I read the reviews on Amazon.com
and many say it's not a universal fit however it works perfectly on my Vidal Sasson 1600 blowdryer (older model but still kickin).
5. Stay On Satin Nites Bonnet Sleep Cap #600
Last but definitely not least is my favorite sleep bonnet
. Every natural girl knows that sleeping on cotton is not ok when it comes to our hair. It will cause dryness, unnecessary rubbing and ultimately breakage. You should always sleep on silk or satin pillowcases and/or with your hair covered with either of those two materials. At home I've been sleeping on a satin pillowcase (which I toyed with taking with me), but for this trip I'm whipping out my trusty satin bonnet from my longer-hair days. I really love this brand because the edges are satin lined as well so there's no tugging of elastic on my delicate edges AND they come in larger sizes which was super important when my hair was longer (as in bigger).
So there you have it, 5 products that are in my bag right now to take care of my TWA on this out of town trip.
What do you take to care for your TWA when you travel?