For the past 6 months I've been participating in the Midwest Verizon Wireless Style Voices program. As part of the program, Verizon graciously provided me with a Samsung Galaxy Camera and six months of service in exchange for my honest opinions.  As the program comes to an end *tears*, I'll be doing a few "wrap up" posts to let you all know my thoughts after months of usage.
Who remembers "The Glamcam"?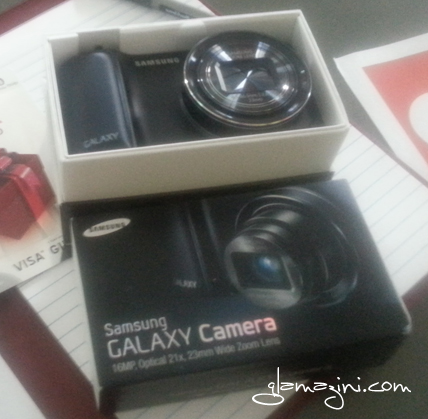 If you don't you should.  I have absolutely positively without question fell in love with this thing, but I'm getting ahead of myself.
For those not in the know, the Samsung Galaxy Camera is a "smart camera" or a "connected device" meaning it's an amazing camera with the full Android operating system on it. This allows you to do everything you'd do with your smartphone on this camera, barring making phone calls (although I've heard if you use Google Talk you may be able to even do that with calls on speaker phone).  I've used this camera to edit and upload high quality images directly to Facebook, Instagram and my blog as well as tweet, post online, surf the web, check emails and most importantly I now use this camera to shoot the majority of my YouTube videos!
Back in May I put together this quick video of my first thoughts about the camera after less than one day of use.

Click here to watch it on YouTube.
Now that I've owned it for 6 months, I pretty much agree with everything I said on day 1 which shows me how easy this camera is to pick up and get started with directly out of the box, especially if you're already familiar with the Android operating system.
Here are more of my thoughts.
Amazing Photo Quality
This 16 megapixel camera with 21x zoom and many of the advanced camera setting of a DLSR has upped my photo game. My brain has yet to totally comprehend things like Aperture and mm, but even without knowing how to use that stuff a novice like me can still take incredible photos!  Two issues I have with this camera that I hope they improve in future versions are the lack of a "selfie" camera and I'm also not a fan of the way the flash works. . Samsung has a selfie camera feature on their Galaxy S3 smart phone (which I have and love) so I know it's possible.  The flash is a powerful Xenon Flash but it's not automatic and reminds me of when I had to buy flash cubes for my old 110 crank camera back in the day. Most of the time I choose not to use it.
Epic Video Quality
If you would've told me that by October I'd be filming my videos with this camera and this camera ONLY I wouldn't have believed you but honey yes!  The video quality is to die for, and I continue to get comments on "how clear my videos are". This thing is shooting HD video with 1080p playback and I'm cranking out HD MPEG4 files for my YouTube channels as fast as it'll let me.  The mic is great for picking up projected speech clearly. I'm in love!  I was planning to buy a DLSR to shoot my videos, but then I got this camera and haven't had to. #winning.  Once again, and more importantly for my use, a "selfie" camera like they have on the Samsung Galaxy S3 smart phone would make shooting my videos SO MUCH easier because right now when I shoot I can't see what I'm filming if I'm not infront of a mirror.
Android Operating System
I don't know who thought of this but I thank you.  This is one of the best parts of this camera.  I can upload high resolution images directly to all of my social media platforms without the middle man.  Love.
Battery Life
Not bad at all. I can go for a few days without charging it unless I've been shooting many videos.  I'd say I charge it once a week.
I am beyond please with this camera and would highly recommend it for YouTubers, Bloggers or just social media enthusists out there who like to produce high quality and share it efficiently.  You can find the camera on Verizon.com.  I also saw it in the Sky Mall magazine, a recent Costco brochure and even in my Thank You points Christmas flyer so it's definitely available for you to grab. I'll be doing a separate post on Verizon's service but for now I highly recommend you us them because their service is super reliable.
Huge Screen
The 4.8" HD  LCD Screen is an attention grabber. Every time I use this camera in public someone mentions that they thought I was on a phone but then realized it was a camera how cool!  My only qualm is I wish there was some coating on the screen so you can see it well when you're outdoors or in the sun.
To check out the complete list of specifications visit the Verizon.com website.
I am beyond please with this camera and would highly recommend it for YouTubers, Bloggers or just social media enthusiasts out there who like to produce high quality media and share it efficiently on the go.  You can find the camera on the Verizon.com website as well as several other major retailers.
Stay tuned for my next program wrap up post about the Nokia Lumia 928 Windows Phone.
Ta ta for now *waves*