This post used to be called "6 Ways I Use Coconut Oil" but clearly I'm obsessed. The list continues to grow so enjoy!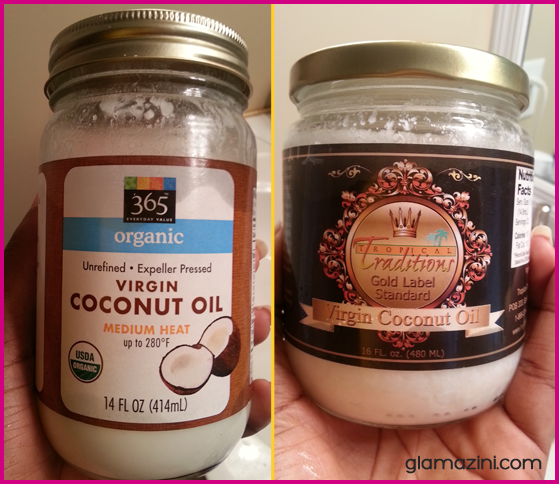 I love coconut oil.
I've been mixing it with shea butter to moisturize my hair and body for years. Last week I joined an oil pulling group on Facebook (more on oil pulling later), and mentioned that I use this oil in varied ways. When asked how so, I realized, I need to share this information with my Glamazini readers stat!
So here are
9 Ways I Use Coconut Oil
1. Coconut oil as a pre-shampoo treatment
In the natural hair community the pre-shampoo, or "pre-poo", is a must. Our motto is "Don't start wash day without it." or something like that HA! A pre-poo is not just for us naturalistas. It does wonders for all hair types, softening the strands and helping decrease breakage and loosen tangles.
Here's what I do:
Warm some coconut oil (best way is to sit the container in hot water then use melted oil)
Optional: Separate hair into 2-6 sections (depending on how much hair you have) securing each section with a snag-free band
Apply oil all over hair (keeping hair in sections)
Let the oil sit for at minimum 15 minutes. Optional: Cover hair with conditioner cap and/or sit under the dryer
Detangle hair from ends to roots with your favorite detangling tool. I use a modified Denman D3 brush, but recommend something with less bristles like the Denman D4. I also love this detangling pick.
Wash your hair as usual.
I also do this pre-poo treatment by mixing oil (coconut and/or olive) and my favorite conditioner or hair mask. This is always the first step on my hair washing days. It has been integral in retaining my hair's length and keeping my strands healthy.
2. Coconut oil as a hair and body moisturizer
I have used coconut oil mixed with shea butter as a homemade moisturizer for my hair and body for almost a decade. My original video here and here are some of my most popular on YouTube! I updated the video recently showing what I do currently to make my own hair and body moisturizer:

Watch video on YouTube
3. Coconut oil as a facial moisturizer
This is one I stumbled on by mistake. I was given a jar of Tropical Traditions Gold Label coconut oil as a gift a couple years ago. I put it in my kitchen and rarely use it. One day I had washed my face, came downstairs and forgot to use a moisturizer. In my haste I grabbed the coconut oil and, since I knew people who use olive oil on their face, decided to use it instead of walking up the stairs to get my usual moisturizer. During the entire day my face felt a.maz.ing. I could not stop touching it! I decided to use the coconut oil on my face before bed that night and had similar results the next morning.
Here's what I do:
Wash face as usual
Take a small dab (size of a dime) of coconut oil and rub it between your palms to emulsify the oil
Apply the oil all over your face and neck. It will be oily at first, however in a few minutes the sheen will subside. I tend to do this at night because it is still a bit "dewier" a look than I prefer if I have to leave the house.
I highly recommend the Tropical Traditions Gold Label coconut oil for this specific use because I've tried with other oils and I can tell the difference. This brand is hand-pressed and noticeably higher quality. For more on why click here.
4. Coconut oil as a lubricant for clippers and razors
When you are finished using hair clippers it's recommended to clean and lubricate the blades before storing. They sell a lubricant specifically for this purpose, but I find that coconut oil works just as well.
Here's what I do:
Turn the clippers off
Brush all the hair clippings out of the blades
Take a small dab of coconut oil on your finger and rub it across the blades
Move your fingers out of the way and turn the clippers back on for a few seconds so the oil distributes through the blades
Turn the clippers off, unplug and store as usual
I also use coconut oil if I need a quick pass of the razor. That has typically been on the rare occasion that I shave my eyebrows with one of those eyebrow razors you find at the beauty supply store or facial hair trimmers (like in this video). Coconut oil works perfectly because it provides protection, slip and it is transparent so I can see what I'm doing.

Watch this video on YouTube.
Here's what I do:
Brush brows into desired shape
Take a small dab of coconut oil and apply it on brow where hair is to be removed
Use the razor to shave off hair in the same direction hair grows (typically toward your ears)
5. Coconut oil as a nipple balm while breastfeeding
This was something my lactation consultant suggested, and I'm happy she did. I already own coconut oil so I'm 100% in support of anything that saves me money and works. I started out using an actual nipple balm product and eventually switched to coconut oil and it worked just as well.
Here's what I did:
Filled small containers like these with coconut oil and placed in my breast pump bag and anywhere in the house that I typically breastfeed my son
Once I finished breastfeeding or pumping I put a dabbed of coconut oil on my nipple and proceeded as usual
Coconut oil is very close in composition to the sebum, or oil, that the human body produces anyway so this use makes sense, and is perfectly safe for you and baby.
6. Coconut oil for oil pulling
As mentioned at the beginning of this post, I've recently begun using coconut oil for oil pulling.
What is oil pulling you ask?
Oil pulling is a health remedy that uses oil (typically plant based) to detoxify your body and clean your teeth and mouth. It's called "pulling" because the oil is supposed to "pull" toxins out of your system. I have started oil pulling on several occasions in the past, but never kept it up. Recently I joined and oil pulling group on Facebook (click here to join) so share experiences and be more accountable.
Here's what I do:
Optional: Brush your teeth as usual
Put a teaspoon of oil into my mouth (don't worry, if it's solid it will melt)

Swish the oil around for 20 minutes (I typically do this while I'm getting ready in the morning and in the shower)

Spit the oil into the kitchen trash or a small plastic baggy and discard. Don't spit in sink or tub because oil can clog pipes overtime.
Optional: Brush your teeth again (Note: you have to pick one of the teeth brushing sessions, both of them aren't optional LOL. I brush twice.)
In the past I never noticed any benefits of oil pulling so I was not motivated to continue. Now that I'm in the group I've kept pulling for a little over a week and, thus far, I can report much cleaner teeth (like that just-from-the-dentist clean feel). Others in the group have had noticeable whitening an other benefits so be sure to join to learn more. I will definitely be back with more on oil pulling if I experience new results.
UPDATE: I did a post about my oil pulling experience, check it out here: I Oil Pulled For Three Months, Here's What Happened
7. Coconut oil as a facial cleanser &/or makeup remover
I'm editing this post on 12/8/14 to add that several months ago I started doing oil cleansing with coconut oil with amazing results!
Oil cleaning is when you use an oil, instead of a typical soap based cleanser to clean your face and/or remove your makeup.
Here's what I do:
Scoop a quarter-sized amount of oil into your hand and rub your palms together to warm the oil until it melts into a clear oil.
Massage your face with the oil to remove dirt. If you're trying to remove makeup be sure to gently rub around your eyes etc. to get rid of liner, mascara etc. You'll be amazed how well this works.
Continue to gently massage for a while to really give the oil time to break up dirt and makeup.
Run hot water onto a washcloth and hold it over your face. Let it sit for a few minutes, then gently wipe the oil off your face. Repeat this step 2-3 times.
When finished, ironically, I tend to cover my face with a small amount of coconut oil but you can also just use your favorite moisturizer.
I find that doing this every morning or a few mornings a week works really well for my skin.
8. Coconut oil for mental clarity?
Ok, this one's strange but stick with me. Have you heard about "bulletproof coffee" where people add a scoop of coconut oil to their morning cup of coffee and swear by it's ability to perk them up and give them mental clarity during the day?
Well, I'm not saying that works (I tried it once or twice but feel weird scooping coconut oil into my coffee) BUT my mom purchases homemade coconut oil from a lady in the Virgin Islands who started making it to help alleviate the symptoms of her husbands apparent dementia. And guess what? It helped! He's not 100% but his ability to get up, have energy, think, walk and function is so improved that she makes her own coconut oil and sells it on the side. That said, I've been known to pop a scoop (teaspoon to tablespoon amount depending on the mood) in my own mouth solo or in food or a smoothie when I need a little zip and I think it helps (who knows but it's not hurting right?). Also, I have to do oral motor stimulation exercises with my son per his occupational therapist so I've gotten to scooping up a bit of coconut oil on my finger before I do them in the morning and I've noticed a difference in him & his delays (once again, not sure if it's the coconut oil but shooooo it ain't hurting.)
9. Coconut oil to treat leather
I use coconut oil to clean my leather and pleather boots each season before I store them. First I wipe them with a damp cloth, then I follow up with a bit of coconut oil on a cloth (or on your hands) and rub it in well. Then I wipe the excess off in a buffing motion and store my boots. When winter rolls around I'm always happy that past me made sure current me had nice shiny supple clean boots. Yay me.
In closing,

How do you use coconut oil?