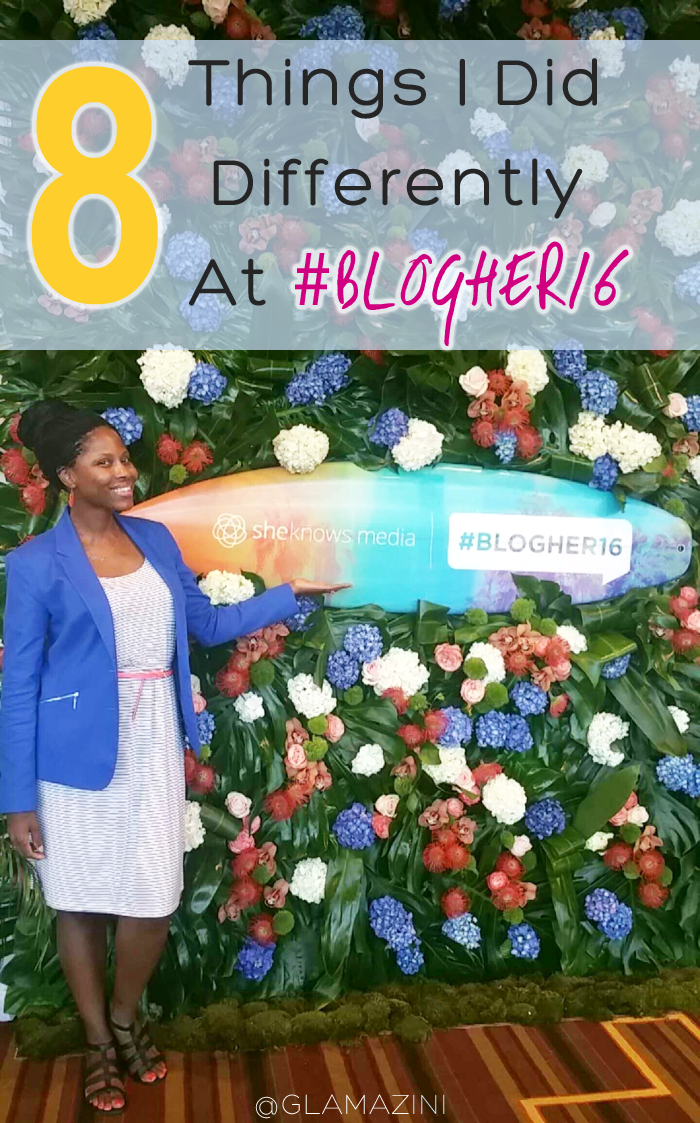 Hey y'all, Happy Tuesday!
Guess who just caught her first red eye flight back from Los Angeles, California fresh out of attending her 2nd ever BlogHer Conference, #BlogHer16?!
*whispers* The answer is Glamazini … that's meeeeeeee!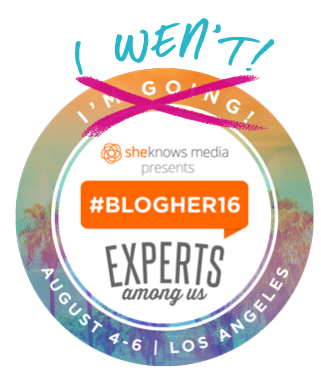 Presented by SheKnows Media, BlogHer, the world's largest conference for women digital content creators, was held at the L.A. Convention Center this past weekend, August 4-6th. My first time attending was in Chicago at BlogHer13, and this year I decided I couldn't pass on a trip to Los Angeles, the opportunity to see some old friends, meet some internet friends for the first time, and connect with brands.
On its 11th year, and with over 3,500 attendees, presenters, and brands, BlogHer is the place to be as a women in the digital space, whether it be blogging, social, or video. When I went in 2013 I had no clue what to expect, and honestly was just happy to be there. Attending BlogHer was literally on my bucket list, so I was eager to check it off and check it out. What I experienced in 2013 was amazing but, because I am slightly more seasoned this time I intentionally did a few things differently at BlogHer16! Here they are:
I Joined An Attendee Facebook Group
I requested to be added to the Going To BlogHer Annual Conference Official Facebook group (because I learned there was one). In the group I gathered useful information; things like how to easily get to the host hotel from the airport, and that Kim Kardashian West would be a keynote speaker at the conference just to name a couple. I just checked the group post-conference and attendees and organizers are now posting about their experiences, offering thank yous, and asking further questions. It is a great way to stay connected.
I Downloaded the BlogHer Mobile App
If BlogHer had an app in 2013 I knew nothing about it. This year I downloaded the BlogHer Mobile app a couple weeks before the conference and used it to keep track of my schedule, brush up on the sponsors and speakers (found out a long time online friend was speaking and finally met her), book my shuttle ride from the airport with a discount, get alerted to events and changes real-time during the conference, and find my way around when lost #truestory.
I Had A Plan
This may seem like a no-brainer but, last time I attended BlogHer I just went with the flow, meandering from event to event with no rhyme, reason, purpose, or intention. Fast forward to 2016 and I arrived in L.A. on Thursday knowing exactly what my goals were for the weekend and how I planned on executing them. This came about by educating myself since the beginning of the year via digital entrepreneur groups like Courage 2 Earn on Facebook, purchasing books like Pitch Session: The Blogger's Guide To Pitching Partnerships, Collaborations, and Sponsored Posts (use code glamazini to get $.50 off the $5 price tag), being responsive to emails that landed in my inbox from brands wanting to meet one-on-one, and researching brands before the conference so I knew which I wanted to engage with and could speak intelligently about their product or service and thereby know how we may be able to partner. I forgot to mention that I purchased a Networking-Only pass (just like in 2013), and not a Full Conference pass so I was not able to attend any sessions, keynotes, or the awards but if that were the case, I would have done the same thing with the speakers and sessions that I did with the brands. Research.
I Attended Sponsor Events
I mentioned it above briefly but, this time around I spent an entire day attending one-on-one and group events hosted by brands that reached out to me directly or via BlogHer. I started at 9AM on Friday and my last event ended at 8PM! It was a loooong day, but well worth it. The face-to-face time and in depth look into each brand was irreplaceable and made the next day spent entirely in the Expo Hall visiting sponsor brand booths much more productive.
I Only Brought Home One Business Card From A Fellow Content Creator
This may seem strange since one of the points of attending a conference like BlogHer is to meet other like-minded women but, unlike 2013 when I returned home with a burger-thick stack of beautiful business cards from other attendees that I didn't know what to do with beyond connect on social media, this year after going through my spoils I realized I only had one … that's 1 business card from a blogger. Don't get me wrong, I did connect with new people and enjoyed every minute of it but, I think my focused approach made those connections fewer and easier to instantly create by following them on social right on the spot as opposed to collecting a card.
I Visited the Expo Hall With Intention
This year was different. I knew what my goal was: to connect with brands of interest to me and my audience and convert those connections into partnerships. Armed with that goal, previous research, and resources, it was much easier to approach the Expo Hall with the sponsor brand booths and even skip a few that were not a great fit maximizing the time spent with those that were. To that end, I left with over 40 legitimate contacts for varied brands and PR agencies, many of whom I had individual face-to-face time with, which leads me to another thing I did differently.
I Intentionally Went Solo
I'm starting to sound like a bit of a loner but hear me out. In 2013 I was a newbie and had no clear goal in mind. This made socialization high on my list and building business relationships fuzzy on that list at best. This year the opposite was true. My intention was to initiate meaningful brand partnerships, and a secondary purpose was to connect with other attendees socially. That meant signing up for and attending brand events and meetings that were a good fit for me, Glamazini, and no one else, and that meant doing so solo. It also meant intentionally walking the Expo Hall by myself so I did not have to match anyone's pace or feel like I was competing with a friend for the ear of a contact.
I Didn't Focus On Swag
I mean, I'm a minimalist but I still like getting gifts! In 2013 I drove to and from the conference and if they gave it to me I took it. I returned home with everything from a bluetooth speaker, cell phone, snacks, drinks, bags, coupons, gift cards, shoes, makeup and more. Bags and bags as far as the trunk of my friend's car could fit lol! This year I flew to L.A. and I'm much more focused about my mission (not to mention serious about my minimalist lifestyle), so I voluntarily refused a whole lot of swag and purposefully picked and chose what I would bring home. So much so that a representative at a brand booth commented that I was "very mature" when I refused a gift from her after explaining my intent to minimize. I told her I just turned 40, then got the bonus gift of hearing her swoon about how young I look. *tee hee*
. . .
FOR MORE INFORMATION UPCOMING BLOGHER CONFERENCES VISIT BLOGHER.COM/CONFERENCES
Was BlogHer16 not your first rodeo? What did you do differently this year?