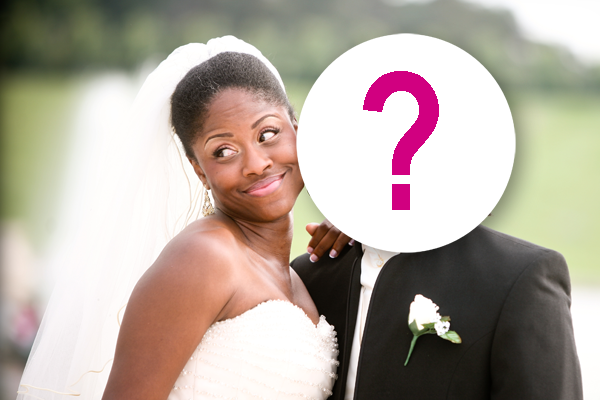 Who's been watching this new reality show called Married at First Sight on FYI?  If not, you're in luck because they are posting full episodes on the website and you can catch right on up.
The show airs on Tuesdays at 9 ET/10 PST but since we don't have that network my husband and I watch it online, typically on Thursdays because they are super quick about posting new episodes and that's when we usually remember to tune in.
The premise of the show is simple:  six singles agree to participate in a social experiment where they are scientifically matched and get legally married the first time they meet their partner.
Yes LEGALLY MARRIED the FIRST time they meet their partner!
They do not get to know anything about their future spouse and I mean nuffin … no name, no picture, no age, no nothing.  Four specialists, a sexologist, spiritualist, psychologist, and sociologist are tasked with creating these matches and let me tell you, I am glued to the (computer) screen every single week.
Full disclosure, when I first heard about the show I thought it was the most ridiculous thing I had ever heard in my entire life.  You get MARRIED without knowing the person beforehand? What in the world?! Who would do such a thing?  I was expecting the same ole drama-and-fooleywang-for-ratings reality show where two people clearly not meant for each other beyond superficial interests like drinking, tanning, and hot-tubbing, are joined together in "holy" matrimony and we all watch them self-destruct while feigning  shock and claiming to not be judgmental #judgementnojudgement.
That's not what I got.
I tuned in solely because I learned about the inclusion of the 4 specialists, and recognized the name of the sociologist, Dr. Pepper Schwartz.  This peaked my interested and I pulled up the casting special to watch with my husband.
The grueling processes used to select the participants was impressive and I loved that they also highlighted some of the people who were not picked for positive and negative reasons and explained why. If you want the entire casting special you can HERE. This and subsequent episodes spurred on interesting conversations between my husband and myself.  Through these conversations I realized that I would totally do something like this. (Not sure that hubby would, but he also believes in soul mates … more on that later).
So without further adieu:
A Few Reasons Why I Could Be Married at First Sight
1. I would not trust my ability to choose a partner
I am not saying I, Roshini who is sitting here composing this blog post, don't trust my ability to choose a partner … I (Roshini who is sitting here composing this blog post) does and always has… but the assumption is I'm a single person who is willing to go to a reality show casting call in hopes of meeting someone.  This says a great deal about my mindset.  I've seen all the matchmaking shows on the television and know the usual foo foo waa waa that the reality show engine cranks out and yet, I get my brows waxed, slap on a cute dress, and and show up hopeful.  This says that I am also most likely fed up with the dating scene, fed up with the people I've been meeting, fed up with the time commitment just to be let down one mo 'gain, and fed up with choosing flop after flippity flop.  At this point I'd be down for whatever another informed person with some relationship savvy had to input into my selection process because Lord knows I don't know what I'm doing LOL
2. My spouse is chosen by legitimate specialists
Like I said, a sexologist, a spiritualist, a psychologist, and a sociologist are the ones doing the choosing … not a ratings-hungry casting director. That is what convinced me to watch the show in the first place and that, coupled with my #1 reason would have peaked my interested and kept me considering. Shoo, can I hire this team to help me pick and secure my next job? LOL! #kiddingnotkidding
3. I don't believe in "soul mates"
The other day I asked my husband if he believed in soul mates and he answered with a resounding "Yes!". Imagine his facial expression when I said I don't believe in soul mates and, if there really is such a thing, I REALLY don't believe you only have one. He was not amused. I think commitment is a choice and an action. I'm not denying that we can be more compatible with one person than we are with the other, but once that foundation of compatibility is present I think the rest is up to us and what we choose to do. A friend once said "Married is not something you are it's something you do." and I 100% agree with that statement. The initial butterflies in your belly and quiver in your liver that we all enjoy can eventually simmers into a deeper truer love if you let it.  You must then choose to love each other through actions on a daily basis. When you do this, I believe the feelings follow. It already speaks volumes about the person's mindset if they are willing to go through with the marriage. They have to think  similar thoughts to the ones I'm thinking  which leads me to my next point:
4. My future spouse values commitment
They must value commitment on some level if they are willing to get MARRIED to me without meeting me first.  Either that or they are real comfortable with the concept of divorce, but, the specialists allowed true "deal breakers" to be communicated and that would be something I voiced strongly. Divorce isn't an option in my mind (I do understand it happens, I do understand I am not immune, but I don't go in thinking "If this doesn't work I have an out"*).  The show is not called "Vacation at First Sight" or "Date Me For a While and See How It Goes"  it is called "MARRIED at First Sight" so they must be the married-minded type.
* My husband pointed out that this thought alone would probably exempt me from being a participant since the premise of the show includes potentially choosing to get a divorce at the end of 4 (or is it 5) weeks.
5. I'm married so I know what it takes
Ok this is like an inception reason because now I'm talking about Roshini who is sitting here composing this blog post and how in the world could imaginary Roshini who went to the reality show casting call know such a thing? That makes me no never no mind, shoooooo. I'm writing the blog post, I've been in the game for just short  of 8 years and from the inside looking out I know, if both people choose, these marriages can work. Even when you select the person you're headed down the aisle with it's hard out here, which leads me to my next point.
6.  Even when you select your spouse it's hard out here
Shooooooo (I been saying shoooo a lot huh? lol), this marriage thing ain't for the faint of heart. I think that's what messes most people up on the other side of the aisle and why our divorce rate is EPIC in this here U.S. of As.  We have it all wrong. People are out here choosing mates based on superficial criteria that fades into the wind like smoke off a candle, then wondering why the marriage does the very same thing. Like I said, I chose my husband, I felt the butterflies and the liver quiver, and after 5 years dating then 7+ years married it has been WORK and a daily CHOICE to get where we are today.  My husband so aptly pointed out that the couples involved in the show may make the mistake of attributing every issue that comes up to the manner in which they met, but in reality every marriage takes love in the form of action and conscious effort on the part of each partner to make it work every day.
7. My focus would be on commitment and not on you changing from the person I originally met
This thought takes up too much of our focus in the early days of marriage. You distract yourself by planning this big ole wedding and reception shindig, skip down the aisle all bright eyed and bushy tailed armed with your unrealistic expectations of your spouse and marriage based on your family of origin, experiences and too many romantic comedies, spend a month or 5 in a honeymoon fugue then come out plotting murder when you realize you pretty much got hitched to a regular human being with flaws and not the Ken doll with super powers like you thought.  This very thing  was perfectly expressed in an article I read in this month's Vogue magazine about the author's parents falling in love after nearly three decades in an arranged marriage:
"The problem with the Americans is that they get so wrapped up in this who-I-chose business," my father, a surgeon and regular confidant of the OR nurses, told me when I was thirteen. "They will say, 'He has changed' or 'She isn't who I married.' Indians never say that. We have no idea who we married!"  His logic was simple: When you don't have passionate feeling to glaze over your partner's flaws in early marriage, you are less likely to be undone by the inevitable disappointments later on.
We've all been there in some fashion … and I'm willing to admit I spent WAY to much time at the beginning of my union being disappointed and hot as fish grease over what I considered the bait and switch of it all. The long short is we all are on best behavior when we first met … many of us can be that way all the way through the beginning of the marriage, but eventually, just like holding your breath, we all have to exhale and drop our "representative" for the real deal Hollyfield … an then what? I'm not saying that's the best thing because ultimately you come around to realizing that you keep the person by doing the same stuff you did to get them, but that takes a few years in the fire (lol #laughingnotlaughing). These couples don't have to even deal with that thought. The worse they can think is "These specialists were TRIPPIN'!" and even that doesn't directly indict their spouse in any way. I think that can make it easier if you're insightful enough to then work through issues and not waste too much time blaming someone for changing into who they really were in the first place. Instead you're spending your time LEARNING who they are and tyring to make it work.
Listen (Linda listen), I could keep this article going forever writing reasons why I would be willing to spill my guts to 4 educated strangers, let them analyse me beyond comprehension, don a wedding dress, pick some flowers, gather my family and friends and saunter down the aisle to get hitched to a stanger. Knowing me I'd make a joke about the absurdity/brilliance of the whole thing the minute I got down there and looked my future husband in the eyes … and if the experts got it right he would laugh at my joke. Let's do it!
So could you be married at first sight?