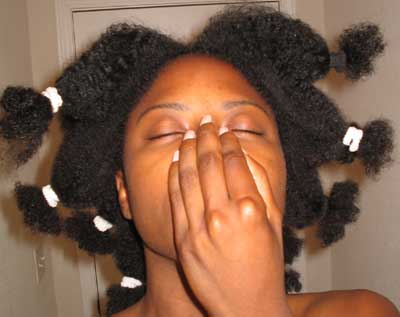 The next morning I'm up early (I gots plans)

.
I seperated my hair into sections as shown then jumped in the shower and washed with … get this … shampoo*!

.
Yes ya'll I washed my hair with "shampoo*" for the first time in I don't know when. Good ole Suave Tropical Coconut that I got from the dollar store especially for this momentus occasion.
Why Shampoo You Ask?
Well…I noticed some buildup in the front due to several cornrows (5 week old cornrows are no joke) so I really wanted to 'strip' my hair of all the goopage. I figured shampoo would do it so I bought some (didn't have any in the house).
* I don't use shampoo. Click here to read more about this.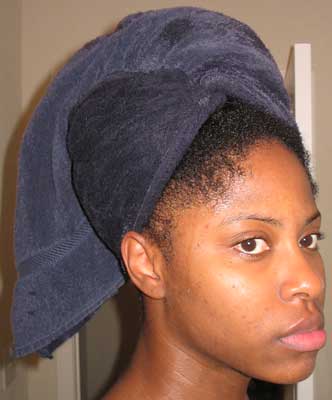 All done!
I rinsed each section (without taking it out of the scrunchie) then added shampoo and washed each section individually, scalp then hair. After I washed the section I took it out of the scrunchie, ran my denman brush through it to get any hair out then put it back in the scrunchie.
When this was all over I rinse THOROUGHLY for like 5 whole minutes! I needed to make sure my scalp and hair were squeeky clean. Then I added conditioner and showered. Lastly I rinsed again getting most (not all) the conditioner out (a very light conditioner I might add).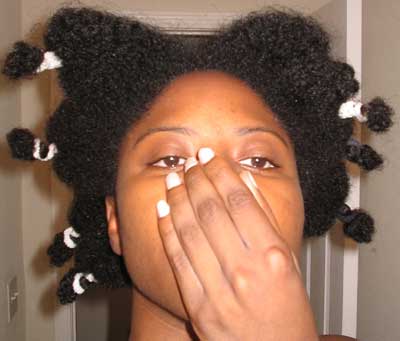 Here I am after the wash. Can you say 'shrinkage'?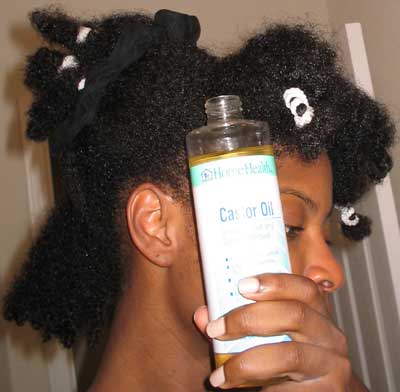 Because I used shampoo this time I really wanted to make sure that my hair stayed nice and moisturized. I took extra measures:
1. I did not wash out all the conditioner (light conditioner)
2. I added Castor Oil to each section (about a dime size to a section the size of the one in the back that's loose)
Now granted, an all-over-the-head-Castor-Oil-application can cause major stick and goop if you're not careful BUT in this circumstance (a hot day that I was gonna be outside most of the time AND I just used "shampoo") it was called for.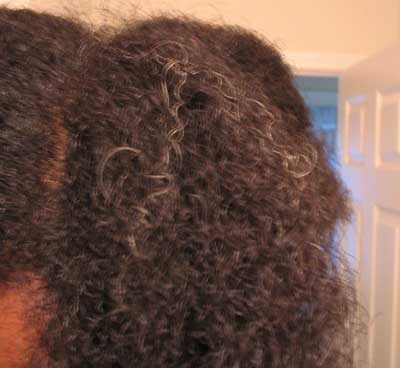 Grey Hair Update!

As some may remember I cut out all my greys in December 2003. Yes I know, that made no sense BUT I never said I had impulse control.

Anyhoo, All greys are back and stretch to the end of my hair! This means that ALL the hair that is currently on my head is new since Dec 2003

at least and all the hair that was there then is gone from trims etc.
Now that's amazing AND I can't wait to see what my eventual locs* will grow like.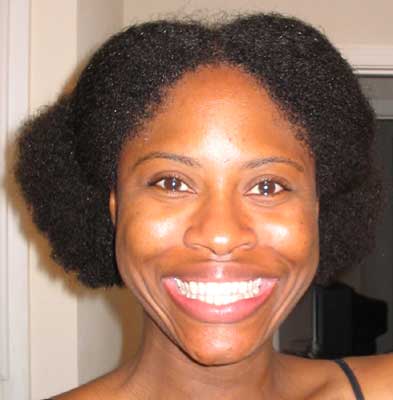 Done with the Castor Oiling and in love

with my hair. I remember when I could barely get this stuff into 4 puffs…but now…I present to you

:
2 monster puffs!
brace yourselves…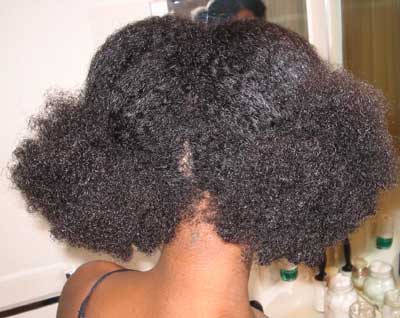 …

God is good all the time ya'll

yes Him is!
move let me praise Him!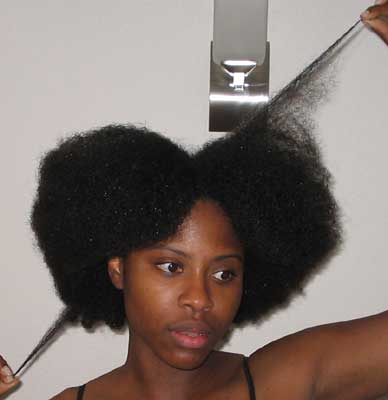 now of to the gardens …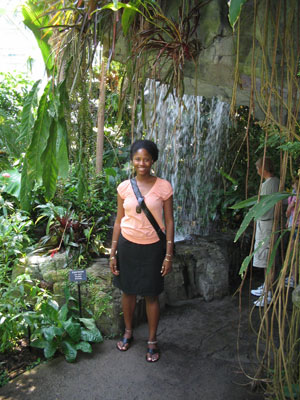 … The Missouri Botanical Gardens that is.
I love love love love (love) this place. When Adima and I were in Florida we went to Maclay Gardens but it just wasn't the same

Founded in 1859, the Missouri Botanical Garden is one of the oldest botanical institutions in the country and a National Historic Landmark. The Garden is a 79 acre horticultural display, including a 14-acre Japanese strolling garden, the Climatron® conservatory (that's where this photo was taken), and Garden founder Henry Shaw's original 1850 estate home.
Missouri Botanical Garden
4344 Shaw Boulevard St.
Louis, MO 63110
(314) 577-9400
(800)642-8842
http://www.mobot.org/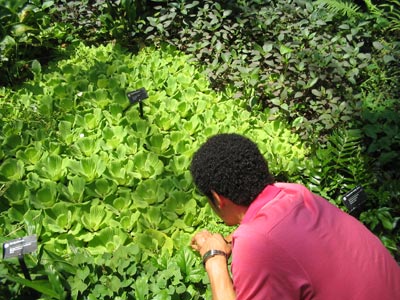 Water Lettuce anyone?

Seriously I don't think the lettuce is edible….I dunno…but it's growing in water and Adima was intrigued. Btw, check out how thick his fro is!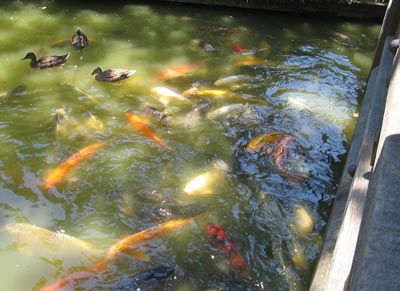 And you can have a MONSTEROUS koi fish as the main course

…kidding I am

.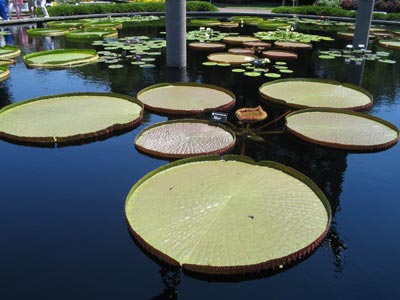 Victorian Water Lily. Now I know it don't look like much BUT get this:
1. Each of those big round things are leaves. See the stems in the center under the water?
2. If you look in the top left corner you'll see people to give you some perspective on how HONKING HUGE this thing is!!!! (the leaf in front was maybe 5 feet across !!!)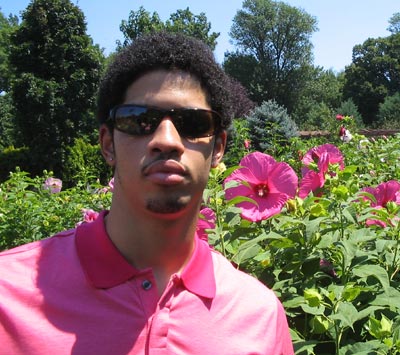 We found an "experimental hibiscus" that matched Adima's shirt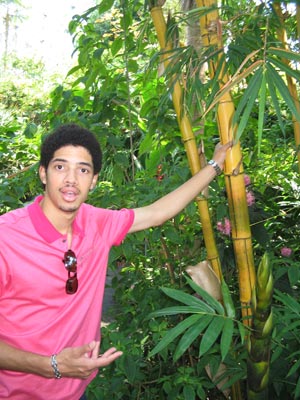 And a huge bamboo that seemed to fascinate him much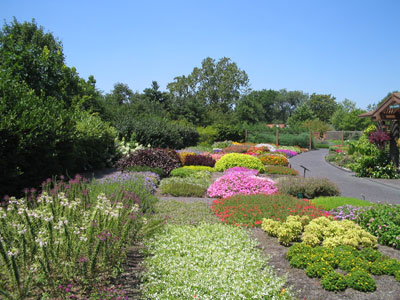 This place is one of my favorite on the planet…just beautiful and it was a nice day out.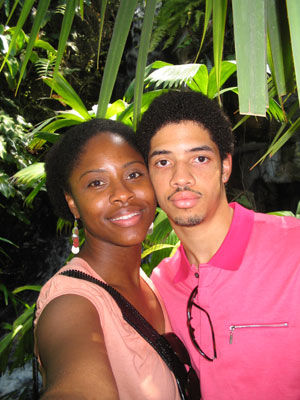 It was a GREAT day ya'll…just wonderful.
I'm rocking a puff, he's rocking a fro, we're at the gardens and all is well.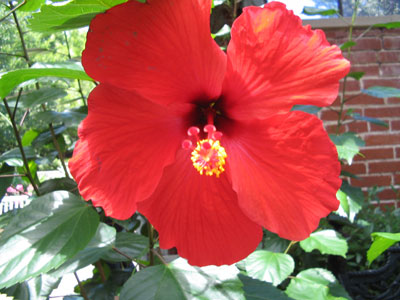 I leave you with a shot of my FAVORITE flower on the planet…good old tropical red hibi
scus like we have in my yard at home (in the Virgin Islands).