Well, I made it to day five of my braidout as planned and MOST of the defiition was lost in the back … but I still rocked it!

The flower in my hair is actually a brooch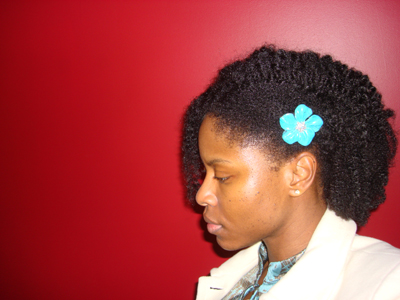 Any "trouble areas" that played like they were acting up got bobby pinned into submission or tucked behind my ear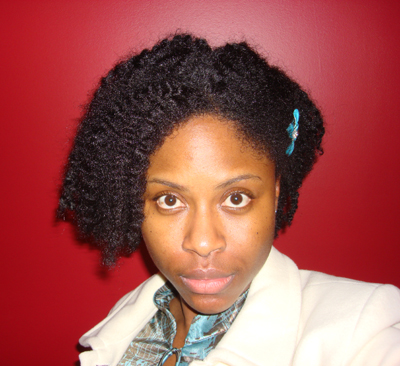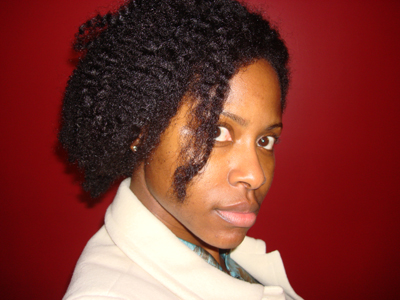 I'm about to head upstairs and wash and style for my trip home to St. Thomas!!!!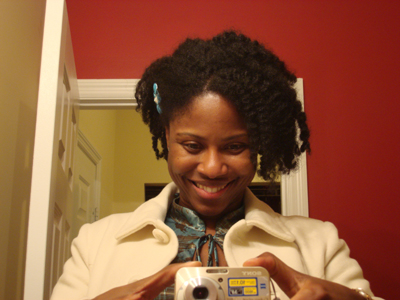 The back had a mind of it's own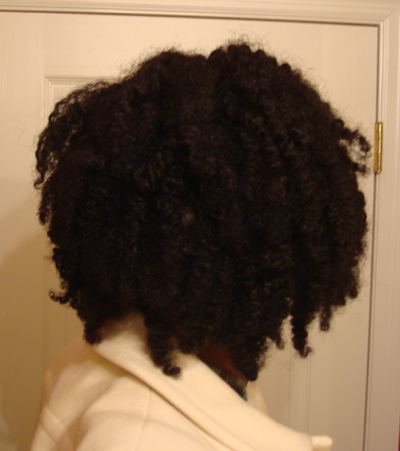 Here is the brooch out my hair w/ the bobby pins I used. I pinned my hair first THEN added the brooch w/ the bobby pins.  This particular brooch was a tad heavy but it stayed in just fine all day.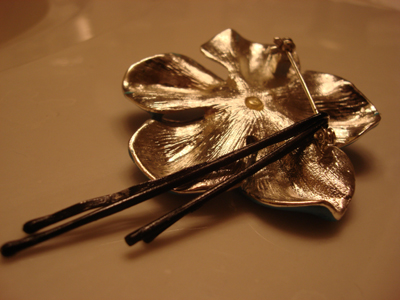 Alright…here goes my typical wash routine.  I separated into 4 sections this time and secured w/ scruchies.  Since I just detangled a few weeks ago then put my hair directly into braids, my hair is really not tangled at all.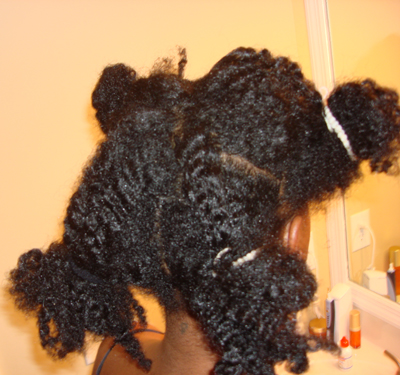 I mixed conditioner, castor oil, and honey together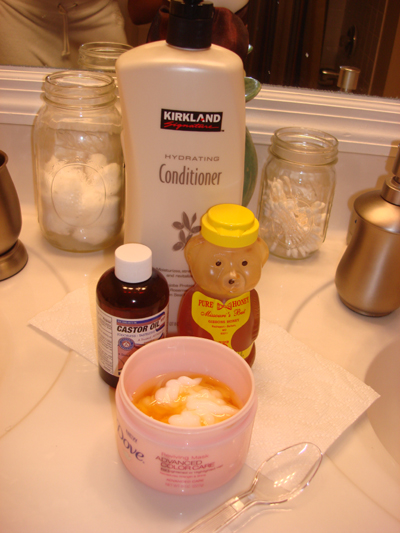 Then slathered each section focusing on the strands and ends and avoiding the roots as much as I could (except the edges).  I do that because I don't want conditioner to be on my scalp after I rinse rinse rinse.  I'll most likely do a video about this particular nuance some day.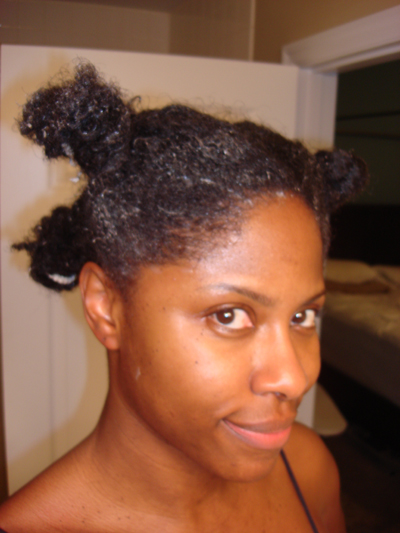 Then the trusty "conditioner cap"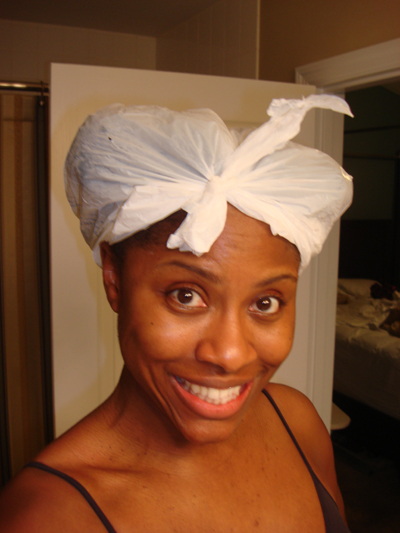 And under the dryer I went for 30 minutes…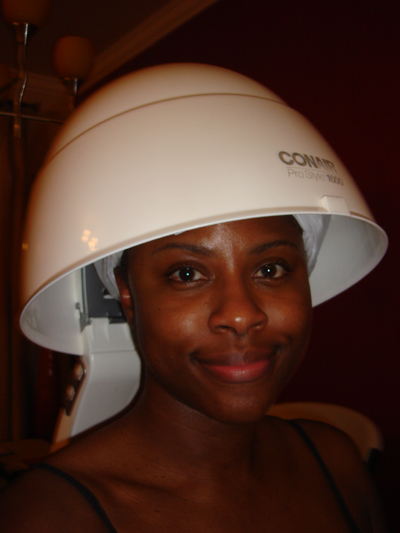 Ok so after I washed with my beloved diluted castile soap here's what I got.  And this photo is SUCH a good shot of my dual textures … look at the edges…versus the top … it's like I have on a wavey 1/2 wig on top of my napps!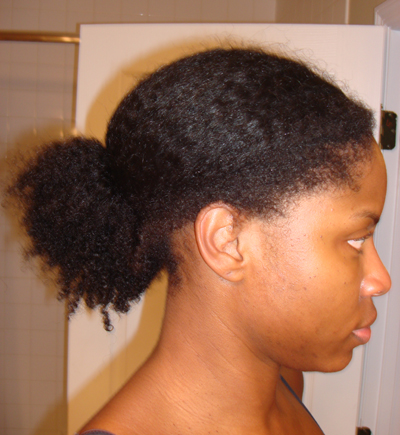 Also I'm letting my grays grow back in…can you see one in the front? 

  I'd been on a good year-long pluck & destroy mission for me and Adima … but I'm trying to refrain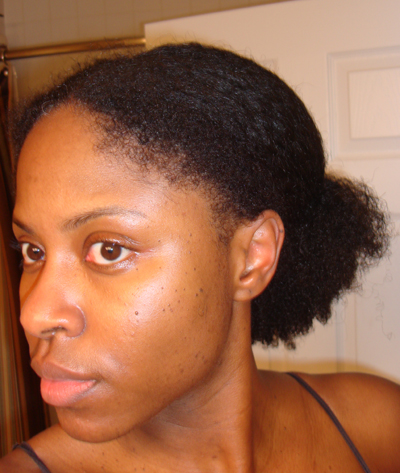 I wonder if I can spend all of 2009 not cutting my hair off like usual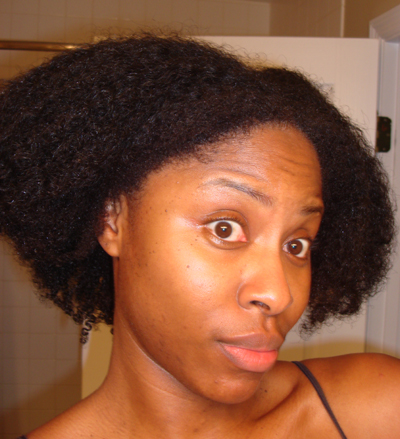 I'm trying to get a shot of the top texture…VERY loose and wavey and wirey…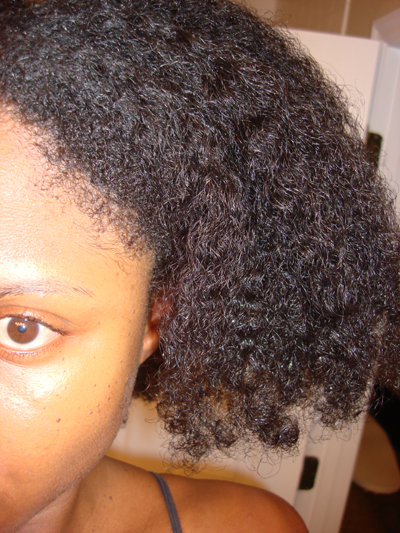 …then the back is super coily …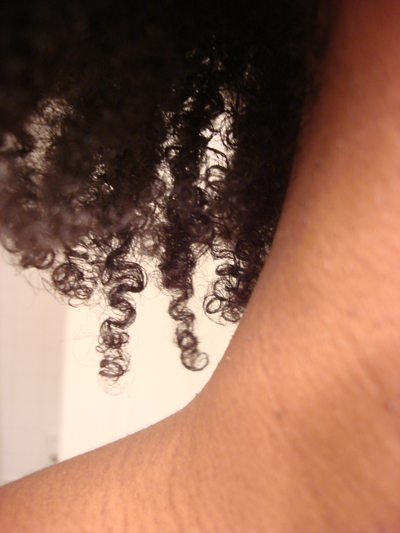 And the front edges and sides are just frizzy and spongy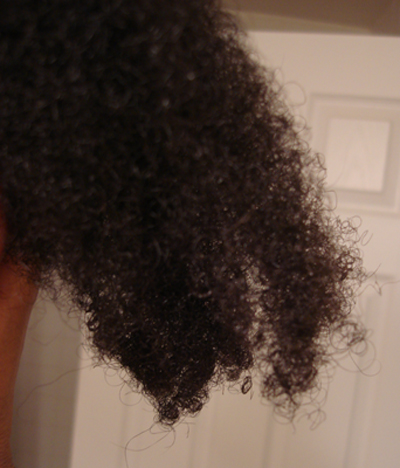 My plan was to twist my hair directly out the shower…buuuuuut it dawned on me that with a sinus infection lingering like it's been maybe I shouldn't go to bed with wet hair.

I had just stumbled on a video by sylver2 on youtube (she's relaxed btw) about how she does her braidouts so I decided to try it out.  I figure the worst that could happen is I can't wear the braidout but my hair is dry, stretched and stays untangled so I can twist it tomorrow when I get home.

So I put my hair in 4 sections, added Paul Mitchell leave in conditioner (don't love it, looking for a better leave-in…just tryna finish the bottle) and shea butter to each and plait each to the end, securing with small scrunchie: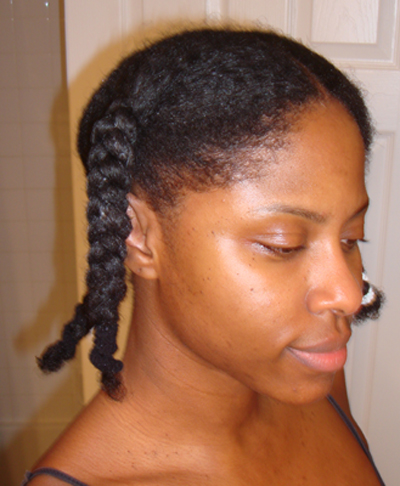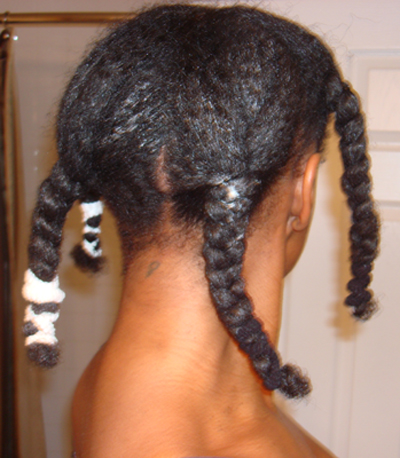 Then I tied it down with a wave cap I dug up from somewheres (couldn't find my satin scarf)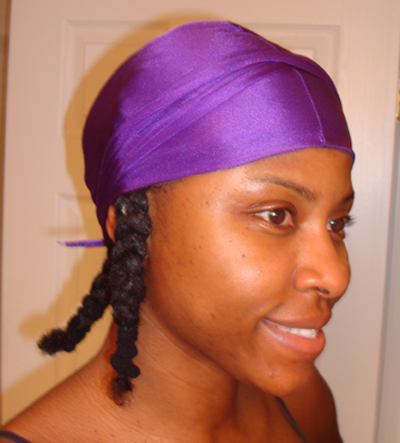 And sat under the dryer for 45 minutes (tried to do an hour but couldn't take it and had to pack)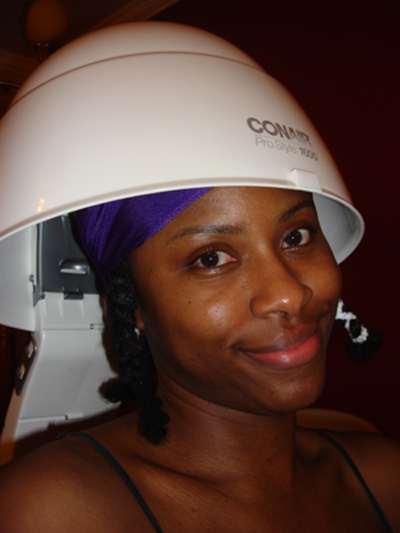 After that I removed the wave cap, tied with my satin scarf (found it!), packed some and gots'ta sleepin!!!.

Unfortunately, I strongly doubt I'll have time to post the results until after I return from my V.I. trip…sowwy

 . Stay tuned!
Thanks for visiting!!!

Life, Liberty, & The Pursuit of Nappyness

  ~ ini
p.s. say a prayer for my safe travel Saturday 3/7 AM and Tuesday 3/17 afternoon/PM. THANKS!!! *mwah*