On Saturday March 12th my friends and I attended the matinee show of the Alvin Ailey American Dance Theater at the Fox Theatre here in St. Louis.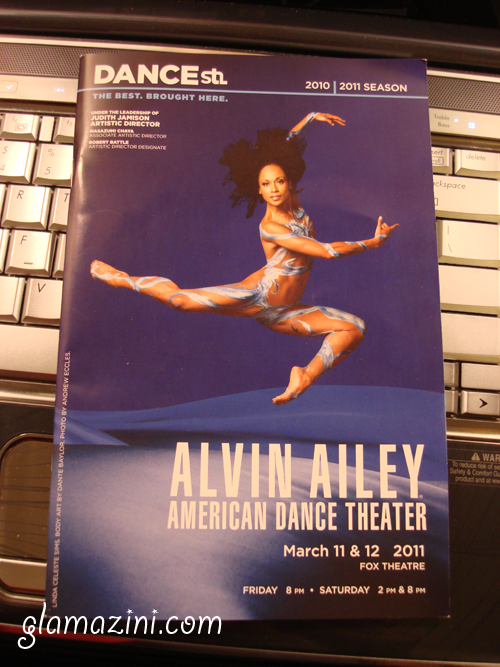 To say I was excited would be an understatement. 
If you've ever visited my blog you may know that I absolutely LOVE Alvin Ailey, and Revelations is the reason I started dancing in the first place.  It's not a dance, it's the dance. So when Dance St. Louis announced that tickets would go on sale last September, I marked it in my calendar, set a reminder, and sent a text to all my friends to start saving their money.
Yes it was that serious.
This was not my first time seeing Alvin Ailey, it was actually my third: once in Pittsburgh, once at the Fox a few years ago, and then this showing.  I was bursting out of my skin with excitement because 'I Been 'Buked' (Pilgrim of Sorrow) and 'Fix Me Jesus' within the dance 'Revelations' do something to me on a visceral level.  I even have a picture of I Been 'Buked at my desk at home.
It is that serious.
So imagine my great shock, chagrin, dear I say let down, when I sat in my seat and commenced to be taken on the ride of perfection mixed with message mixed with story mixed with art that only Alvin Ailey could take me on and I got … well .. just dancing.
Yes, it was that serious (of a let down).
Now, I don't want to sound like I am complaining, because I'm not entirely.  Honestly saying you are disappointed with an Alvin Ailey performance is like saying you are disappointed with your diamond.  It's A-level just by definition.  Unfortunately this time it just was not A+ as I am used to so it fell short.  I must say that my after-dinner discussions with my 7 groupmates brought the same conclusion: it just was not the same as their past performances. My coworkers in attendance later agreed.
I was missing the level of technique; generally p.e.r.f.e.c.t. to the point of it being a tad impossibly perfect. The beauty and the lines of an AA dancer are second to none in my book, but at this performance they were second to a few unfortunately. 
I am a dancer (a hurt dancer who isn't dancing right now but a dancer none the less) and I have an eye for mistakes, and I saw a few. My male friends also saw some missteps, and you know they aren't even paying attention to that sort of thing so it must have been prevalent enough to be noticed.
My last qualm with this performance was that some of the dancers were AA level but the others were just dancing. They didn't pour out their spirit and story onto us like in shows past, their faces and hearts seemed blank to the message of the dances in general, quite preoccupied with getting the steps (that they ultimately missed at times).
At any rate, I'll stop this post so I don't seem like I'm just complaining. By all means, go and see the Alvin Ailey American Dance Theater if you ever have a chance too.  I was disappointed with Revelations this time as well, but I was still moved to tears (as usual). 
I will never stop buying tickets to see AA when they come to town, just now I'll be wondering "do I get to see the A dancers or the understudies"?.
Thanks for visiting!