The challenge with working in an all white office in red state is things like MLK day and the Obama win go unacknowledged, undiscussed, untalked about, not a peep, a word, a syllable spoken…at least around me. *sigh*. I just read the entire I Have A Dream Speech and teared up. Dr. King's dream still has a long way to go, I know…but we are moving in the right direction I think. I fear for my children in a world progressing so slowly, but I hope in God and confess it it well.
Happy Rev. Dr. Martin Luther King Jr. Day to you all *hug*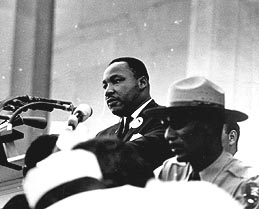 "And when this happens, when we allow freedom to ring, when we let it ring from every village and every hamlet, from every state and every city, we will be able to speed up that day when all of God's children, black men and white men, Jews and Gentiles, Protestants and Catholics, will be able to join hands and sing in the words of the old Negro spiritual, "Free at last! free at last! thank God Almighty, we are free at last!"