Darci has turned against me.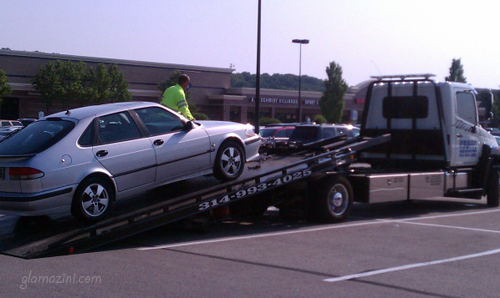 image: glamazini

This was the scene just yesterday afternoon in the Sams Club parking lot.  My car once again being hoisted up onto a tow truck. This is not the 1st, 2nd, or even 3rd time I've seen this exact same sight in the last few years and I am OVER IT! 

We towed her to the mechanic (where our other car already is 

 ) and had our in laws come pick us up and drive us to a car rental place.  We are now the new renters of a 2011 Nissan Altima, at least for the next 2-3 days.  So far so good, I'm really enjoying driving it!*
Thank God we have insurance.
Thank God we get reimbursed for towing (as much as we use it).
Thank God we get reimbursed for rental car expenditure.
Thank God our in laws could come pick us up and drop us off on such short notice.
Thank God I got to see Tow Mater again. 
Thank God our other car is only there for minor fixes and should be ready to go in a few days.
Thank God … but I still want to get rid of Darci. I love her for the blessing she was and has been in my life these past years but … oh … you gots to go!  If you're a "car" that doesn't drive you are an expensive doorstop … a metal garage sculpture … a waste of my fleeting time and peace remover. You gotstago! 

Stay tuned … there may just be a new vehicle in my immediate future depending on what we decide.

Life, Liberty & The Pursuit of Nappyness,   

*If anyone from Nissan is reading this and would like to give me a free Altima I will happily take you up on that offer and tell EVERYONE on my blog, YouTube channel, twitter account, Facebook personal and fan pages, and in real life (thousands of people) of awesome you are at all times for the entire time I own the vehicle. Thanks for your support. 🙂