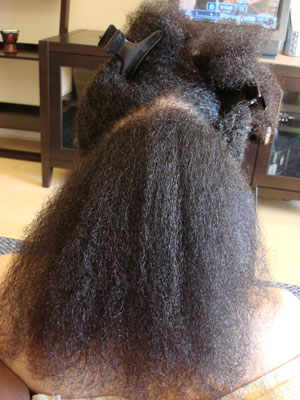 Adima took down his cornrows last night & washed/detangled his hair this AM.
Here I am 1/2 way through blowdrying. He likes how his braids fall better when I blowdry so I do that every time now. I use a large metal headed brush (I'll have to take a photo & post) and my shea butter mixed with coconut oil.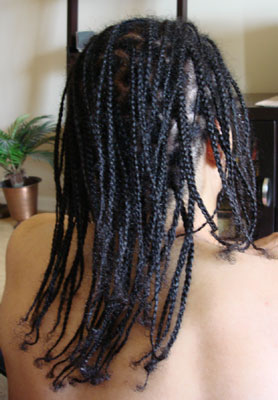 Voila! It's like those cooking shows, instant gratification

.
I tried a different way of parting that significantly cut down on the time. I used the comb to just grab half moon shaped sections and braid that way. I've done grab and braid before, but never in a distinct pattern of 1/2 circles. Adima liked it. I suppose I'll get better/faster over time and really be able to knock this out in less than the current 3.5 hours it takes as his hair continues to grow and grow.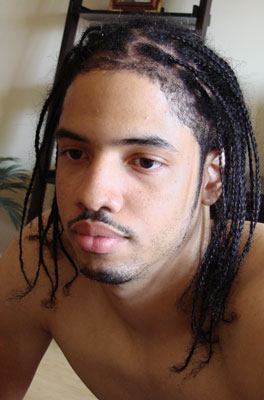 And the front. He's gonna trim the edges now and then we're off to get ready for the 100 Black Men Annual Black Tie Gala.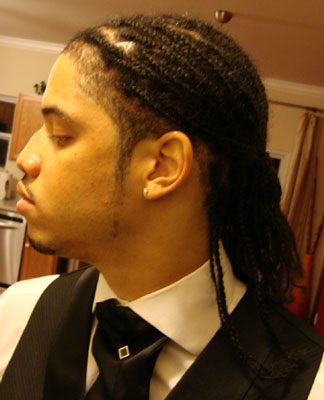 Once again the cooking show VOILA! is in order

This is actually after the gala once we're home. He cleaned up the edges and we pulled most of it back into a ponytail.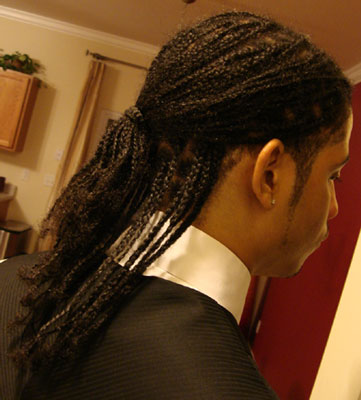 No matter how often I cut and how much I hack off, dude's hair continues to grow as fast as or faster than mine.
This is gonna be a SITUATION when we have kids!

…who's gonna do all this dang hair?!!!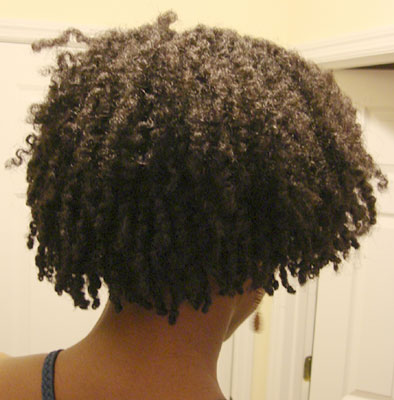 And now my turn. Same deal from yesterday, I did absolutely nothing to the back…slept in a satin bonnet, got up, fluffed and left the house.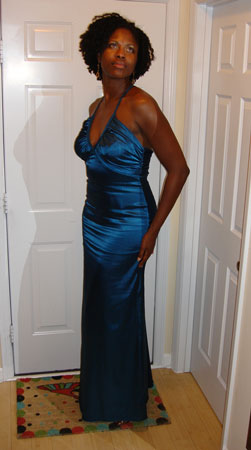 Hee hee I'm cute!

Thought I'd share the entire outfit w/ ya'll. This is actually my matron of honor dress from my sister-in-law's wedding last month. I figure I paid enough for it, I might as well rock it at all times! I'm contemplating wearing this joint to work!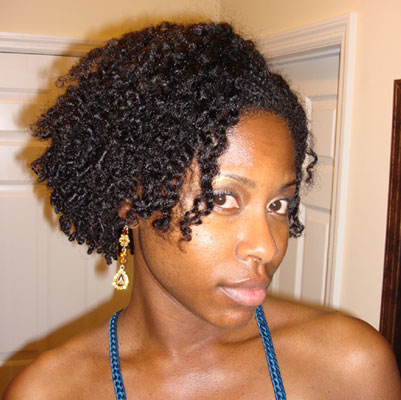 My close up. I sheened the the whole thing really good with spray sheen. Held my head upside down, sprayed it to death, shook and that was about it.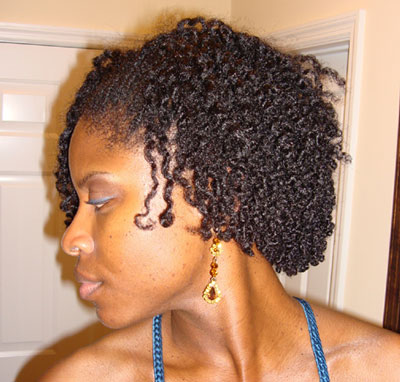 On this side I dampened the dusty cornrows, sheened them up, sprayed them with hairspray then immediately tied the front down w/ a bandana. I just wanted it to look a little less raggedy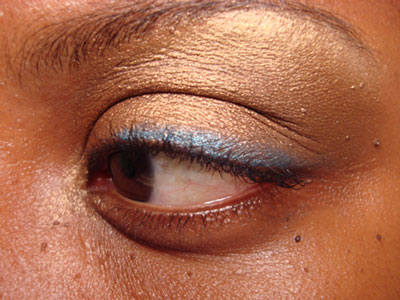 My make up was simple… bronze (M.A.C Tempting) on the entire lid, a lighter highlighter color (M.A.C Solar White )under the brow, & the inside corners blue shadow as a liner on top (some cheap pigment from Claires), matte brown in the crease (I forget what), black mascara…viola!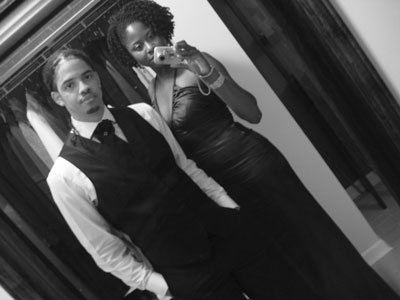 Here we are before we go upstairs and change out these duds…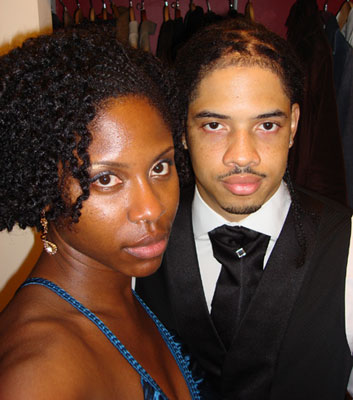 Well that's the end of this update ya'll

We had a great time @ the gala. I have NO CLUE what to do w/ my hair right now since I'm most likely getting some extension twist done but I'm not sure when

. I know this, I ain't doing nothing with this mug tonight.
See ya'll next time.