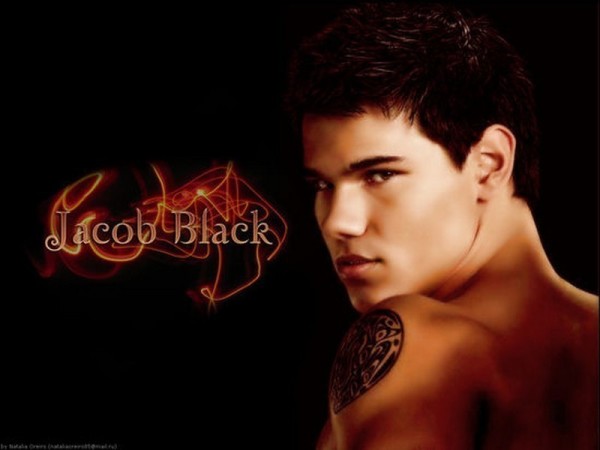 I don't watch the Twilight movies or read the books
; never have.

  … but I now know with 100% certainty that I am on "Team Jacob".
How?
I'm glad you asked.

  As you may know I have been dealing with medical issues for the past 3+ months. What you may not know is I've been going to physical therapy twice a week for the same amount of time and, if you've ever had to have physical therapy, you are already acquainted with how much time you spend with your therapist and any assistants.   One of the assistants (let's call her Ashley*) is uber talkative

  … I mean super duper talkative


… even dare I say more talkative than me! *gasp* (if that's even really possible 'cause I sure do talk a lot).
Wait what were we talking about?

Oh right, Ashley.

So Ashley is really into the Twilight books and movies and last week she gave me the 411 rundown on the new Eclipse movie coming out this week.  She let me know that she and her friends had designed their own t-shirts for their trip to the theater, that everyone in the physical therapy office was into the books/movies because of her and that she was on something called "Team Edward"

.  Obviously being the "not acquainted with twilight" me that I am I asked her for clarification on this "Team Edward" situation and she happily broke it down to me.  There are 2 teams: "Team Edward" and "Team Jacob" and those on "Team Edward" are apparently down with the bad boy vampire dude while those on "Team Jacob" are more of the 'my bestfriend's a werewolf' crowd.
Or something like that

Antyhooo….
I automatically exclaim after that brief team overview of that I'm on Team Jacob!

  to which she first gave me one of these looks >>

<< followed but this >>

<< and finally this >>

  <<.  Assuming I'd misunderstood her and by transitivity chosen the opposing team in error she begins to re-explain the criteria for each team's membership including items like "Team Jacob is more into that safe secure always-there-for-you kind of guy" where as Team Edward is seemingly down for "rough sex that breaks furniture and voids your security deposit".

Or something like that

Moving right along
After that "clarification" I more assuredly announced "I'm definitely on Team Jacob, and Edward better cut a check for breaking my couch or else it's gonna be some smoke in the city!!!"
heh
Obviously Ashley was not amused.

I then confused her even more by asking "Are all the Team Edward people in this office young and all the Team Jacob people older?". She paused … like so >>

  << then said "uh yeah" to which I responded with "Hmmmmm" (which is my new way of confusing younger folks, it's great fun, try it with a niece or nephew today & make sure you have a snooty look on your face

 ).
Long story short, she protested, I told her Jacob was a more mature wise choice, she rebutted with some blah blah that a youngin would rebut with and I countered with "I'm older, married, and on Team Jacob say something WHAT?!" … then I shrug punked her and tackled her to the floor where we fought it out like real women!

Ok that last part didn't really happen but it woulda been hella funny if it did right?!

uh…
…antyhoo…
All this happened last week, but this morning Ashley was back up to her "try to convince Roshini she should be on Team Jacob" tricks and I was still not buying what she what she was selling.  It did not help that I saw the actors that play Edward and Jacob online and … well … Jacob is a cutey and Edward is … well … not.
Case closed and rested, Team Jacob 2010! 

Our conversation (Ashley and I) eventually moved on to why she keeps choosing bad boy types in real life and how I never have.  She lamented about her track record of usually "being the one that approaches" guys then eventually finding out "they are not as committed" as she is and ending the relationship, also a problem I've never encountered; generally I was fending off marriage proposals like telemarketers.

And so (yes I started the sentence with 'and' get over it), I told you all of that to ask/say all of this:
Is there a correlation between the love of a bad boy and the lack of a committed relationship?
What about the opposite question: Does choosing a friend give you more of a chance of lasting love/commitment?
Does maturity/age lead you away from the bad boys of your youth to a more 'safe secure always-there-for-you kind of guy'?
And finally, the most important question of them all:
Are you on Team Edward or Team Jacob?
Talk amongst yourselves.


*'cause that's her name