Hi y'all.
This Weekly Update is late because I was out of town all weekend at the Garden of Life Blogger Summit having the best. time. ever! Anyhoo, hope you enjoy it even though it's tardy for the party. Let's do it!

Watch the video directly on YouTube.
Want to see previous Weekly Update videos?
Click here to watch updates from past weeks!
Alrighty let's do this:
I was sick
in last week's Weekly Update (on my birthday *tears*)
I've never had an Odwalla bar before
but this banana nut one was not my favorite.
The book I was reading was
When the Darkness Will Not Lift: Doing What We Can While We Wait for God–and Joy
 by John Piper. I didn't like it. Find out which books I'm reading by following my Goodreads account.
The love grace. video
is not up yet because I was sick then I was out of town. It will be up after this, but until then check out lovegracefoods.com and be sure to use the code 'glamazini10' to get 10% off your order.
The lipstick hubby bought me was
Milani Moisture Matte lipstick in 'Matte Passion'.  You can see swatches of it here and here.
The new grocery store we visited was
Fresh Market which is not new, just new to the St. Louis area.
The story behind the beautiful green purse is
👜 I've never bought a designer purse directly from a designer purse store that came in its own fancy designer purse dust bag with an extra fancy designer purse warranty (a warranty … who knew?) but tonight, on a whim, I did. 💚 Why? Because for 3 years I carried a plastic tote bag as my purse which I replaced with an old purple thing I bought from Charming Charlie eons ago and was crumbling the moment I resurrected it from the back of my closet. Then I replaced that with another "shop my closet" resurrection that crumbles as we speak & embarasses me everytime I pick it up. 😳 So today as I stood in front of the $10 purses at Walmart deciding whether I should just buy "any old thing" to "make do" on my trip to FL because "anything is better than this crumbling thing on my arm", my inner voice said "Don't. Be still." so I did & went to get a pedicure. 💅 As I sat in the chair getting my top coat applied toward me saunters the most perfect purse made just for me on the arm of the pedicure dude helping my new neighbor to her foot soak throne. I asked where she got that wonderfulness & she replied that the Kate Spade Saturday store up the road was going out of business, everything was 75% off & her purse cost $20. TWENTY DOLLARS! 😲 🙌 Sooo I, in the middle of a minimalist challenge, strolled my happy butt into the Kate Spade Saturday store on a wiky-wiky-whim and bought me a grown woman's purse! 😊 Why? Because I value myself enough to carry a purse that shows me I value me (plus it's super cute right? I love the color). I did buy the smallest size to force myself to carry less items as well as stopped myself from buying EVERY BLASTED PURSE UP IN THERE DID Y'ALL HEAR ME SAY SEVENTY FIVE MONKEY FLIPPIN PERCENT OFF?!! 🙈🙉🙊😮 Anyhoo … #KateSpade suckas. Sometimes you have to encourage (and value) yourself. 😘💋💋#dropsmic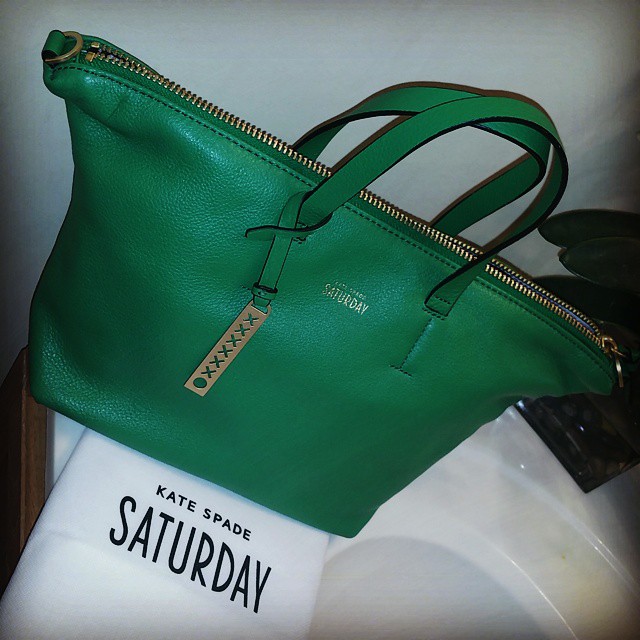 If you live in the St. Louis area it is the Kate Spade Saturday Store in The Taubman Prestige Outlets across from the Chesterfield Valley (not the one by the bridge).  It is slated to close June 1st but it they keep pushing the date back. Everything in the store is 75% off and under $100.  Thank me later. *mwah*
The special needs parenting organizations I mentioned in the video were
Spina Bifida St. Louis, Variety, First Steps, and Parents as Teachers.  You can also check out FACT or special needs advocacy organizations like it (call and ask if they know of any in your area), The Arya Foundation, Sophie's Voice, March of Dimes, Shine, Spina Bifida Association.  Several of these are specific to Spina Bifida but you can check their resource pages to see if there are other organizations that apply to your specific situation. Also joining Facebook groups with other parents with children with special needs is helpful, both local and national.  Just search on Facebook directly to find any that exist.
If you would like your question answered in a video
email me at ask at glamazini dot com.  You will remain anonymous and can ask whatever you'd like, doesn't have to be about this topic.
Lastly, I was on my way to the Garden of Life Blogger Summit
If you want to see the posts from all the attendees check out the #GOLbloggersummit hashtag.  I may also do a recap post so, if I do, I'll come back and link it here.
Hope your weekend was amazing, mine was. See you next week.