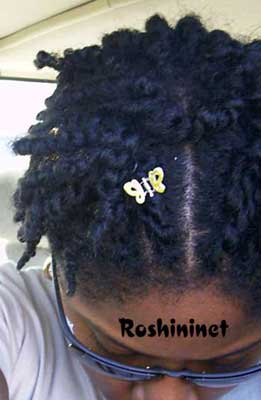 Atlanta Nappturality Gathering
Delushious and I decided (the day before) that we would drive to Atlanta for the Nappturality Gathering. Tallahassee is boring and we're both impulsive so that equals ROAD TRIP!!!!
Here I am waiting in the parking lot for Delushious to come pick me up. I had 2 twist puffs in the front w/ a butterfly clip.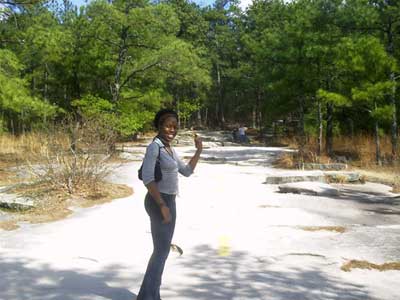 Fast forward to Atlanta. We left late so we got there late (3 hours after the Gathering started). Everyone else was on top of the mountain*. Here we are at the bottom on our way up.
*"the mountain" is Stone Mountain in Stone Mountain, Georgia. It is the world's largest mass of exposed granite. Here is more information.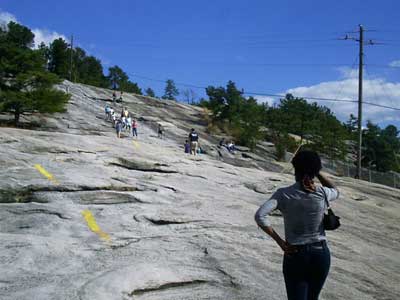 Once you get past the half-way mark there's an awesome view because there are fewer and fewer trees. This is actually a picture of BrownsuggaDIVA, tdhayes and Queenli9 coming down but you can't really make them out.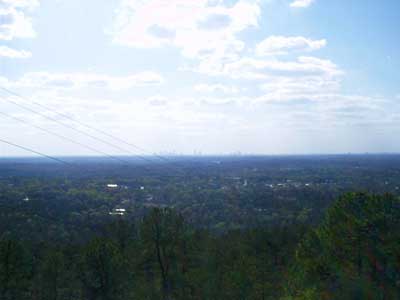 This is the view of downtown Atlanta from the mountain.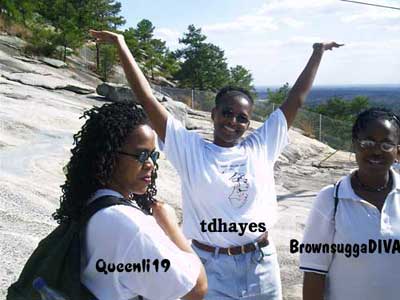 They made it down to where we were. Queenli9 was taking the last braids out of her locs. Tdhayes was posing rocking her Nappturality.com T-shirt. This is the only picture I got of BrownsuggaDIVA 'cause she doesn't like to take pictures. She was wearing her hair w/ cornrows and flattwists in the front and a braidout in the back. Very cute!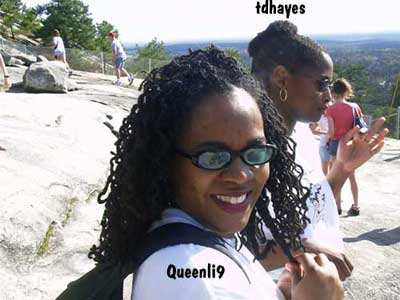 Queenli9's locs are 5 1/2 years old and awesome! I didn't get to chat with her much but I made sure to take a picture and made a point not to drool too much. Wow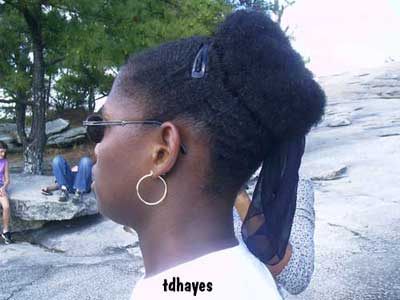 Tdhayes was wearing a puff held back with a scarf and click-clacks. She made a new hair butter and her hair was soooooooo soft! (yes i asked to touch it)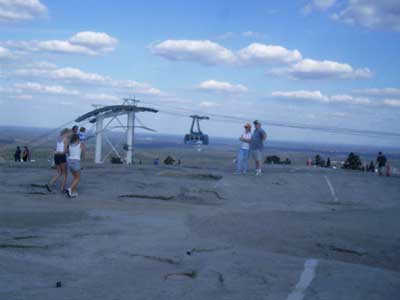 Tdhayes, Delushious and I headed to the top while Queenli9 and BrownsuggaDIVA waited. I can't believe tdhayes went up to the top again! Here's a picture of the lift that takes the wimps up and down the mountain *LOL*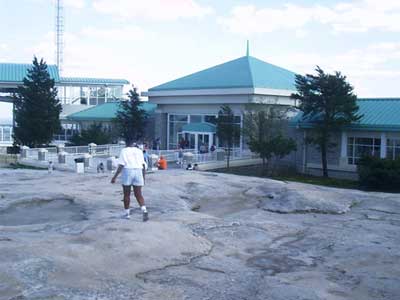 At the top of the mountain is this beautiful rest center complete with restrooms and refreshments. Here's tdhayes on her way in.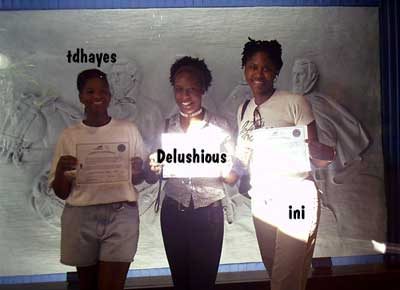 We hung out at the top for a sec then headed back down. Delushious had a shoe incident (note: do not wear flip-flops to climb a granite mountain) but she made it down safely with our help.
Here we are in Confederate Hall with our certificates earned for climbing the mountain. Queenli9 left and the elusive BrownsuggaDIVA is taking the picture.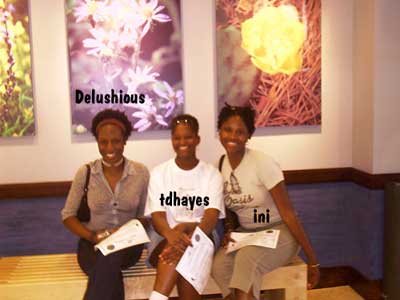 Us again trying to get a better picture with the lighting. I love the photos on the wall but I really really need to go to the gym *ugh*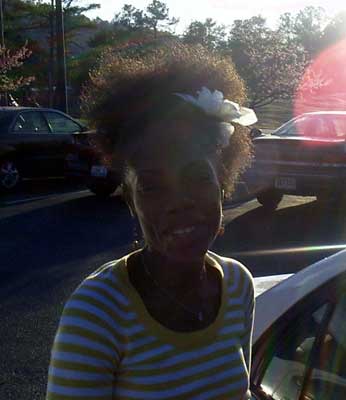 Nappy Ambush!
We were driving tdhayes and BrownsuggaDIVA to their cars when we spotted this woman with her breathtaking puff!!!!!! Needless to say we stopped the car, ran out and all took pictures (she seemed extra flattered). Delushious got a way better picture than mine *pout*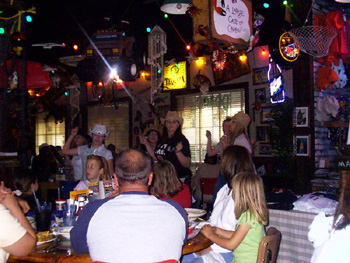 After the park BrownsuggaDIVA, Delushious and I went to Joe's Crab Shack for din din. They had theme night and the server's were line dancing to 'Cotton Eye Joe'. If you go to JCS, have the coconut shrimp!
Well, that's the end of the Get Together. I had a blast with you guys, laughed and laughed and laughed. My legs are soar from climbing the mountain but it was a great workout. I'll have to visit again. Thanks for the hospitality Atlanta Nappies!