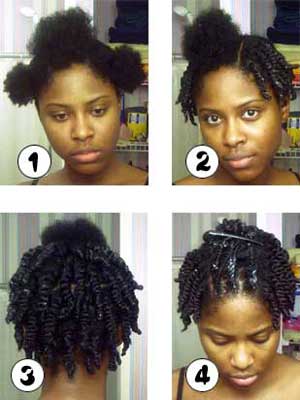 I've decided to stick to something I know how to do for now: twists.
| | |
| --- | --- |
| 1) | Part hair in fraggle puffs. Here's a better picture of the back. |
| 2) | Twist side quadrants going downward. Easy on the product (not like me). |
| 3) | Twist back quadrant going downward. (why is there product all over these twists?!) |
| 4) | Twist top quadrant going back. This time I clipped it back. |
I used FOTE aloe gel on the sides but when I got to the back it wasn't holding very well so I had to switch to Soft & Beautiful Botanicals Styling Creme. I didn't think I was so heavy handed with the product but it seems I am. Good thing it all dries clear.