Remember this post where I lamented about potentially killing Pothy, my beloved philodendron.  If not, go back and read the post then come back, this'll all make more sense.
Moving right along … I've all but killed the plant now and I'm NOT HAPPY about it … 

… BUT since I promised to update ya'll here goes nothing:
On the last post a comment was left with a link to eHow.com detailing How to Revive Wilted Potted Plants.  I won't call names but if you're reading this I blame you for the demise of my plant 

.
Anyhoo … I followed the steps exactly:
1. Fill a bucket halfway with water, making sure the container is large enough to accommodate the entire pot, all the way to the rim.
2. Plunge the plant (in the pot) into the water-filled container. If the rim of the pot is not covered by water, add more. It's all right if water covers some of the foliage.

3. Keep the plant in the container until bubbles stop rising from the soil.
4. Keep the plant in the water for at least a half hour after the bubbles stop, to assure that the soil is completely saturated.
5. Remove the pot from the container and allow the plant to drain.

6. Place the potted plant inside a large plastic bag and close it tightly. Keep the bagged plant in a shady area.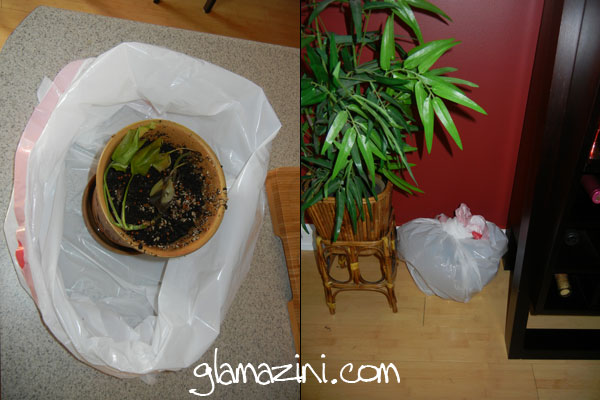 7. Remove the plant from the bag and move it back to its original location once it has revived (this could take as little as a few hours, or several days).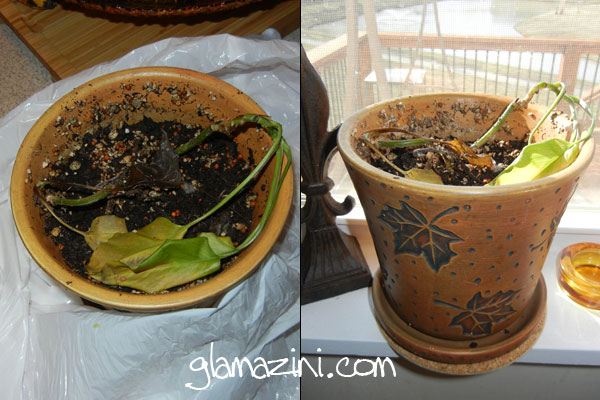 Step 7 is where is all went wrong for me. I wasn't sure if I was supposed to leave the plant in the bag for several hours/days so I left if for one day then removed it.  By this time the leaves had all turned almost yellow and Pothy was looking worse than ever. 

These pictures were taken 3 weeks ago, and as I sit here now there is ONE brown leaf on the plant …. 1 … brown … leaf. 

I killed him. I am a very bad plant mommy. 

I don't have the heart to take a picture and post it for ya'll, nor do I have the heart to throw him away.  I'm devastated.
Anyhoo… there you have it, the most depressing update ever on me killing my symbolic plant.   Waaaaa. 

In other totally unrelated and less depressing news, I am super excited to be knocking something off my 40-by-40 & bucket lists tonight!  

~~~~~~
Disclosure: I don't really blame the person who left the comment for killing my plant … really I don't.  Waaaaa.For more information about the Glamazini.com disclosure policy, click here.