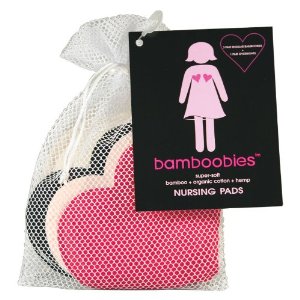 When you have a baby your milk "comes in".
When your milk comes in you have a decision: feed the baby that milk or or don't feed the baby that milk.
When you decide to feed the baby your milk stays in.
When your milk stays in you need nursing pads (unless wet shirts are how you roll).
Enter Bamboobies Bamboo Washable Nursing Pads
.
I'm becoming an advocate of reusable products when possible so these washable nursing pads were right up my alley. They are made of bamboo (hence the fun name), organic cotton and hemp and are marketed to be a "washable breast pad that doesn't leak or show through clothing" and "the most absorbent and unbelievably soft nursing pads around".   The set I have
  (pictured above) came with 3 heart-shaped pairs in hot pink, pail pink, and black as well as an overnight pair.  I was so excited about these when I got them and expected for them to be the only nursing pads I use. Unfortunately after having several months to try them out thoroughly I must report that is not the case *tear*.
PROS:
Cute heart-shaped design and fun colors
Super soft and comfortable
Barely shows through clothes
Washable and reusable
Fair trade
Worked well for the first month or so with no leaks whatsoever during daily and/or overnight wear
My set came in with a lingerie bag to wash them in.
CONS:
Can show though clothes at times if edges of heart shape crumple up
Leaked during daily and overnight wear
It bums me out to not give these a super stellar review because I so wanted to.To give you an idea of my production, my son currently eats between 20 and 28 ounces of breastmilk on any given day (yes I said 20-28 ounces #McFeastyBaby).   I pump and breastfeed. I can wear the Bamboobies nursing pads during the day at home, but if I'm leaving the house I always put a different washable pad with them, meaning I have to double up.  I cannot sleep in the Bamboobies any longer, not even the night time pad, I always wake up wet (little dude sleeps 7-10 hours a night).  Additionally then night time pad had kind of "poofed up" after several washings (air dry only). I now typically wear disposable nursing pads (which breaks my heart but I got sick of waking up wet or finding wet spots on my shirt during daily wear).
Would I recommend Bamboobies?
If I had written this review a couple months ago I would have said ABSOLUTELY but not any more, which makes me sad.
Have  you tried Bamboobies or any other washable nursing pad? Please share your experience in the comments below.
• • •
photo credit: amazon
Edited 4/12/2013 to add:
Ok so I haven't used these in MONTHS, but figured now that my milk supply is much lower (Flickerbug will be 10 months old in a week+), I would give them a try again. Ultimately these are a major fail for me even now that I'm only pumping 3 times a day and getting 2-4 oz a session. I have NO CLUE how I used these consistently early on in my nursing experience when I was pumping every 4 hours, overnight, and getting massive amounts a session. My only guess is maybe they are no longer absorbent for some reason? I never dried them in the dryer, always hung them up so I don't know. They are cute, I'll try again when I'm weaning my son entirely I guess, but no no no.