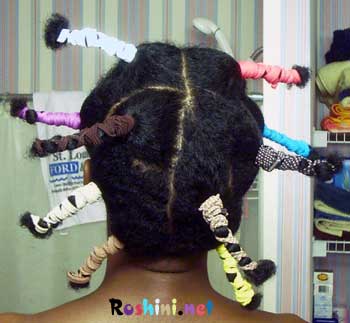 (hee hee)
O.k. this is the craziest looking thing ever. My hair is banded, per Jessy55's album (she posts on nappturality.com). I'm doing this to stretch my hair out for my rollerset tomorrow. I must say I'm looking rather crazy…no real real crazy in this picture (and as I type this).
Here's what I did:
| | |
| --- | --- |
| 1. | I grabbed a section of my hair |
| 2. | I sprayed with my leave in conditioner |
| 3. | I used a small pick to make sure it was cleared out starting at the ends gently. |
| 4. | I wrapped the section with a headband. |
| 5. | I repeated this until my hair was totally wrapped as shown. |
Anyhoo, I'm going to sleep w/ this tied down w/ a satin scarf, and then I'll see what I get in the morning. Stay tuned….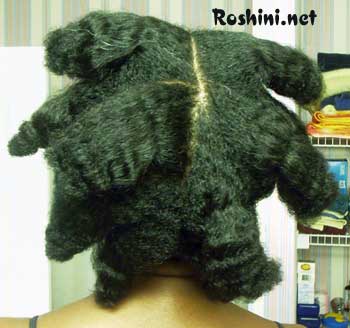 (hee hee)
Alrighty, this is what I ended up with after I took the bands off. I slept just fine w/ the bands in my hair but showering with a showercap on was a tad strange. My hair was indeed stretched out and I took the opportunity to put in my coveted 2 puffs!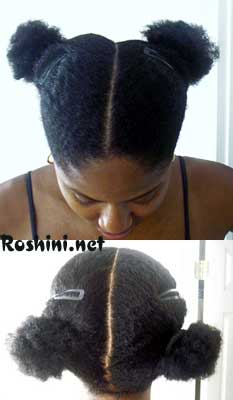 M-I-C-K-E-Y-R-O-S-H-I-N-I

I used some water and some coconut oil and fandangled some puffs yall! And yes, I left my house just so and felt too cute. 🙂