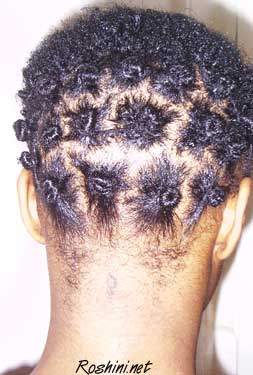 I was at home watching tv and started doing these bantu knots. I took this picture when I decided to stop doing them…but then I saw this picture and decided to go ahead and finish.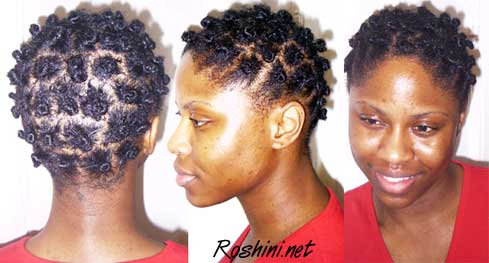 So here's what I ended up with. Not fabulous but not bad if I do say so myself. I didn't get them as neat as I would have liked in the front because the texture is so wirey and it's shorter. The back was a piece of cake to do 'cause it's longer and more stretchy.
I will wear these tomorrow 'cause I don't have much to do, and I'll try to do a knotout or something and see how that looks for Sunday.
Products:
jojoba oil
Tools:
small black rubber bands
How To Do This Style:

| | |
| --- | --- |
| 1. | Moisten fingers with jojoba oil and part hair with finger. |
| 2. | Twirl hair until it starts to bend on itself. |
| 3. | Roll hair into a small 'knot' and wrap small rubber band loosely around it. |
| 4. | Repeat this until entire head is completed. |
| 5. | Go be cute! |