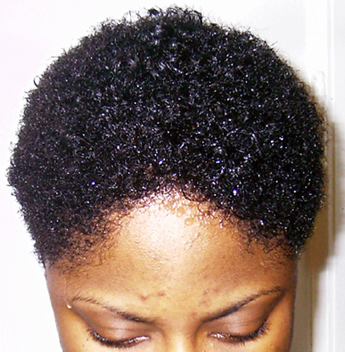 This is a shot of me with no products, dripping wet right after stepping out of the shower. I rinsed my hair with Deep Shine Conditioner.

Happy Birthday to my brother, Junie!
*Before I continue*
I must post this picture, as difficult as it is.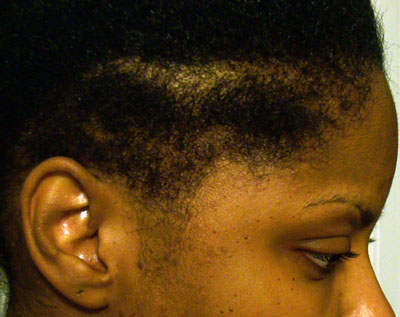 Traction Alopecia people….this fricken sucks! I can't believe I let this happen . Back when I was natural before I had a small spot over my ear…but now look at how much hairloss I've gotten in just 2 more years of being relaxed. I swear, I am not relaxing my hair again…this sucks! … here's a shot of the spot in question.
I bought some Nioxin Follicle Booster and I massage it in daily. It doesn't say that it makes hair grow…it just says that it 'promotes follicle activity'…whatever that means. I'm relying on mind over matter to fill in this spot.
~edited December 13, 2002~
I've begun my Anti Alopecia Experiment. Check it out.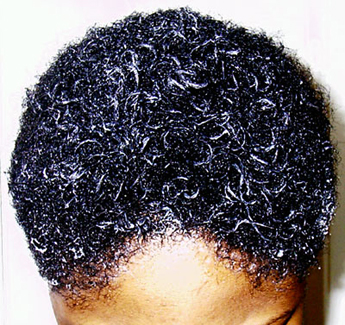 So I gooped up the TWA with leave-in conditioner.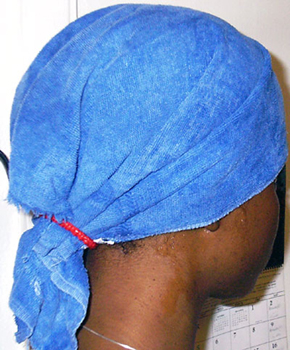 Since I'm dripping I loosely wrap my hair with a hand towel and secure it in the back with a ponytail holder for a few minutes.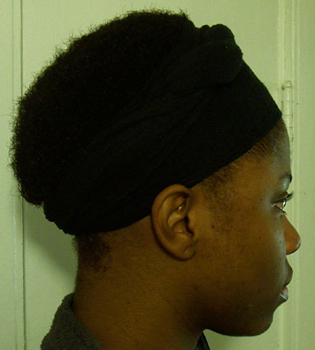 This is my signature style right here (how can you have a signature style after 3 days *ha*). I think I look quite regal like this.

*gimme a sec*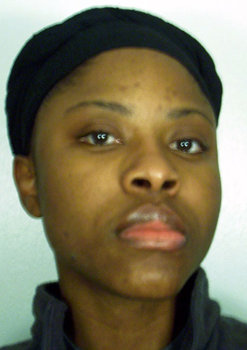 This is me trying to look regal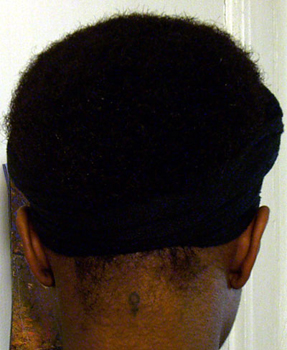 *o.k. back to normal now (sorta)* This is what the back looks like. I picked my hair out before I did this to get a nice round top. You can't differentiate my hair from the wrap much can you?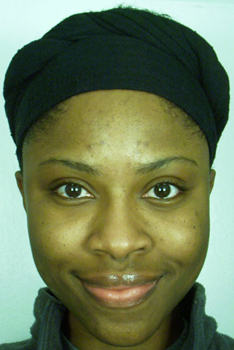 I really love this picture! Look at how nice the wrap looks on my head…like a crown *smile* note: i went and got my eyebrows done after that…moderately angry brow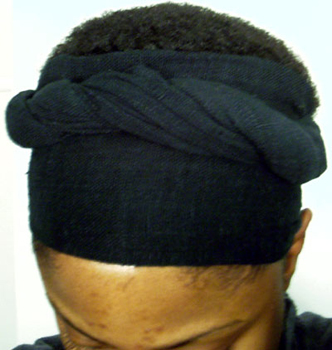 And lastly, here is the top of the wrap. This is a way better picture of the wrap versus my hair. And here's how I did the do…
Products:
whatever goop you like
Tools:
Large rectangular piece of material.
boar bristle brush
How To Do This Style:

1.
Start with wet TWA
2.
Add your choice of product.
3.
Gently brush the sides, back and front of hair up toward the crown of the head.
4.
Lay middle of long end of cloth on the top of your head right at hairline.
5.
Hold each end of cloth with respective hand.
6.
Move hands up cloth on each side so you are now holding cloth taunt (not tight) near your shoulders or neck.
7.
Bring hands together holding cloth at nape of neck and exchange cloth in hands. You should now be holding the left piece with the right hand and the right piece with the left hand.
8.
This is when you look in the mirror and make sure that the wrap is lying where you want it to. I like this particular wrap to be right at my hairline. Don't let go of the cloth just kinda wiggle it back or forward to wherever you like it to sit.
9.
Now bring the hand and pieces of cloth up over your head and exchange cloth in hands again.
10.
Tie the ends above you head (right piece under left, left under right….like 1/2 way through a knot).
11.
Tuck the ends under and Voila!
Good Luck