As you know from previous posts, this past weekend I attended the 2010 Blogging While Brown Conference held in Washington DC at the Walter E. Washington Convention Center.

To say I had a BLAST would be an understatement!

On day 1 a small group of us had the privilege of visiting the White House and meeting the Director of African American Media, the Director of New Media and the Director of the Domestic Policy Council.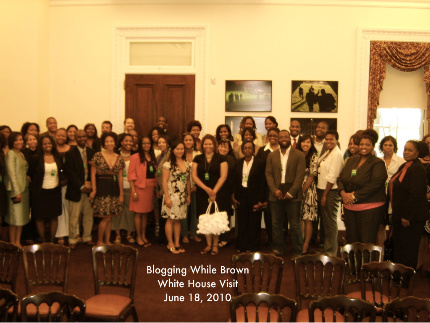 image: blogging while brown
If nothing else happened that weekend I must admit the White House trip was worth every penny of my registration fee.

The next stop was the opening session where we heard from Dr. Andre Brock who studies the relation between technology and race (and was rocking a pair of these), Maurice Cherry of the Black Weblog Awards (don't forget to vote for me for best beauty blog), and Anna John of SepiaMutiny.com.  The session was followed by games, food and networking.  Even better I won a digital coin bank!! (I wanted to win a Netbook but let's not talk about that

)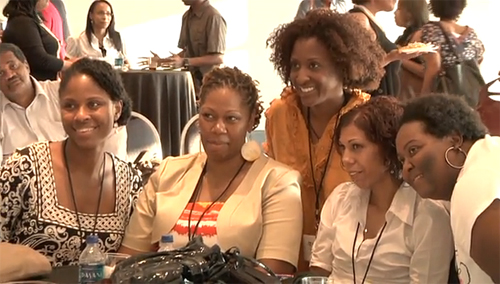 image: journal-isms
The following day started at 8:15AM

and ended at 6:30PM.  The entire time was jam packed with varied speakers from the Federal Trade Commission to Facebook, Cupcakes Take The Cake to Urban Science Adventures!.
I must admit my favorite speakers of the entire conference were Scott Hanselman & his "32 Ways to Make Your Blog Suck Less" as well as the entire last panel of the conference consisting of Baratunde Thurston, Patrice Grell Yursik and Anil Dash.
By far my favorite quote of the conference was:
"Don't let your job interfere with your career." ~ Anil Dash
Which may end up being my mantra for a long long time to come

Overall I am very pleased with my experience at Blogging While Brown and will definitely recommend it to any blogger (of color or not).  It was great to see so many ladies with natural hair in attendance!

Beyond that I roomed with Danyelle of TheCubicleChick.com and Jessica of RidingWithJessica.com and had a great experienced (never met Jessica and never roomed with Danyelle

).
Here's a little video I slapped together of the trip. As usual when the video has more than 3 clips I FOUGHT with Windows Movie Maker for HOURS to get this sucka to publish and it still isn't right

Before you watch, here are my thoughts on Windows Movie Maker:
WMM—–>

<—ini
Alright, now you can watch the video:
Blogs mentioned in video are:
AroundHarlem.com | AroundNYC.com
:::  Here is a complete list of blogs represented at the conference (pdf) :::

Late addition: I forgot to add the Blogging While Brown highlight video. Here you go:
Thanks for visiting!

/>
Life, Liberty, & The Pursuit of Nappyness