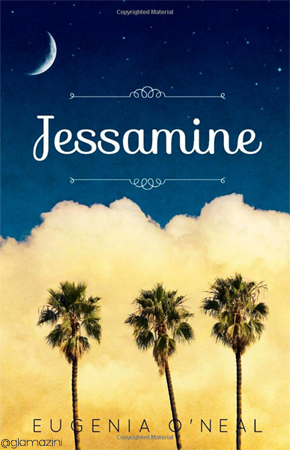 I haven't done a book review in eons … mostly because I haven't read a book in eons *sad face*. I used to live in my public library (my favorite way to procure my books), but ever since life got crazy then I had a child my book reading time evaporated into an imagination I recalled whistfully while changing diapers or doing therapies.
Enter Jessamine.
A couple years ago (yes you read that right, two years ago *hangs head in shame*) I received the manuscript for a yet to be published novel named Jessamine, written by Eugenia O'Neal, a fellow Virgin Islander.  Although my intention was to read it and post a review before the publish date, a few days later I found out that my son would be born with major medical problems and the world was never the same. Unfortunately Jessamine got lost in the shuffle and the manuscript sat in my son's room for almost 2 years.
This past December hubby and I were headed to the Virgin Islands for 3 weeks and I knew we would have no television or internet connection where we were staying. I happily dug through my book collection to see which lucky duck would travel to me to paradise and fill my imagination with wonder for the next month or so.  I remembered Jessamine and I grabbed it, and oh boy I was so glad I did!
You ever miss a book when it's done?  That's what happened with Jessamine. I picked it up one day while on my trip and it sucked me right in, making it very difficult to put it down. I read way into the morning on several occasions because I had to see what happened next.  And yes, I missed this book  when I was finally done.
Here's what the Amazon.com synopsis says:
Young Englishwoman Arabella Adams was full of hope and optimism when she arrived on the Caribbean island of St. Crescens to take up her first post as governess. But it was 1878, less than fifty years after the British abolished slavery. Dangerous secrets and desires lurked beneath the surface of St. Crescian society. Arabella surrendered to a forbidden love even as the dark clouds of old hatreds and new injustices boiled on the horizon. When those clouds burst over the island, Arabella's hopes and dreams ended and the island was changed forever.

More than a hundred years later, another woman, Grace Hylton, arrives on St. Crescens and takes up residence at Jessamine, the old Great House where Arabella once lived. Ruled by a corrupt political dynasty, St. Crescens is again on the brink of violence and chaos. It falls to Grace to discover the secrets of the past and right an old wrong before the island is plunged into years of turmoil. To succeed, however, she needs Arabella's help.

This is the gripping story of two women from two very different eras who must work together to save the island and the man they both love.
The characters, the story line, the surprises, the island of St. Crescens … the entire package was so good and I am generally not a huge fiction reader. I love that the story is told from the view point of 2 women with a hundred years between them but so much in common. It was so easy to read, like a hot knife sliding through butter.  I wish the characters existed in another book so I could read on.  This was one of those books I actually found myself talking back to LOL!!
If you love gripping fiction with historical and modern components set in tropical paradise then I highly recommend Jessamine.  My only regret it that I did not read it sooner.
Jessamine is available on Amazon, Barnes and Noble and Google Play!