Confession time.
Sometimes … rarely but definitely sometimes … I envy these women who pick one hairstyle that works for them, say 'round age 25 … and ride that sucka out for a few decades with no apparent disturbance to their sense of self whatsoever. They find a bob, they rock that bob, that bob is all they need 1996 straight through 2016. #boblife
I. am. not. that. chick.
You know this if you're here to read about my natural and extension hair escapades. I practically started this thing of documenting your hair journey online, all because I could not keep the same hairstyle for longer than a few moments (per my coworker who made said observation and dared me to "start a website about my hair").
Yet and still …
… even with my years of knowledge, experience and practice whipping my own hair into a style that fits today's mood, I'm quickly developing a pure love/hate relationship with these crochet braids!! Don't get me wrong, I'm always happy when they're installed and the style is done because then I don't have to do my hair for a cool month if I don't want to. But I always hit this point where, like driving around sans minivan, I begin to seriously question my life choices.
Ok so the actual question is …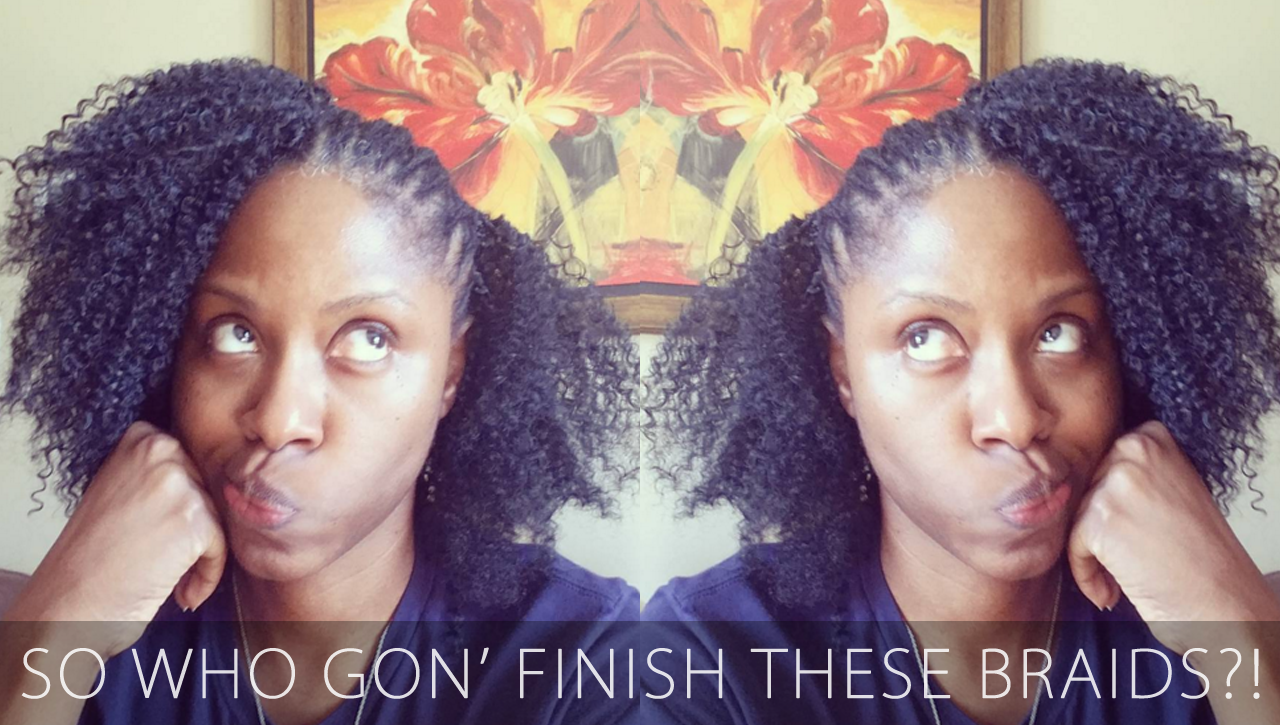 BWAHAHA! But seriously 😐
I started installing them around 4:30pm that day and stopped at 11:30pm. I was only half way done. 😐
If that's not bad enough I had the nerve to execute a pretty impressive combover maneuver and strut my butt out the house amongst the people. Believe me not?
Your Honor, Exhibit A:
Then in sheer desperation, I took to Periscope begging digital strangers to have mercy on me and come finish the braids for me … but no one showed up. 😣 Jesus be the end of this braid installation!! 😓😭 #Lordsendhelp #andhands #andpatience #oratimemachinerealtalk #help
More confessions: this post contains zero information to assist you with your crochet braiding needs … like zero … none … and I'm sorry. If you need that info click here, see boop #Igotchu
Ok I'm totally not sorry. Gurl this post contains a vent that at minimum lets you know you are not alone when you put that first braid in and think "What the heckity have I gotten myself into?!!!".
You are not alone. I am here with you.*
In closing, here's a video of me telling randoms I will waive all trespassing charges if they're willing to find their way to my house and finish my braids. Because #helpme
I eventually finished the braids and shot a video tutorial so stay tuned. Until then …
Have you ever been here? Tell me in the comments below!
*Actually I'm not, these braids are installed until they've been taken out but #MichaelJackson #soyeah