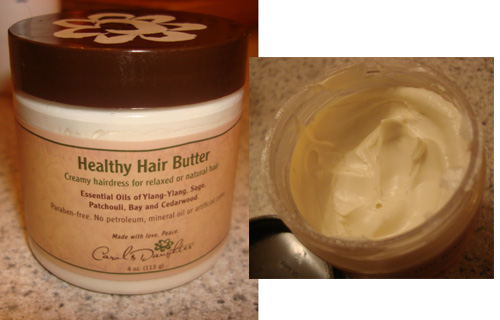 Generally I deem Carol's Daughter products to be way too pricey, but I found this @ Marshalls and thought I'd give it a try.  It's my first CD product and honestly I'm not impressed. It smells fresh, like a clean diaper, but does nothing for my hair.  I'll try it on wet hair one day and see if there's any difference.

Edited to Add (12/6/2009): This stuff is trash and should go in the trash.  I've tried it twice, once on damp then dry hair and this last time on a rollerset and it did not absorb into my hair and left residue and flakes. Ew.  The only redeeming thing is that is left my hair super soft.  I will no longer use it for its intended purpose.  Since it was still pricey, even off the clearance rack, i'm gonna add it to my pre-poo (since it'll eventually get washed out ) and once this jar is done I'm not repurchasing.  Fail.

Price: $5 for 4 oz. (usually $10-$11)
Purchased: Marshalls but can find at Carols Daughter and Sephora
Usage:From Sephora site: "This blend of essential oils of lavender, rosemary, and ylang-ylang promote general hair health for all hair types. This creamy butter softens the hair, minimizes breakage, and conditions with nourishing shea butter, almond oil, and cocoa butter, making it a perfect choice for the whole family."