Last October I briefly mentioned here on the blog that I converted my 2nd YouTube channel to solely be about my son Zion, formally known as Flickerbug online.
The channel is called:
🔆

💛

🔆 Beautiful Zion 🔆

💛

🔆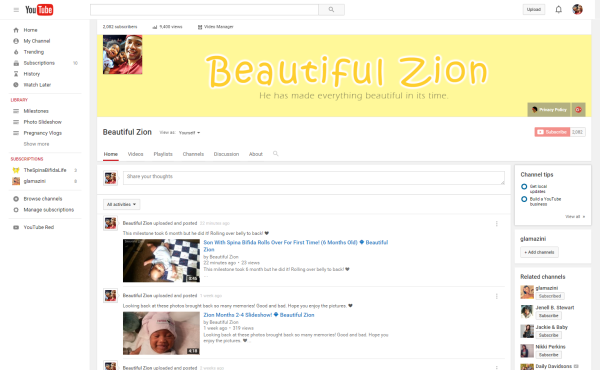 Since then I've worked diligently to tell his story past to present (nowhere near the present yet but I'm working on it 😊 ). Please subscribe to the Beauiful Zion channel if you haven't already. Your support would mean the world as we build awareness of the story of a child born with special needs.
➡➡ CLICK HERE TO SUBSCRIBE TO FLICKERBUG'S NEW YOUTUBE CHANNEL ⬅⬅.
I haven't been posting the videos uploaded there to the blog because many of them are re-uploads and already exist (i.e. my pregnancy vlogs), HOWEVER I've reached a point where I'm uploading new things no one has ever seen so I've decided to catch you guys up in this post and begin posting new items here on the blog moving forward. Ok? Ok. 😊
Without further adieu I give you
2. Flickerbug's Baby Shower! 🐥 Beautiful Zion

or watch this video directly on YouTube
3. Flickerbug Pregnancy Pictures 🐥 Beautiful Zion

or watch this video directly on YouTube
4. Flickerbug NICU Pictures 🐥 Beautiful Zion

or watch this video directly on YouTube
5. Zion Months 2-4 Slideshow! 🐥 Beautiful Zion

or watch this video directly on YouTube
6. Son With Spina Bifida Rolls Over For First Time! (6 Months Old) 🐥 Beautiful Zion

or watch this video directly on YouTube