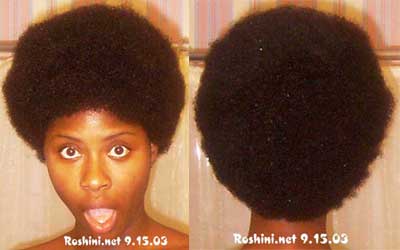 People, my hair is growing!!!!
Just take a moment to let all this hair soak in

Well, this is me all picked out after a clarifying wash and a deep condition. I've yet to blow out my hair because I've developed a fear of heat. The top still seems longer but the back actually is, it just has the most shrinkage. Scroll down to see a picture of the front
~ edited 10.12.03 ~
After trimming my hair on the 1st of October I measured my length and got about 5-6 inches all around. I cut off an inch to an inch.5 in the trim so I can now assume that I get 2/3 an inch growth a month.