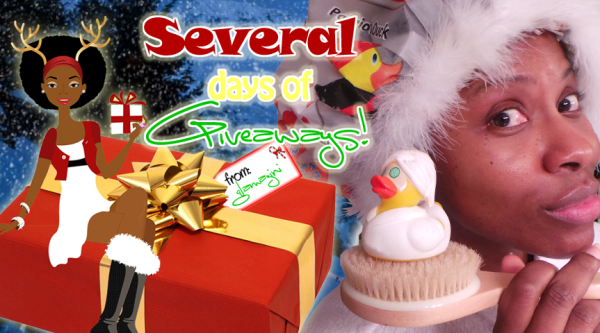 Rubba dub dub Ini's back with more free stuff! *shimmy shimmy shake*
This is giveaway numero cinco (5) in my "Several" Days of Giveaways holiday giveaway series!  The fourth giveaway is also still open so be sure to check it out HERE.
This week's giveaway is sponsored by Celestial Crowns your premiere spot on the web for oversized shower crowns (caps) or slumber crowns (bonnets)! I've owned a couple shower crowns from this company and they are super durable and very well made (very). If you want to see my previous review of the goodness that is Celestial Crowns you can do so by clickity clicking HERE.
I'm trying out Rafflecopter for the first time to do this giveaway here on my blog so wish me luck. Enter as many times as you'd like by following the instructions below or on the YouTube video.
Check out the video

:
or Click here to watch it on YouTube.
❅ ❅ ❅ ❅ ❅ ❅ ❅ CLOSED GIVEAWAY WINNERS! ❅ ❅ ❅ ❅ ❅ ❅ ❅
NIUS Creations Instagram: http://instagram.com/gweny_rad_bro (Contacted and responded)
NIUS Creations YouTube: http://www.youtube.com/1971redd (Please check your YouTube messages. A new winner will be chosen if you fail to contact me by time specified in your message inbox)
Ross Winner (Glamazini.com): jay (Contacted via email provided, waiting on response)
ToniDaley.com: Coming soon
❅ ❅ ❅ ❅ ❅ ❅ ❅ OPEN GIVEAWAY ❅ ❅ ❅ ❅ ❅ ❅ ❅
Enter For a Chance to Win a $25 Gift Certificate to Houseful of Stitches!
Here are the details for this giveaway:
Many thanks to CELESTIAL CROWNS!  Be sure to check them out for your holiday shopping and more!
Shop: http://mycelestialsouls.com
Celestial Crowns Shower Cap – What Kinda Ducky Are You??? – Large (does not come with the fur, I added that :P)
Celestial Crowns Shower Cap – TWILIGHT- Mini
Celestial Crowns Facebook Page
❅ ❅ ENTER GIVEAWAY, DEADLINE, RULES & WINNER SELECTION ❅ ❅
I've never used Raffelcopter before, hope this works!


Good Luck!