I talked about so many topics I legit can't tell you what this video is about LOL! But what's new? It's (typical) Weekly Update time!
Enjoy:

Watch the video directly on YouTube.
Want to see previous Weekly Update videos?
Click here to watch updates from past weeks!
What is Girl's Night?
It's a sleepover I have with all my friends. We do it several times a year because love.
What was in my pre-(sham)poo deep conditioner?
Creme of Nature Argan Oil Intensive Conditioning Treatment
mixed with Coco Lopez Cream of Coconut

that hubby forgot to put back in the fridge (and you know this natural hair girl wasn't gonna toss it in the trash now right? Right.)
What did I cowash (conditioner wash) my hair with?
Suave Naturals Tropical Coconut Conditioner
Which products did I use to style my hair into the twists?
As I Am Leave In Conditioner
then As I Am Double Butter Rich Daily Moisturizer
followed by Lottabody Coconut & Shea Oils Moisturize Me Curl & Style Milk
What did I purchase from CVS?
You can see a list of products I purchased last week in this blog post. This week I purchased the Shea Moisture Raw Shea Retention Shampoo
and Raw Shea Butter Restorative Conditioner
. I also bought Milani Moisture Matte Lipstick in "Matte Confident"
and the Milani Easyliner Lip Pencil in "Sugar Plum"
Information on the Health & Wellness Workshop
What: FREE Health & Wellness Workshop
Where: R&R Counseling Center for Hope, 7281 Olive Blvd. University City, MO 63130
When: Sunday May 3, 2015 at 2pm
Want to know more about my Netti Pot?
Read this post: Last Week a Netti Pot Saved My Life
Soooo about that flat iron with the ceramic and fabric covered plate?
It's the Ferrum Professional Hair Styler sent to me by the company to review. I have not used it yet but I'm very excited to try it out, most likely on the wig first but maybe on my hair too as time goes on. Their site says the "non-heated specially designed fabric plate allows your hair to breathe and cause less damage." Interesting indeed. Find out more information at FerrumIron.com. Here it is on Amazon.com with reviews.
and the wig you talked about?
It's the Kinky Straight Full Lace Human Hair Wig sent to me by Eva Wigs to review and showcase. Haven't tried it yet but here are the specs if you're curious:
sku: sk021
Hair Color: #1-Jet Black
Hair Type: 100% Indian Remy Hair
Hair Length: 18"
Hair Texture: Kinky straight
Hair Density: 100%
Baby Hair Options: All round perimeter
Bleached knots option: no
Lace Color: Medium Brown
Cap Construction: cap-3B Glue less Lace cap with ear tabs
Cap Size: Custom
Circumference:21.75 (custom)
Front to Nape:13.5 (custom)
Ear to Ear across forehead:13.5 (custom)
Ear to Ear over top:13.25 (custom)
Temple to Temple round back:15.5 (custom)
Nape of Neck:3.25 (custom)
Ok and your beloved bonnet dryer?
That is the Gold 'N Hot Ionic Soft Jumbo Bonnet Dryer
purchased on Amazon.com
at minimum 5 years ago and used in HEAVY rotation multiple times monthly.
Want to see what I'm reading?
Here's my Good Reads account
I just finished reading The Art of Stillness by Pico Iyer
. He also did a TED talk of the same name which you can watch here.
Previously I finished reading Feel the Fear and Do It Anyway by Susan Jeffers
which I loved and took away several things, one of which is the Life grid pictured below: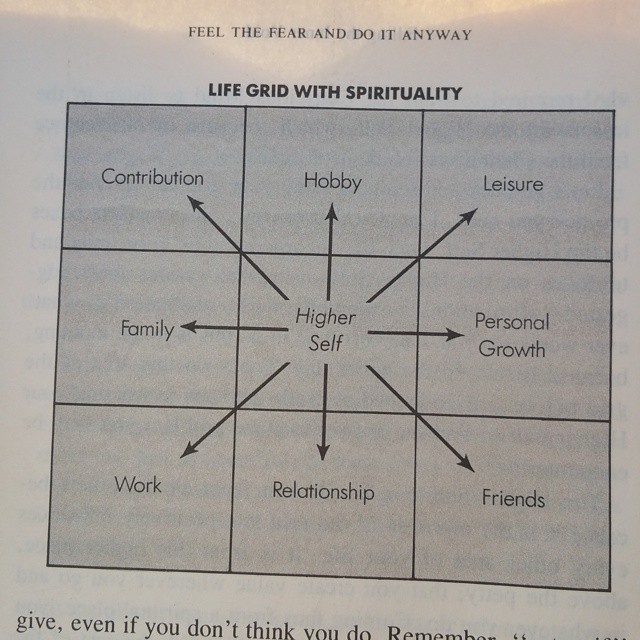 The products you mentioned from Shark Tank were?
Budsies and Neat Cheeks
∙∙∙∙∙∙∙∙∙∙∙∙∙∙∙∙∙∙∙∙∙∙∙∙∙∙∙∙∙∙∙∙∙∙∙∙∙∙∙∙∙∙∙∙∙∙∙∙∙∙∙∙∙∙∙∙∙∙∙∙∙∙∙∙∙∙∙∙∙∙∙∙∙∙∙∙∙∙∙∙∙∙∙∙∙∙∙∙∙∙∙∙∙∙∙∙∙∙∙∙∙∙∙∙∙∙∙∙∙∙∙∙∙∙∙∙∙∙∙∙
In other news, I'm so excited because I think my second Rocksbox has arrived at my UPS mailbox! Woohoo! Pray I can get there tomorrow and pick it up so I can wear the items to church on Sunday (and yes I changed the delivery to my house because I'm loving Rocksbox and want to get my items quickly). Click here to find out more and get a coupon code.
Oh and don't forget to sign up for the Shopkick app. Thanks to everyone who has used my link thus far. I'm saving up points to try to get a vlog camera from Best Buy. Woohoo!!
Hope you guys have a good one. *mwah*
What do you have planned this weekend?