Hola! Updating this post to point you to our 2016 anniversary trips to The Elms! So nice we did it TWICE! You can read all about it here: So Nice We Did It Twice! ~ The Elms Hotel and Spa in Kansas City ~ Our 10th Anniversary!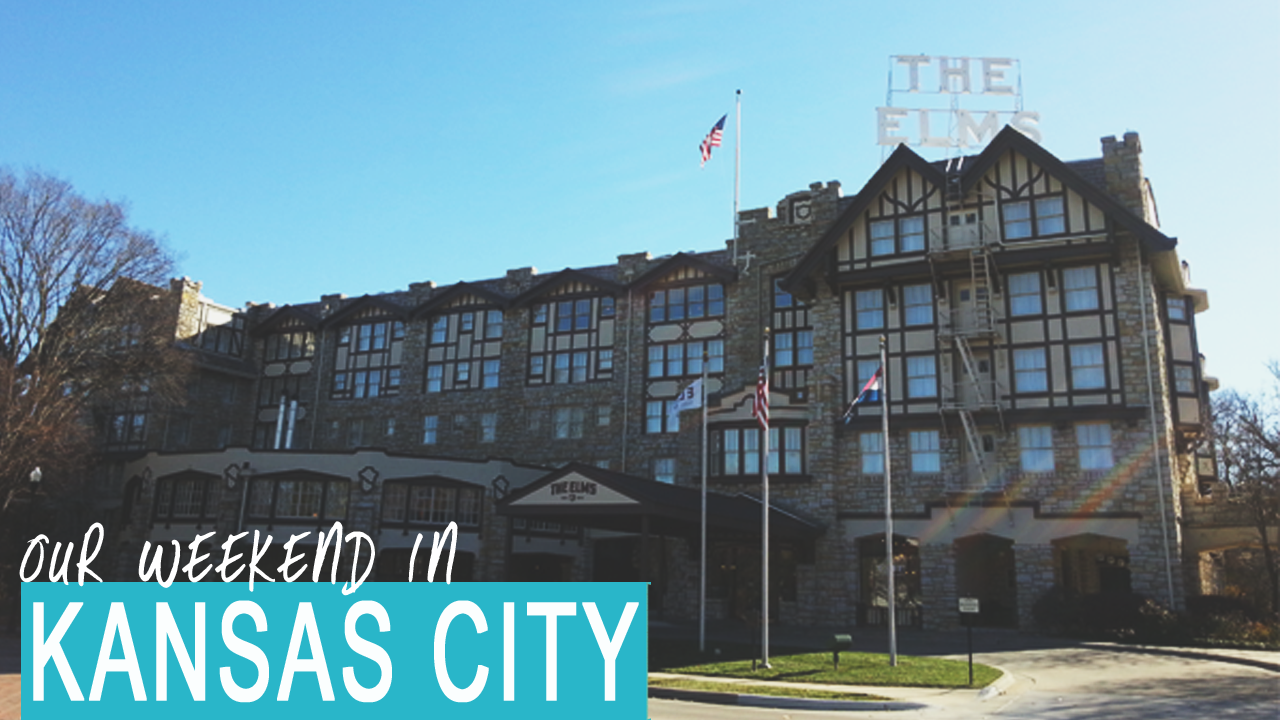 N

ovember 11, 2013, was my 7th wedding anniversary!

Can you believe it? SEVEN YEARS! *faint* My husband surprised me with a much-needed trip to Kansas City, Missouri. He was raised in St. Louis and I've lived here for almost 2 decades and yet neither of us has ever visited KC, which is just under four hours from our home.

A quick drive west on highway 70 and we arrived in time for lunch at the world famous

We turned the corner and this was the line: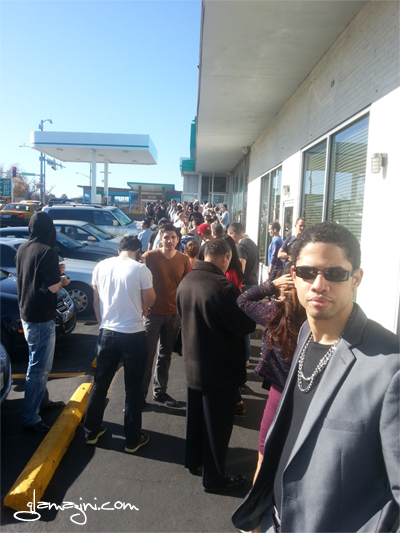 For perspective, we are at the corner of the building (another business entirely) and the door is up under the green part of the roof! Then, if you can believe it, when we FINALLY arrived at the door (about 45 minutes later) the line on the inside of the building was JUST AS LONG!! *faint*. Hubby had done his research and swore this place was the best per the reviews, so we waited a total of an hour and a half (yes, that would be 90 minutes) to order our food. The actual ordering process and getting our food took no time at all. I would never wait in that line again, but it was a cool one-time experience and we were not disappointed with our food one bit! I love love love barbecue, and even though the cole slaw was so-so and the baked beans tasted more like yummy chili than the sweet baked beans I'm used to with my bbq, the ribs were delicious and the brisket … LORD JESUS THE BRISKET!!!!! BEST BRISKET I'VE EVER PUT IN MY MOUTH! When I say the brisket melted in my mouth I mean it … it was like butta. #glamaziniapproved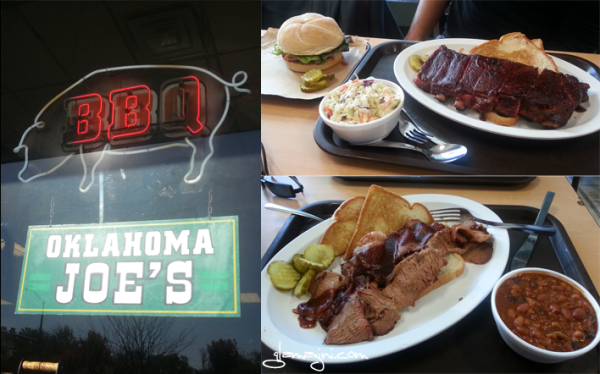 If you are in Kansas City I highly recommend you swing by Oklahoma Joe's but go on a random non-lunch-time weekday and/or do carry out (which we did on our last day in town) so there's no line and you just walk in, pick up your food, and leave.
After filling out tummies our next stop was the
Hubby and I are both museum buffs so we actually hit up the museum 3 out of the 4 days we were in town checking out the different exhibits and buildings.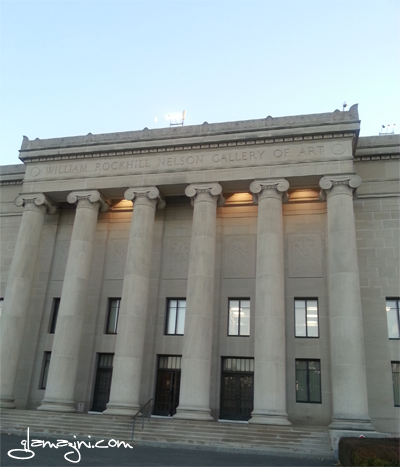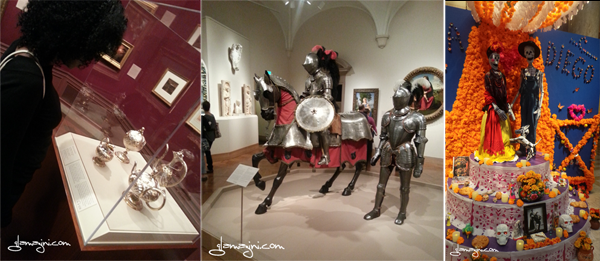 The shot below was taken on the roof of one of the buildings at sunset.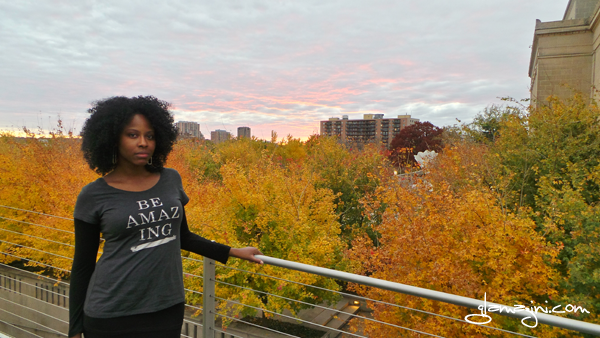 If you think that's breathtaking check this out: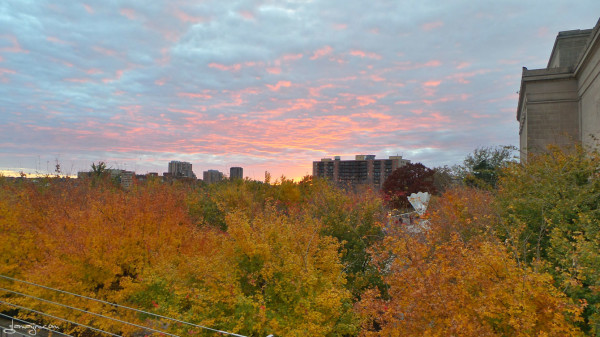 If you're curious, the shots above were taken with the Samsung Galaxy camera. Nice huh? Click the bottom one to enlarge it and enjoy.
Moving right along …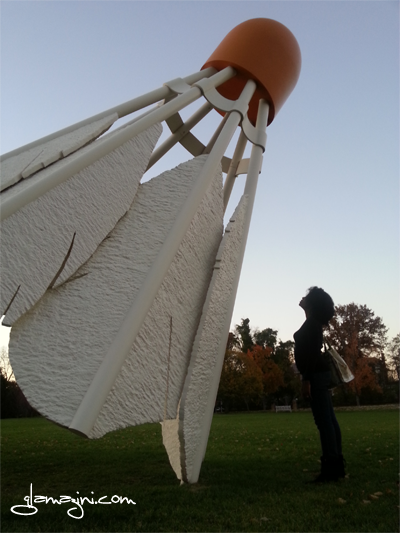 The museum was followed with shopping at
Country Club Plaza, Kansas City's premiere shopping, dining, and entertainment district.
Hubby was too happy to find his Armani Exchange store (which we do not have in St. Louis #boo (and is no longer there in 2016 #doubleboo)), and I made my way to M.A.C. and grabbed a nude lipstick (fun fact, the first lipstick M.A.C. ever made), Taupe. The low point of my trip also happened at Country Club Plaza when my husband and I were heckled and followed by a group of teenagers until police officers asked them to disperse. I posted a little about it on Instagram if you're curious.
After shopping, I was whisked away to my home for the next few days,
about 30-40 minutes outside Kansas City.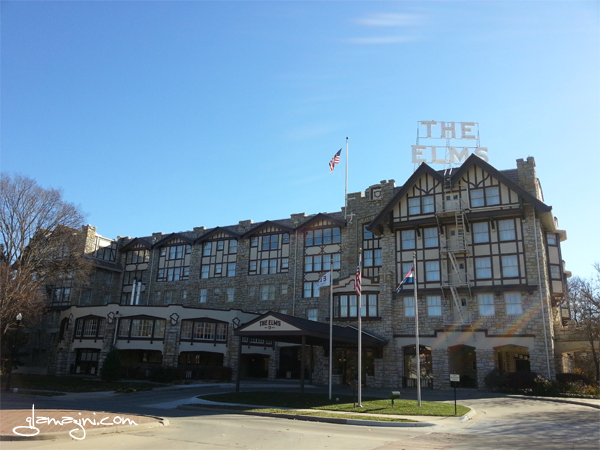 The suite was so lovely and spacious (room 215 btw). It came fully equipped with a separate seating area, a mini refrigerator, a Keurig coffeemaker, complimentary high-speed wireless internet access (which I never used because I was on chill mode), a king-sized bed with memory foam mattress (aaaaah), a really cool iPod docking station/clock radio that I couldn't stop playing with, AVEDA bath products and an in-room safe that fit a laptop! I was especially loving the 100% smoke-free accommodations and built-ins around our ever so comfy bed.

The Elms has a rich history with two fires in its wake and everyone from famous gangsters to presidents gracing its doors. Our room was actually across the hall from the Al Capone Suite, slated to be his favorite room when he stayed at the hotel (my guess would be because you have a great view of the entrance and front of the building and it's on a lower floor for easy escape #thinklikeagangster).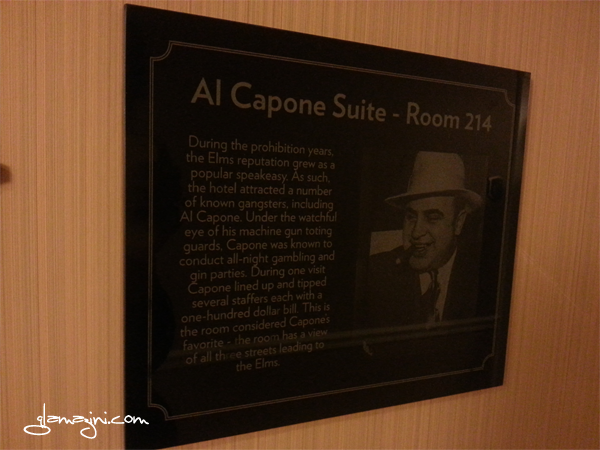 They even say the hotel is haunted, and twice a night at 11pm and 1am there is a ghost tour which we enjoyed. (Fun fact #2, this is not my first brush with sleeping in a "haunted" building, in 2005 also spent the night in the ever so haunted Lemp Mansion.).
Here are the pools (outdoor and indoor) during the ghost tour: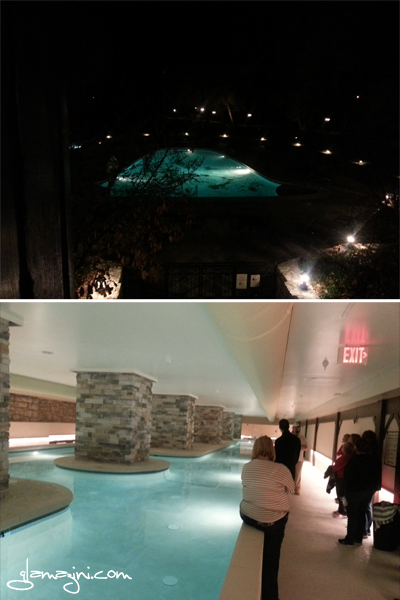 I highly recommend you read more about the incredible history of The Elms Hotel by clicking here. It's very interesting!
Moving right along …
… this entire trip was a surprise, so imagine my 1st-time-mom-with-a-special-needs-child UTTER GLEE when I found out our room had complimentary robes and slippers so we could partake in the expansive spa on the lower level of the hotel! Yes, please!!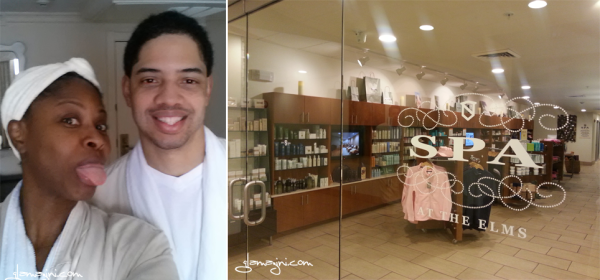 Although we did not get separate services, we visited The Grotto, their modern interpretation of a Roman bath featuring a dry sauna, steam sauna, hot tub, cold plunge shower, steam shower, exfoliation bar and iced peppermint cloth refreshing station, EVERY DAY!
O.M.G. I cannot say enough about The Grotto!
The first day we tried it all, but we quickly fell in love with the hot tub -> steam shower + exfoliation bar ->cold plunge -> peppermint cloth cycle LOL! Now full disclosure, we did more of a "cold spritz" than a plunge HA!, ain't nobody got time for dousing her entire body in a briskly cold rain shower no matter how good it is for you #iamfromtheVirginIslands. Oh and we wanted to take that bowl with the iced peppermint clothes home with us #truestory.
While there I was live posting on Instagram (follow me if you haven't already) and
several of my followers recommended I try out Gates Bar.B.Q.
I already told yall I love me some barbecue so I went ahead and did just that.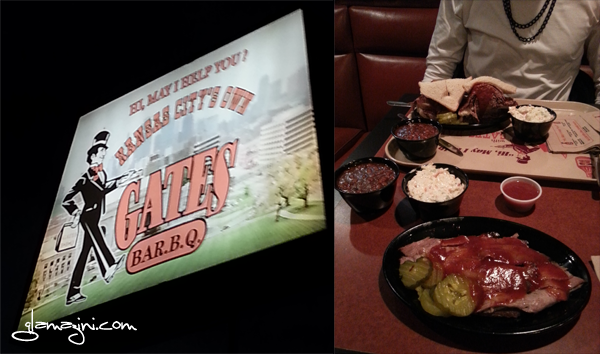 My verdict? The baked beans at Gates were better than at Oklahoma Joe's (mostly because OJ's beans tasted like chili). The sauce at Gates is amazing but neither my husband nor I liked the cole slaw. The brisket was good but not as good as the brisket at Oklahoma Joe's. Overall good eats, though. #nomnomnom
Unfortunately, on the day we tried to check out the
the weather did not cooperate with is. Temperatures plummeted to freezing numbers and as we walked the streets it was pretty dead so we went back to the hotel. We made a few more stops in Kansas City on our actual anniversary date. The brand new Kauffman Center for the Performing Arts offers tours to the public so we indulged in that before dinner at the brand spanking new Rosso restaurant atop the Hotel Sorella.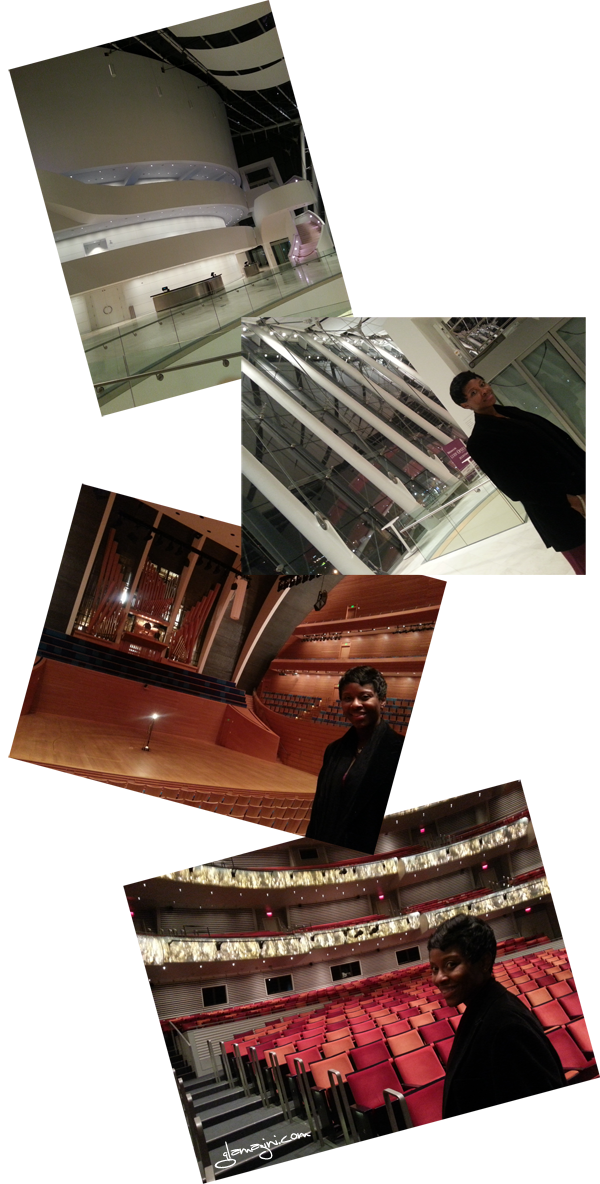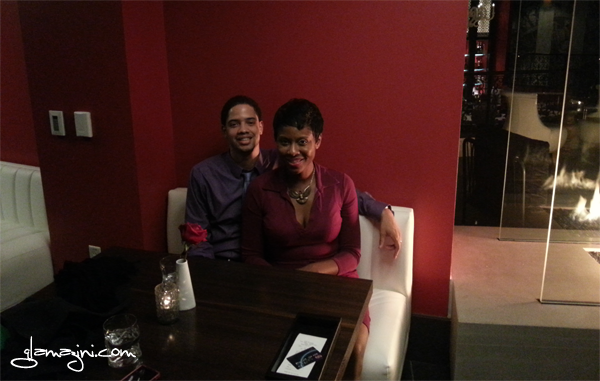 Rosso had been open for literally less than a week so there were some "cute" moments of them figuring things out, but overall the service and food were amazing and I really enjoyed the decor and the fireplace I sat next to warm up after the freezing cold temps outside.
Our 4-night trip to Kansas City was an absolute heavenly and I've had a great time reliving it through the photos while doing this post. The past year has been tough being a first time mom and my son being born with the worst kind of spina bifida, so my husband did such an amazing job planning this entire trip. I didn't have to lift a finger.
Thank you, Jesus and happy anniversary to meeeeee!