I didn't dress up for Halloween, but I always swing through the clearance aisle the week afterward to see if I want any of the costume leftovers. This time I saw these beauties: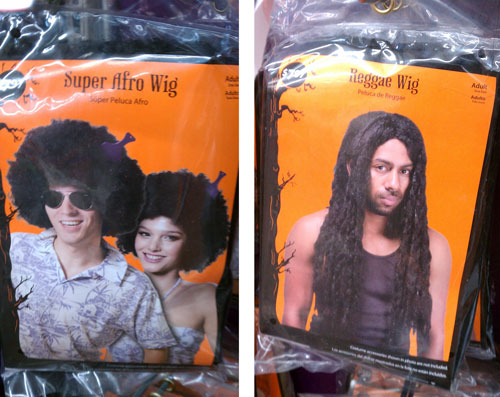 I'm used to seeing afro wigs on costume racks (although the pick is a unexpected touch), but the "reggae" wig made me do a double take. It seems to be large messy braids more than locs but who knows?
My initial reaction was negative to both wigs.
The fact that black people's natural hair texture is somehow a costume option often gives me a knot in my stomach.  I think the "reggae" wig annoyed me more than the afro one because an "afro" is a hairstyle but what does "reggae hair" look like? Apparently like that? O_O I wrote about this a couple years ago when I found a "ghetto fab" wig on Amazon.com.  Same problem different wig.  What praytell does "ghetto fab" hair look like? Apparently like my hair #fail.
As I took the photos I spotted a long straight blonde wig and wondered if my feelings of angst were indeed warranted and what made that any different.  Ultimately I realized the wig was labeled "blonde wig" and not "bimbo hair".  Catch my drift?
What do you think about costume wigs that are based on natural hairstyles?