Did you know a cruise ship can change the intended itinerary of ports before or even WHILE sailing due to weather or other circumstances?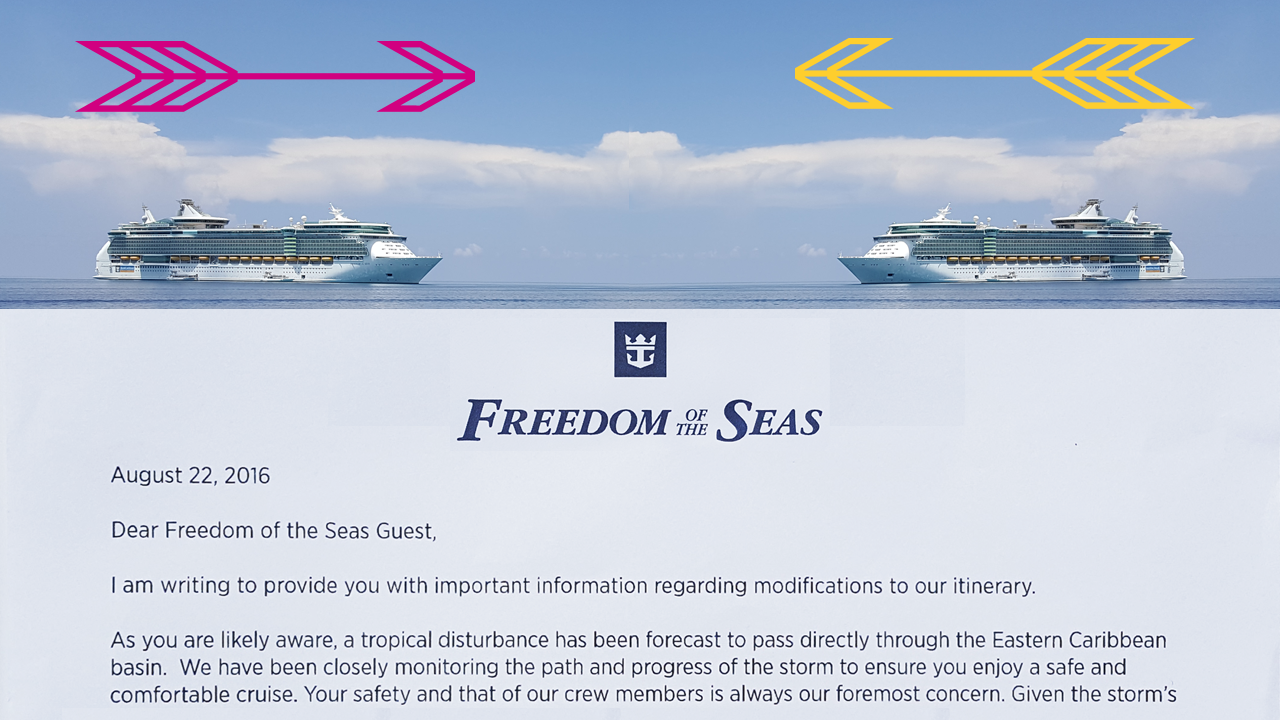 This just happened on my recent Eastern Caribbean cruise on Royal Caribbean International's Freedom of the Seas because tropical storm Fiona decided to head in the same direction that we were sailing! Boooo! I chose the cruise over a year ago because it was going to the island where I was born and raise, St. Thomas, U.S.V.I. and booked a group cruise with 12 women to celebrate my 40th birthday but alas, here's what happened when plans changed.
Our original itinerary was:

On Monday, August 22nd after the ship had set sail from Cococay, Bahamas there was a ship-wide announcement over the intercom stating that due to weather concerns our itinerary had been changed and Freedom of the Seas would not be docking in Charlotte Amalie, St. Thomas (*tear*), or Philipsburg, St. Maarten any longer. Instead, we would be headed west to avoid the storm and docking in Costa Maya, Mexico and Cozumel, Mexico on the same respective dates.
Honestly, it was not that direct of an announcement. There was a lot of hemming and hawing and buttering us up with "Didn't you have the most amazing day in Cococay? Huh? Huh? Didn't ya?!" before they just spit it out that the itinerary was being revised.
Anyhoodles, that was it. After that, they made a few announcements about refunds for excursions booked via Royal Caribbean how to book excursions in the Mexican ports and left this letter in our staterooms that night.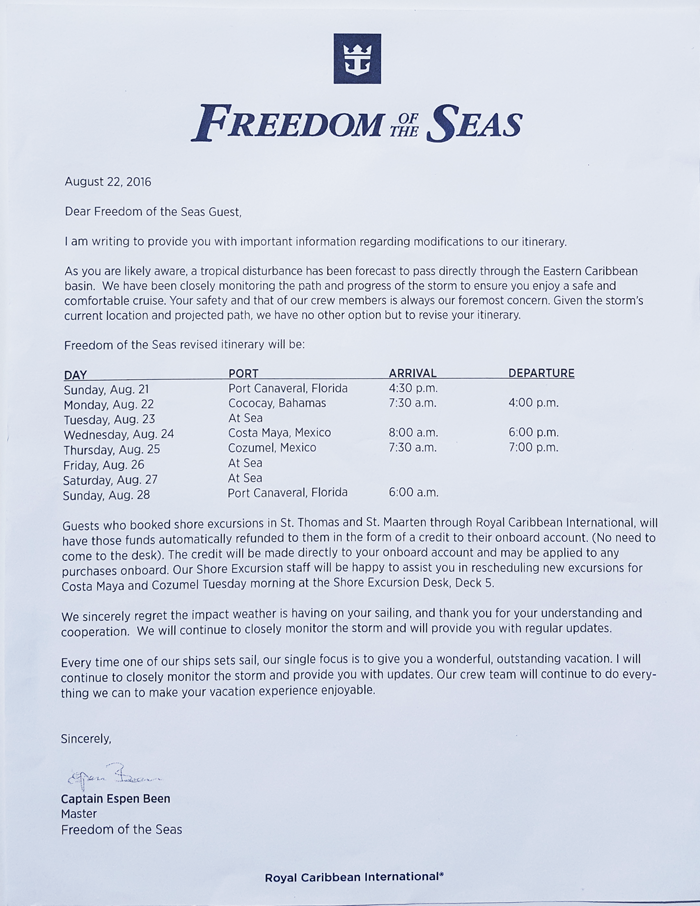 Even though it was unexpected ultimately it was well. There was a couple on our cruise that booked a Western Caribbean back-to-back with this Eastern Caribbean so they ended up basically doing the same cruise twice. Womp. Others shared with me that their Bermuda cruise had gone to Canada instead, and another that they had gotten no ports in their itinerary revision so spent 7 days at sea. Uh.
So there you have it … on my 8th cruise I finally got to see what happens when the itinerary is changed mid-sailing.
And for those wondering, yes Royal Caribbean can do this, it's in the paperwork you sign when you book the cruise. Although it sucks it's for your safety. Here's what they responded with to my Facebook post about the itinerary change.