Ok, who remembers me having a social media conniption fit last week?
[looks around to see who raises their hand]
For the rest of you, here's what I'm talking about. The gist is Express failed me and I was not happy about it one bit

so I told everyone in my teeny (not exactly so tiny) online world that they sucked in a major way

. If you go back and read the entire previous post and updates at the bottom you will learn that I was contacted by Rick from Express the same day and spoke with him on the phone THE FOLLOWING DAY! IMPRESSIVE!

He apologized, explained what happened and promised to send me a gift card for my troubles. Well guess what I got the other day:
BOOYOW!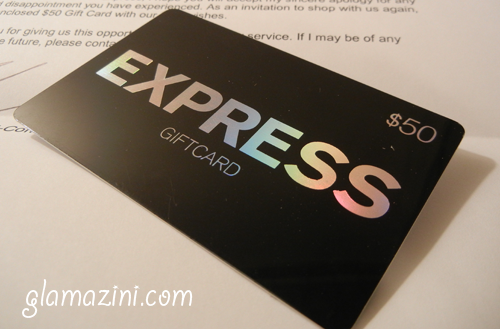 Well my dang

the man really sent me a FIFTY DOLLAR gift card!

IM.

. PRESS. IVE!!!
Where were we?
Not only that, he also enclosed a letter (yeah yeah, marketing 101 but I still felt special) and the entire situation was FedEx'd to my doorstep (as my grandmother used to say) "with haste".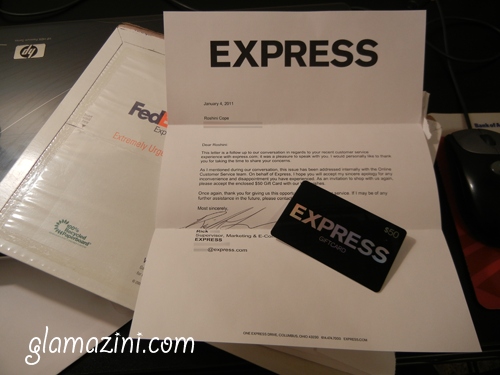 All I can say is "good save Express.com Im. flippin. pressive!"

Although I can't say my confidence in their website has been restored

, I will say my confidence in their desire to serve their customers has been patched up quite nicely

…at least for me. My husband (a frequent customer of their retail and online stores) has had a myriad of issues with the .com since last November, and is not big on social media, but when he heard the results I had he actually said "maybe I should get on twitter!" HA! It still sucks I don't have my jeans

and yet, I may just give this gift card to hubby since I know he's always shopping there any way.
At any rate, thanks again Rick for caring enough to address me personally via twitter, the phone and a letter. Bravo!

Alright, cyber-applause complete.