And the next day the long weekend is over (

) and I'm back in the dealership after work. My hair was rinsed and pulled back into 1 ponytail.
Yes, I took this picture in the dealership

. I have no shame…besides, it was a momentous occasion because ….
… I had to pick up Darci*

.
So with a heavy heart

I said goodbye to my faithful chariot, Boobi, a Scarabe Green 1996 Saab 900S. She's driven me safely all over the country for the past 8 years (I bought her used) and has been an integral part of my life…the good and the bad. Not to mention she's the first and only car I've ever owned.
Bye Boobicar

thanks for the memories.
*Darci is my new car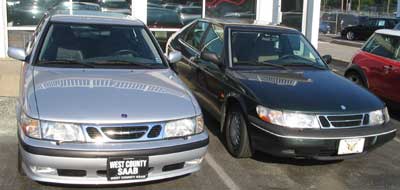 Darci is a Silver Metallic 2002 Saab 9-3 SE. I loved Boobi so much that I just got a newer one…and since Saab changed the body style in 2003 *boo, bad Saab* I opted for the 2002 so I could get my beloved hatchback.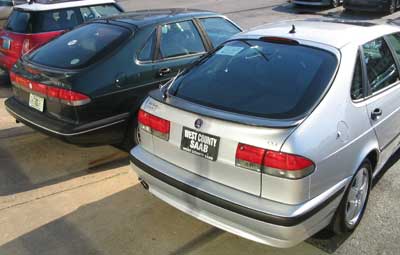 I just want ya'll to know that HOW I got this car is a true testimony. All I have to say is:
Now unto HIM who is ABLE to do exceedingly, abundantly ABOVE all that we can ask or think according to the power that works within us ~ Ephesians 3:20.