This is post number 7 in my series documenting my husband and my cruise on Royal Caribbean International's ship, Brilliance of the Seas.

Read Days 1 & 2 ~ Traveling & Barcelona, Spain
Read Day 3 ~ Nice & Eze, France ~ Monaco (Villefranche)
Read Day 4 ~ Florence & Pisa, Italy
Read Day 5 ~ Rome, Italy (Civitavecchia)
Read Days 6,7 & 8 ~ Days at Sea & Athens, Greece
Read Day 9 ~ Kusadasi, Turkey (Ephesus)
::::::
Sunday May 15th 2011 ~ Santorini, Greece
Once again I forgot to share this photo from the previous night. After dinner we returned to the room to find this cute towel animal.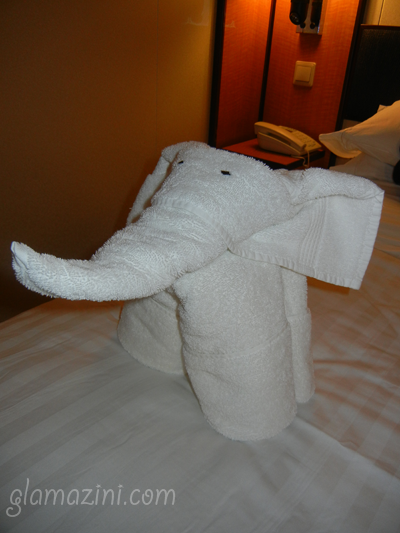 *clears throat* THIS, Danielle, is an elepant.  

(image: glamazini)
Alright, back to Sunday the 15th.  We didn't have to meet our excursion tour until 11:45AM (thank Jesus), so we slept in later than usual. Unfortunately when we woke up, none of the food venues on the ship were open!  We never even thought that was possible because cruise ships are famous for having food 24/7, but there is almost a 2-hour gap in the morning where no food is available (even room service).   We called room service anyway and convinced (begged) them to bring us random items like fruit, yogurt, coffee, and bread. Once we made it to the theater to meet our tour group, I mentioned to Adima that I was a bit sick to my stomach, but assumed it was sea sickness coupled with the strange mix of items I'd just downed for brunch.  We took the tender boat into Santorini, Greece and it was BEAUTIFUL.
The color of the water was unbelievable (and being from the Virgin Islands it takes a lot to impress me with water color LOL).  It was this deep navy blueish color I had never seen before and the photos I took do not do it justice.
It turns out that color can be attributed to the fact that our ship was docked in what is called a "caldera", basically a water-filled crater formed from the collapse of land during a volcanic eruption.
Yes, we were docked INSIDE a volcano.  

Moving right along

  … our tour of Santorini started well.  We took a bus around the island and went to taste wine and for a brief tour of the winery facility.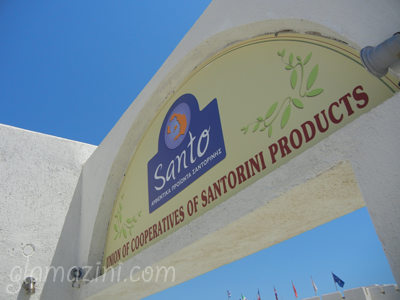 The winery cooperative where we did wine tasting.
(image: glamazini)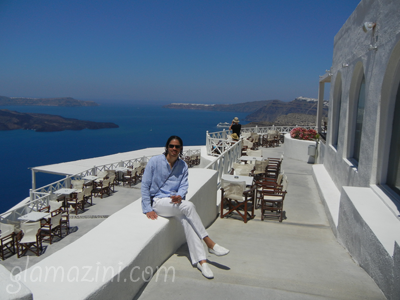 Adima sampling the wine at the cooperative
after our tour.
(image: glamazini)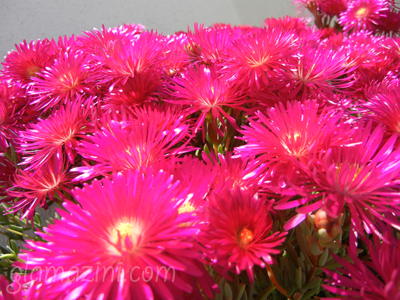 Flowers at the winery cooperative where we
did wine tasting.
(image: glamazini)
We then went to the town of Oia (pronounced "eeya") which was very nice and exactly what you expect to see in Santorini (white-washed buildings with blue capped roofs on the churches).
&#016
0;
I was still feeling a bit off but I still assumed it was the lack of food, sips of wine and walking around in direct sun all afternoon. After Oia we went to the town of Fira situated on the top of the caldera above where our boat was docked.  Fira was beautiful as well.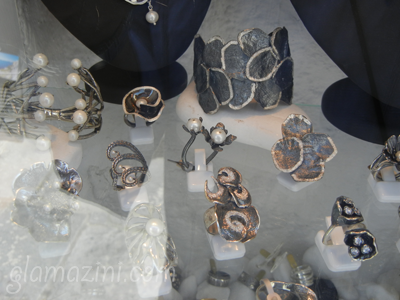 The jewelry in the shops in Fira was AMAZING! Too
many good pieces to choose from.
(image: glamazini)
I was still feeling ill but assumed I needed to eat so we grabbed a hurried lunch at a restaurant with an amazing view.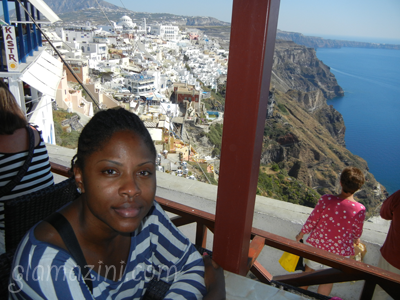 Me at the restaurant in Fira thinking that eating would
help me feel better. Look at my face … that is the face
of
a woman about to waste money on a meal that
does not stay in her stomach much longer #failure. 
(image: glamazini)
Running short on time we quickly caught the cable car down the hillside (not as scary as I'd feared and better than taking the donkeys) and were back on the ship in no time.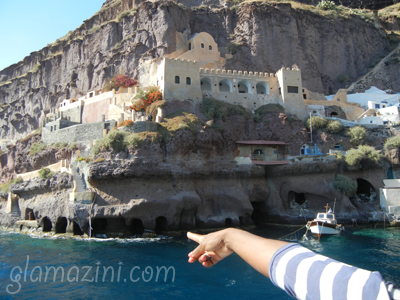 Me pointing at cave homes in the rocks on our way
back to the ship.
(image: glamazini)
Once onboard we took in the sun on the deck then both took a quick nap.  Once the ship began its departure from Santorini I realized I was NOT feeling well

 .  I got up and RAN back to the room feeling like I was going to throw up at any minute

 . Poor Adima tried to keep up with me as I dashed through the halls of the ship praying to find my cabin restroom so I could toss my cookies (yes I know, not that glamorous of an experience but just you wait, it gets worse).  I get to the room, fumble for the card, get in, run into the bathroom and …
… nothing happens

.
Here I am head over the toilet (yes I know I know but focus, it's part of the trip and it needs to be told) and all I'm doing is flippin dry heaving!

    Annoyed about th
is ridiculous episode not turning out as planned

 I swing open the bathroom door ready to tell hubby how we ran for no reason but I look around and … no hubby.  Uh?

   Turns out my husband, who had been feeling perfectly fine all day even as I told him I was getting more and more nauseous, started to feel sick AS he was running behind me back to the room and had to dash out of the room to find a restroom for himself!

 WHAT IN THE WORLD?!
Needless to say the rest of the story was NOT glamourous in any way shape or form. I can't even pretend

 . We spent the rest of the night taking turns using the bathroom 


 (both ends … you get the picture). We also had fevers, shivers and shakes. NOT a good look!

  To ad insult to injury the medical facility on the ship was not open (for free visits) until 8:00AM so we decided to deal with it and wait until the morning to go get help.
Stay tuned for more! 

Until next time Glam Fam I wish you
Life, Liberty & The Pursuit of Nappyness,