LAST POST IN THIS SERIES!

This is post number 10 in my series documenting my husband and my cruise on Royal Caribbean International's ship, Brilliance of the Seas.

Read Days 1 & 2 ~ Traveling & Barcelona, Spain
Read Day 3 ~ Nice & Eze, France ~ Monaco (Villefranche)
Read Day 4 ~ Florence & Pisa, Italy
Read Day 5 ~ Rome, Italy (Civitavecchia)
Read Days 6,7 & 8 ~ Days at Sea & Athens, Greece
Read Day 9 ~ Kusadasi, Turkey (Ephesus)
Read Day 10 ~ Santorini, Greece
Read Days 11, 12 & 13 ~ Days at Sea & Naples, Italy
Read Day 14 ~ Barcelona, Spain
::::::
Friday May 20th, 2011 ~ Barcelona, Spain
On day 2 in 

 Barcelona, Spain, 

 we woke up and really understood why our hotel was called the Eurostar GRAND MARINA.  This was the view from our balcony and window.
Uh yeah … LITERALLY a flippin cruiseship was dock dang near AT our hotel LOL. What in the world?!
Anyhoo …  we slept well (the bed was firm but comfortable), got up, got dressed and walked straight over to Port Vell to find some breakfast.  I had a huge croissant with an espresso at a shop appropriately named "Espressamente" … cute. Hubby had a waffle and some orange juice from the same place. After we ate, we walked around a bit and I did some shopping. I bought the cutest shirt that said "Maybe I'm Dreaming" on it so I could wear it back on the flight to the U.S.A. the next day because, after 2 weeks in the Meditarraenan St. Louis, Missouri was going to feel like a straight up dream LOL!
After patronizing the shops at Port Vell, we took our items back to the room, packed our bags and checked out of the hotel. We checked out bags at the concierge, and promptly strolled back to La Rambla, where we shopped and had lunch at La Boqueria market (again), this time more mango #nomnomnom, fresh fruit juice  #nomnomnom and the best pizza ever #nomnomnom.  We saw no need to diversify our menu from the previous day … if it's not broken why fix it?
We walked the entire length of La Rambla (again) northward until we hit the square leisurely strolling into MANY shops on the way. We went down into the subway just to say we did (no time to actually ride), and I bought a bottle of water at largest vending machine I've ever seen in my entire life!  Would you believe after hitting the square on the northern-most end, we turned right back around and walked the 3/4th of a mile length back through La Rambla (again) to Port Vell (again) then back to our hotel to grab out bags.  Crazy yes but the weather was PERFECTION and as much eating as we were doing, at the market we could use the mile or 2 hikes every day to even out the playing field LOL.
Once back at the hotel, we grabbed our bags, called a taxi, and bid the Eurostar Grand Marina goodbye for out new home: The W Barcelona!
Yes, you read that right:  we stayed 2 extra nights in Barcelona after our cruise … 1 night at the Eurostar Grand Marina and one night at The W Hotel.  Why?  Why not?   Hubby wanted to stay at The W, and it was booked but for 1 night. I said let's make it do what it do, and honestly, this was such a happy accident because we LOVED staying in 2 different hotels.  Mind you, the hotels were practically next to each other so it wasn't a huge hassle to make the move over.  We did, however, need to call a cab because the convoluted route to The W from the Eurostar made walking there improbable, especially with luggage. The cab ride further perplexed us because it was under 8€ but there was some mystery 3€ charge that we never did figure out.
Anyhoo … we checked into The W with no issue, and were given the last available room on the 25th (top) floor!  WOWSERS!  Note: there is a club on the 26th floor of the hotel but we had no issues with hearing the music even though we were only 1 floor down.  Once in the hotel/room we were struck by the "club-like" decor as opposed to the more subdued Eurostar that we'd just checked out of that morning.  Both hotels are rated 5 stars, but each definitely does it differently.  We hung out in our room for a while taking in the AMAZING view of the harbor and marina.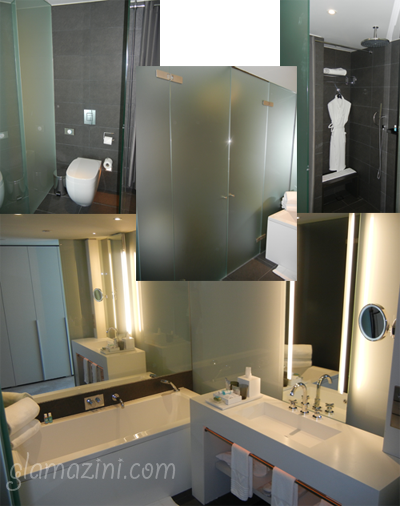 Our bathroom at The W Hotel in Barcelona. 
(image: glamazini)

Our room and our view. (click to enlarge image)

(image: glamazini)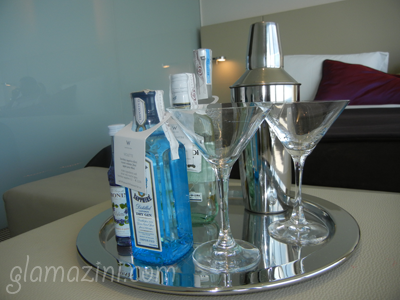 This was at the foot of our bed. I suppose if you're one
floor down from the rooftop club you're expected
to party.
(image: glamazini)
We eventually ventured out again since our incredible european escapade was nearing its end *weep*. We wanted to get the most out of our last day. We toured the hotel then walked down to the beach.
The view of from the hallway outside our room in front
of the elevators
(image: glamazini)

The view of from the hallway outside our room in front
of the elevators. Basically all of downtown Barcelona!
The round buiding in the middle is our previous
hotel, the Eurostar Grand Marina. (click image to enlarge)

(image: glamazini)
After walking to one end of the beach (I don't think we strolled the entire 5kms of beach but it felt that way *faint*), we found a place to get take out noodles and natural food. We ordered some dinner to go and had a fun conversation (in Spanish) with the guy behind the counter.  With take out in hand, we strolled back to the hotel (on the sand this time), making sure to take off our shoes and put our feet in the water so we could say we had been in the Mediterranean sea.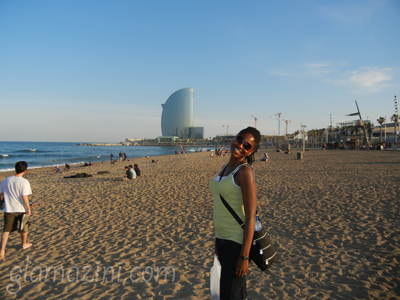 Me on my way back to the W (in background) with
takeout dinner in hand.

 (image: glamazini)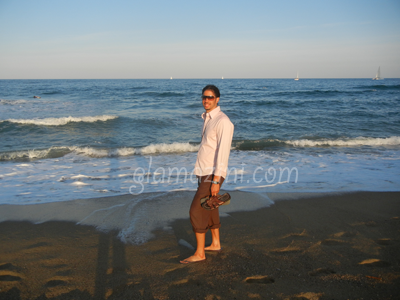 Hubby with his feet in the sand.

 (image: glamazini)
Back in our room we chilled, ate and watched television for a while. The view from our room was ri-flippin-diculous so we just kept all the blinds open and enjoyed.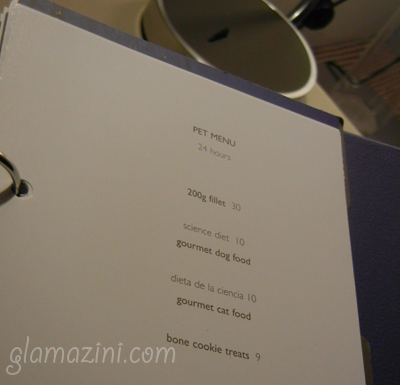 I discovered the Pet Menu in our room. 30€ doggy filet anyone?

 (image: glamazini)
Since we were headed back to St. Louis the next day *waa* we took some time to pack our bags and make sure our luggage was distributed appropriately weight-wise 'cause you know nowadays these airlines do not play with the fees!  Later that night we put on our hotel robes and strolled out by the elevators to see the nighttime skyline of Barcelona (yes in our robes, don't judge!)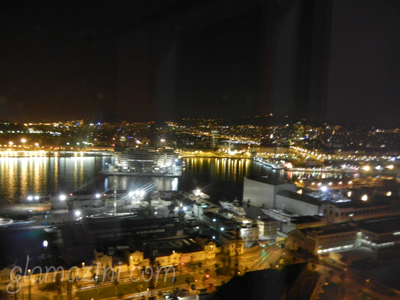 The view from the W Hotel at night

 (image: glamazini)
It was a long day and I was b.e.a.t.  Hubby insisted on seeing what the club upstairs looked like so he got showered, dressed, and went upstairs then out to the beach again to take photos.  I watched some English psychic "talk to dead people" via a Spanish translator  went to b.e.d.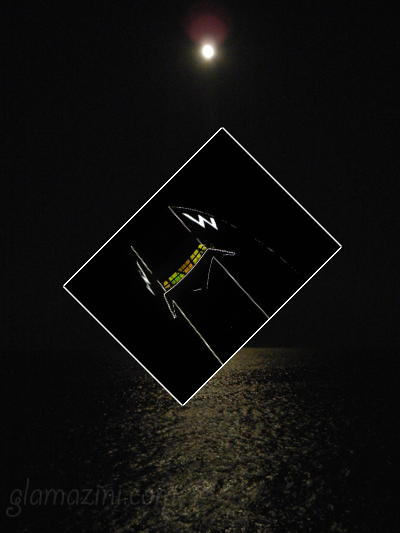 The beach & The W hotel at night

 (image: glamazini)
This is officially the last photo I took on our incredible cruise/trip the the Medditaraean.  Our room came with breakfast included … however … we slept late and did not get to eat said breakfast #womp.  It sure is pretty though huh?  I think hubby swallowed something off that table our blaze of glory to get out the room and to the airport on time. I know I grabbed me a croissant and coffee and ate them in the car (along with my last pack of mango pieces from La Boqueria market … and no, I'm not telling how many of those I ate in 2 days!).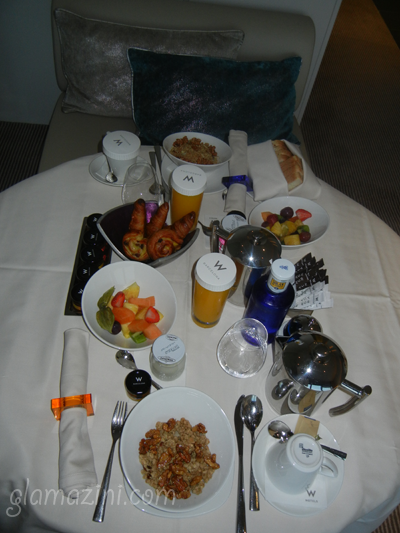 The breakfast that never was at The W Hotel

 (image: glamazini)
Just looking at all these pictures I'm a little weepy-eyed reminsing about how awesome that trip was. I thank God my legs held up (with the assistance of a knee strap, daily physical therapy exercises and shoe inserts) and I cannot say anything a bad about this trip (even with the night-o-norovirus). It was perfect and I pray one day we can go back again God-willing.  I am trully blessed.
Until next time Glam Fam I wish you
Life, Liberty & The Pursuit of Nappyness,

@Glamazini | facebook.com/IamGlamazini | youtube.com/Glamazini | Google+