This is post number 5 in my series documenting my husband and my cruise on Royal Caribbean International's ship, Brilliance of the Seas.

Read Days 1 & 2 ~ Traveling & Barcelona, Spain
Read Day 3 ~ Nice & Eze, France ~ Monaco (Villefranche)
Read Day 4 ~ Florence & Pisa, Italy
Read Day 5 ~ Rome, Italy (Civitavecchia)
Read Days 6,7 & 8 ~ Days at Sea & Athens, Greece
::::::
Saturday May 14th 2011 ~ Kusadasi, Turkey (Ephesus)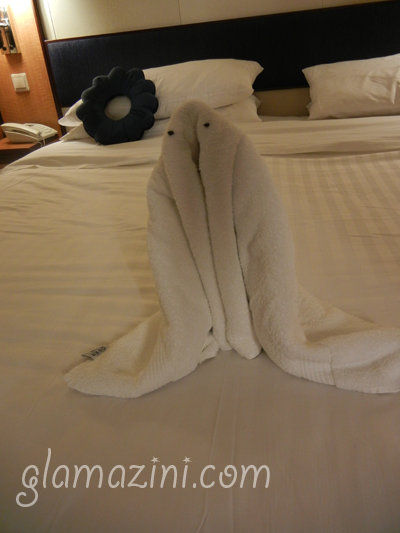 Strange, unidentifiable towel animal I forgot to show you guys from
the previous 
night.  What is it? Someone tell me! (image: glamazini)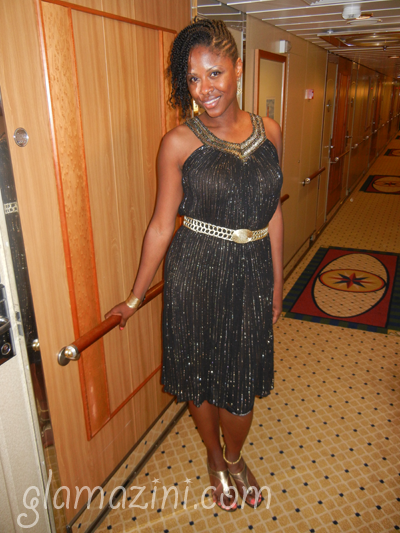 Another picture I forgot to share: me the night before at dinner in the
dress 
& belt hubby bought me in Athens at La Plaka. (image: glamazini)
Waking up at 6:50AM meant yet another early start to this day.  This cruise is awesome, but FAR from relaxing.

  After our usual breakfast in Windjammer, hubby and I were off to see the ruins of three ancient cities: Ephesus, Miletus and Didyma.
I was most excited about Ephesus because of the biblical link. Ephesus is where Paul wrote his first letter to the Corinthians. Later he sent two letters to the church in Ephesus from Rome: Ephesians 1 & Ephesians 2).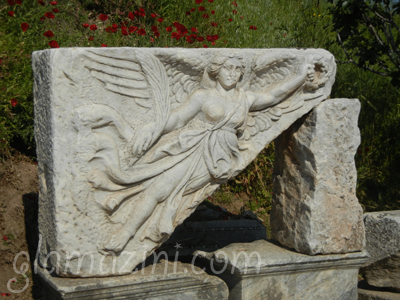 The Nike. They say the famous check mark logo came from the folds
of her dress 
(image: glamazini)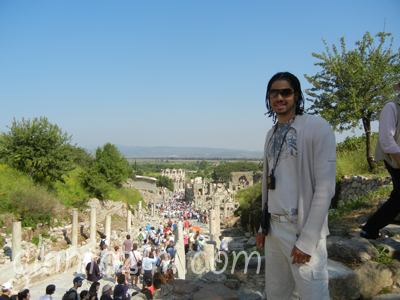 Adima overlooking where the partially excavated shops are, on our way
to the library in Ephesus. 
(image: glamazini)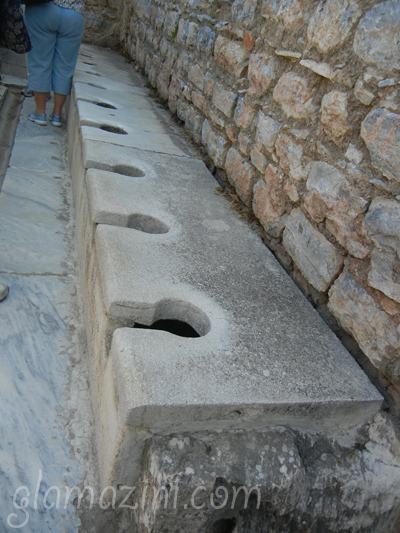 Public toilets complete with plumbing ala pit toilets nowadays. Water
flowed below flushing the waste into a citywide se
ptic system. Others
chose to take a picture sitting on them. I opted not to. (image: glamazini)
Ephesus was AMAZING!  They have 1/3rd of the city excavated now so we got to see 2 odeons (theaters), shops, the library, 2 agoras (marketplaces), public toilets, a brothel and several other buildings!  Amazing!!!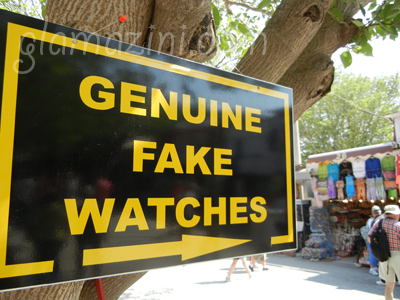 A sign near the vendors just outside Ephesus. This sign was
EVERYWHERE and 
hubby was so amused. (image: glamazini)
Next we visited Miletus which was significantly smaller than Ephesus and in more ruin.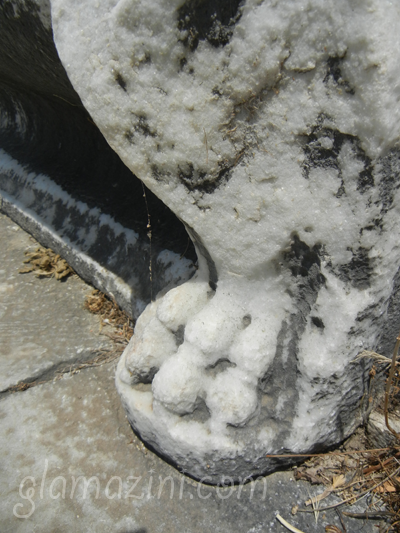 The finials of the benches in the theater in Miletus all had lion's paws.
(image: glamazini)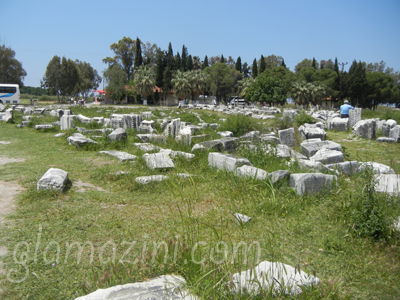 The ruins at Miletus.  I couldn't help but ponder that many years ago
these delicately carved columns and buildings were someones precious
art that they spent weeks doing … and now they lay here in ruined
crumbles with strange tourists walking by not caring about
the time and effort put into it.  (image: glamazini)
After Miletus was lunch at a buffet-stye restaurant in Didyma*. I didn't recognize most of the food but tried them many of them*.
We walked to Didyma to see the Temple of Apollo. The
amazing part was this grandiose temple was never finished.
After Didyma we had a long drive (nap) back to the cruiseship port.
Stay tuned for more!


* This restaurant buffet in Didyma almost kilt (yes kilt) Adima and I in the upcoming days.  Bad bad bad!