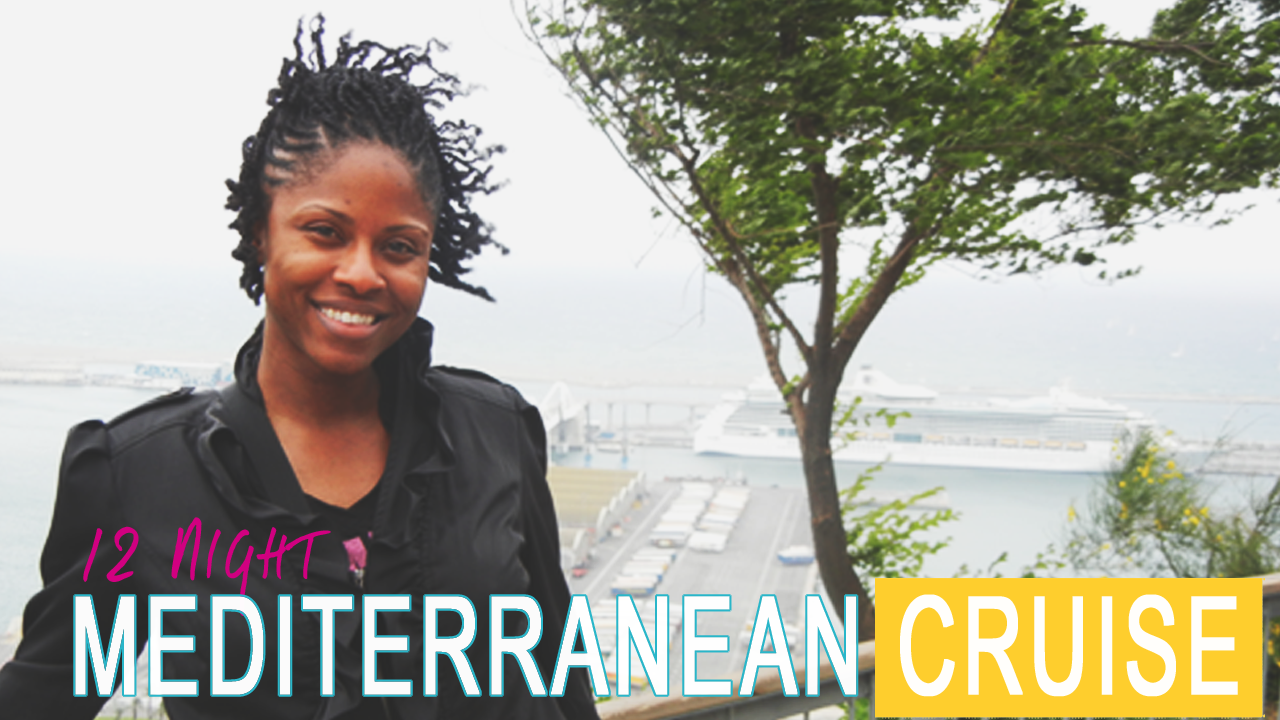 We're at it again.

By "it" I mean hubby and I just returned from another cruise, this time to the Mediterranean with a couple nights in Spain tacked onto the end.

I'll be documenting our cruise-capade here all week.
This cruise was on Royal Caribbean International's ship, Brilliance of the Seas.

We usually use our favorite travel agent, Diane at TheCruisePlanner.com, but this time we got a sweet deal via CruCon.com and couldn't pass it up. I was asked for the details so here goes: the price was $1,299.00 per person for an interior cabin guarantee (meaning no assigned cabin number). When tax and port charges were added it totalled $1,434.03 per person. We were given a $200 shipboard credit from CruCon (so akin to -$200 of the cost).
The cruise started in the port of Barcelona, Spain then traveled to:
Villefranche (Nice), France
Livorno (Florence/Pisa), Italy
Civitavecchia (Rome), Italy
Piraeus (Athens), Greece
Kusadasi (Ephesus), Turkey
Santorini, Greece
Naples (Salerno) Italy
We stayed 2 nights in Barcelona after the cruise ended. This cruise was going to be our honeymoon, but we changed our mind during the wedding planning (and are now happy we did, too much cruise-capade for right after a wedding

). We put it on the shelf, and vowed to do it for our 5 year anniversary celebration. The end of this year is crazy so we decided to celebrate early (our actual 5th anniversary is 11/11/11

) as well as several other milestones at once, namely:
hubby's upcoming graduation
10 years of knowing each other (we met May 2001)
early 5th anniversary celebration
Note #1:
These posts were mostly written while I was on the ship so read them from that perspective.
---
Friday May 6th 2011 ~ Traveling to Spain
The car picked us up at 10:30AM for 12:48 flights from St. Louis to Atlanta, then onto Barcelona. We used Chesterfield Taxi Service again and as usual, I highly recommend them! Once we reached the airport it was sad to see it all boarded up due to the recent tornados.
After a short wait, we boarded our flight and had a non-eventful flight to Atlanta, thank God. Once in Atlanta, we made our way to Concourse E, for international flights. Our 1st impression was that it was nicer than the "domestic concourses". There were flowers on tables and general "ambiance". Also, the people were dressed differently … ironically more like my husband dresses (which we later learned is very "European").
We ate at TGIFridays with time to spare, then head to board flight 114 to Barcelona. 8+ hours, one unhappy screaming 1-year old, and 2 hours of sleep later we were in Spain.


Note #2:
Never do an international flight with a child that cannot understand communication (ex. an unhappy screaming 1-year old). No.

Note #3:
When doing an overnight international fight earplugs (here are my favorite earplugs) and an eye mask (here is my favorite eye mask for sleeping) are A MUST!
---
Saturday May 7th 2011 ~ Barcelona, Spain
Once we landed we had a full day planned. First, thing I did was change my watch.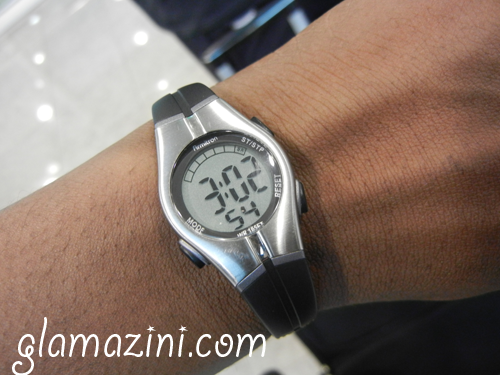 Next, we tried and failed to get currency exchanged from U.S. dollars to Euros in the airport. It was Saturday and only 1 teller was open so the line looked like this:
We had a tour scheduled and the meeting time was fast approaching to we ditched the currency exchange line.
Note #4:
The line to exchange currency in the Barcelona airport is unforgiving, and if it is a Saturday expect many people, one teller, and give yourself ample time or else.
We quickly found our meeting point for the Barcelona City & Airport Transport tour.
The tour was great! We wanted to do it because when we returned to Barcelona at the end of our cruise we would know what we want to see and not feel like we hadn't seen any of the city. The tour took us through the city's highlights, the Gothic Quarter, La Sagrada Familia, the Columbus Monument, Montjuïc, the 1992 Olympic Ring & Stadium and much much more.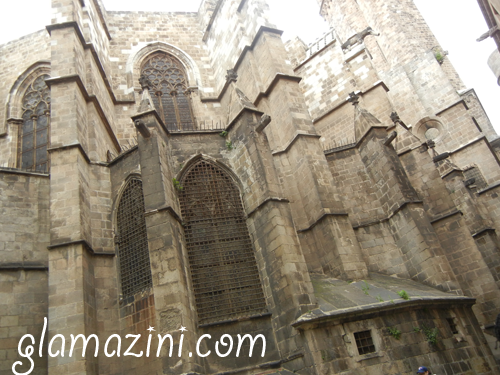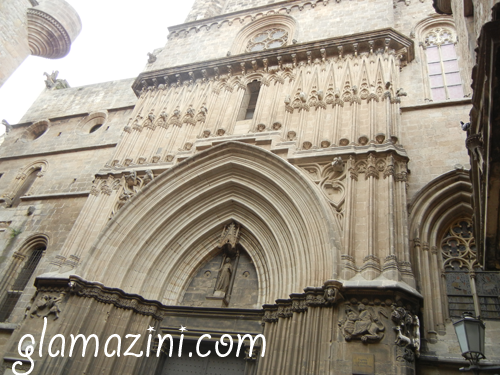 Once the tour ended, the tour bus took us straight to our ship. Perfect.
Note #5:
The cruise line took our passports from us when we boarded (which was disconcerting) and gave us a flimsy "passport receipt". They did this for all passengers (to my knowledge) and eventually returned them to us onboard the ship near the end of our cruise.
By this time, I was slap-happy and delirious. Remember, I'd been awake for 36ish hours or more at this point. Once on the ship, we went straight to our room, 8519, an interior cabin. We prefer balcony cabins but (once again) decided to get an interior cabin to save money so we could splurge on other portions of our trip.
The room was satisfactory but I wasn't excited. The bathroom smelled strange AND I began to be sick to my stomach (another reason why I'm not a fan of interior cabins). We decided to explore the entire ship (as we usually do) since this was our 1st ever cruise on a Radiance class ship. These crazy carved creations (chocolate and ice) were in the entrance of the Windjammer Cafe buffet on the 11th floor.
Once back in the room we attempted to unpack but I was WAY too sick to even stand up & hubby ended up doing most of the work. When I was a kid my parents sailed with interior cabins and I was always sick while in the rooms. This is why I prefer balcony cabins. We had a promenade interior cabin on our last cruise, and I did an interior with my mom so I thought I was cured. Thing is, I was medicated on the cruise with my mom and apparently the window in our promenade interior made a difference. Who knew.
Miraculously I had brought Bonine as a last minute packing item so I took one after the fact, ate an apple and fell asleep hoping to wake up feeling better. I did not, but getting out of the room & steady cans of ginger ale helped. We went to dinner, met our tablemates, who seemed cool enough. Finally, we walked around a bit more then went back to the room and straight into bed (remember we were delirious and awake for longer than a man should be LOL).
See you for Day 3!