This is post number 8 in my series documenting my husband and my cruise on Royal Caribbean International's ship, Brilliance of the Seas.

Read Days 1 & 2 ~ Traveling & Barcelona, Spain
Read Day 3 ~ Nice & Eze, France ~ Monaco (Villefranche)
Read Day 4 ~ Florence & Pisa, Italy
Read Day 5 ~ Rome, Italy (Civitavecchia)
Read Days 6,7 & 8 ~ Days at Sea & Athens, Greece
Read Day 9 ~ Kusadasi, Turkey (Ephesus)
Read Day 10 ~ Santorini, Greece
::::::
Monday May 16th, 2011 ~ Day at Sea
Let's see … where did we leave of?  

Aw yes,



After the night-o-noro-virus we made our way down to the medical facility bright and early. It opened at 8AM and, if you went when it was open, it was free. Otherwise there was a RIDICULOUS charge and we were sick to our stomachs not our heads

.  As soon as we hit the door we recognized the lady sitting in the waiting room. She had been on our cable car ride just the day before in Santorini. We assumed that meant something in Santorini did us in, but we later deduced, along with the medical facility that it was most probably the restaurant in Turkey.
It was a minor solace to discover that we were not the only people ill. There were MANY others according to the medical facility staff. It was also a solace to find out that we could get some free medications: 1 to help stop stuff from spewing from our top ends and a 2nd to help stop stuff from spewing from our bottom ends.  Yes, I know, this is NOT GLAMOROUS but as I've said, it happened so deal

 .  That was the good news. The bad news was because we went to the medical facility, we were now put on quarentine in our room for the next 24 hours.

NOOOOOOO!!!!!!!  

That day was a day at sea, but the following day we were in Naples and I WANTED TO SEE POMPEII!!!!

   I've been OBSESSED with Pompeii since I was a child and told my husband when planning this cruise that I HAD to see it.  That was not going to happen if I was  quarantined in my monkeyflippin room!!! 



Moving right along *sniff* 

 … we were allowed to rent movies for free off the television (we rented 3, they are like $13 a pop

 ) as well as drink whatever we wanted for free out of the stocked fridge (the only thing I could stomach was the water and the Perrier and you BEST believe I drank it ALL up! 

 ).  Lastly we were issued the GI Diet menu to call to room service and order as much as we'd like….and. that. we. did.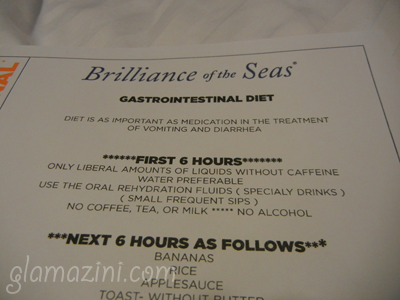 The GI Diet menu … I tore that apple sauce UP! 
(image: glamazini)
By the time we'd made it down to the medical facility that morning we both had gotten rid of any food in our systems but were still not 100%.  The news of the quarantine annoyed us but the medications kicked in quickly and we spent the remainder of the day in our room basically going stir crazy. We slept, watched movies and ordered applesauce, potatoes and veggies off the GI menu until we were sick of it (except the applesauce, I kept ordering it even after I got better LOL).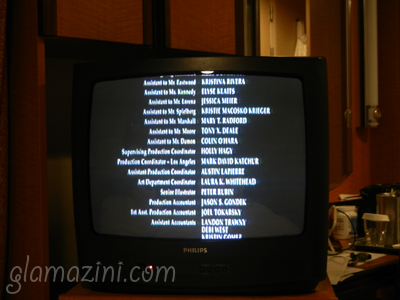 We watched FOUR movies for free in the room.

(image: glamazini)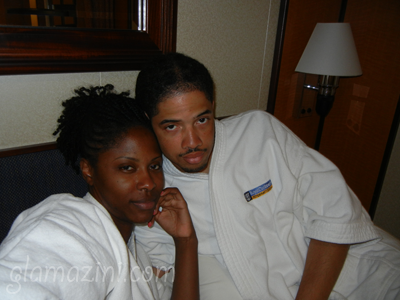 Look at us, sick like dogs but STILL dedicated to taking pictures for
this here blog. 
(image: glamazini)
Obviously during this time I was not typing blog posts so the majority of this if from memory.  I do remember that 1/2 way through this day we found out that quarantined also meant our Sea Pass card (the only currency on the cruise ship that is tied to your credit card) was locked.  This meant we could leave our room but could not purchase anything on the ship or leave the ship, and if we tried to, they would be a
lerted since the entire ship's computer system was linked.  Fancy yet scary, we were basically sick prisoners.  Honestly we were too weary to care so we watched movies to our hearts content eating up their food and tearing through the fridge as much as we could.
Tuesday May 17th, 2011 ~ Naples, Italy
The next day we got a phone call around 8AM from the medical facility saying I was off quarantine but Adima was not.  We watched another movie on his account just to get 1 more freebie in #dontJudge 

 .  He was free to go about 45 minutes after that BUT of course we had missed our tour of Pompeii which left at 7:30AM *weep* 

 .  Thanks be to God they gave us our $ back because we booked via the cruise ship and remember, their computer systems are all linked so they knew we were sick and on quarantine.
Later that day we decided to just get off the ship to say we had done so. There were shuttle buses running in and out of Salerno, Italy (where we were docked).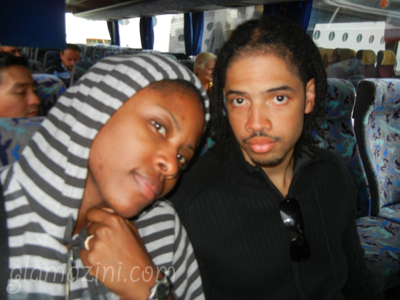 Us on the bus (don't we look like people that just went through
some thangs?! )
(image: glamazini)
Basically we walked around for maybe an hour, window shopped, then got back on the bus and went back to the ship.  I thought it was pretty but wasn't all that impressed after the wonders of all our previous days ashore.
When I got back into the room I was TOO happy about the towel monkey.
That night on the ship we made our way to the dining room and ate cautiously with no issue (thank God). We caught a game show in the lounge (dude in the picture got hit with pie) then made our way back to our rooms since our energy was still super low.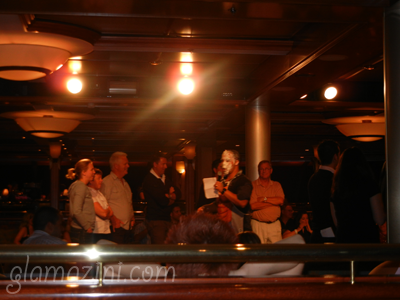 Silly game show on the ship.  (image: glamazini)
Wednesday May 18th, 2011 ~ Day at Sea
The last full day of the cruise was pretty non-eventful. I spent a lot of time strolling around, reading, sitting at the sports court watching people and taking video of the ship (which I may compile and put on YouTube…we'll see)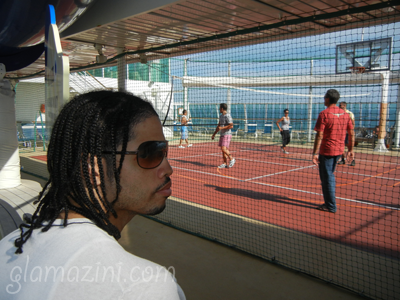 Hubby at the sports court chillin.  (image: glamazini)
Stay tuned for more once we were back for our 2 nights in Barcelona!  

Until next time Glam Fam I wish you
Life, Liberty & The Pursuit of Nappyness,

@Glamazini | facebook.com/IamGlamazini