First Weekly Update video since getting back from our trip to the Virgin Islands. Listen, it's been raining and cloudy for a week and I. Miss. The. Virgin. Islands. a.k.a. the real life happy light.
Anyhoo … it's Weekly Update time … Enjoy!

Watch the video directly on YouTube.
Want to see previous Weekly Update videos?
Click here to watch updates from past weeks!
My travel destinations were
St. Thomas U.S. Virgin Islands (USVI) and Tortola British Virgin Islands (BVI)
The jewelry subscription box that was gifted to me is
Dazzley Box. Visit their website to find out more information, pricing and subscribe.
For 10% off any Dazzley Box Subscription use the code GLAMAZINI5
My 2nd YouTube channel is
YouTube.com/IamGlamazini. Subscribe for upcoming vlogs of my trip to the VI and generally to support. You can do so by clicking here. *thank you*
My Instagram account is
Instagram.com/Glamazini. Follow me to check out the photos from my trip and more.
My Facebook fan page is
Facebook.com/IamGlamazini. Like my page to check out photos from my trip and more.
My Alvin Ailey shirt is
the 50th Anniversary Collection Buke Unisex Tee that I loooooooove! (hence me wearing it so much).
The books I discussed are
Let's Pretend This Never Happened
by Jenny Lawson | My review on Goodreads
One Drop by Bliss Broyard
Information about Rachel Dolezal and her race-shifting ways
is all over the interwebs. Basically Google "Rachel Dolezal" and read about her and her current exploits to your heart's content.
My light therapy box is
the HappyLight Liberty 7.5K Energy Lamp
by Verilux
I take chlorophyll
to alleviate my anemia. Here's what I take and do.
I take Vitamin D oil
to stabilize my mood. Here's what I take and do.
Want smoothie recipes?
Here ya go. Thank me later (or below in the comments, your choice lol)
Magen's Bay Beach
is my favorite place in the world. Find out more at MagensBayAuthority.com
The most current information about the shootings at Emanuel AME in Charleston, SC
can be found by Googling "Emanuel AME Charleston Shootings" … unfortunately. 🙁
Here is a very helpful post from a friend on Facebook, reposted with her permission: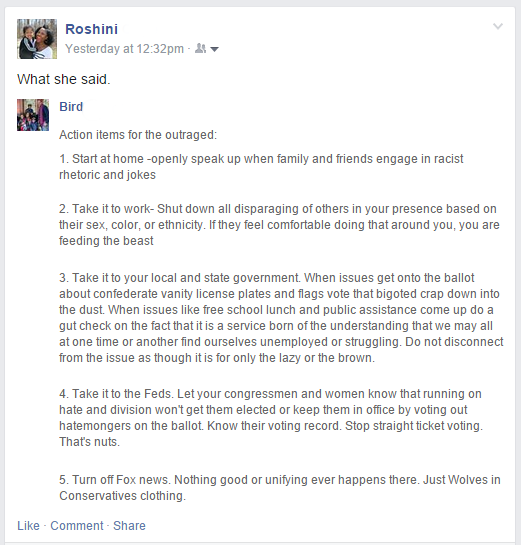 Rest in peace to the victims of this evil crime.
Lastly, I'm spending a bit of time updating my Patreon account and its offerings
I would love it if you checked it out at Patreon.com/Glamazini. If you want to know more about Patreon read this blog post I did last year. Being a video creator is a labor of love. The video above took me 2 days to edit, approximately 8 hours of editing total. I am able to continue producing quality videos and blog content with the support of my Patrons. Thank you! *mwah*
Hope you had a great weekend. Happy Father's Day to all the dads out there AND happy birthday to my Flickerbug. See you next week.