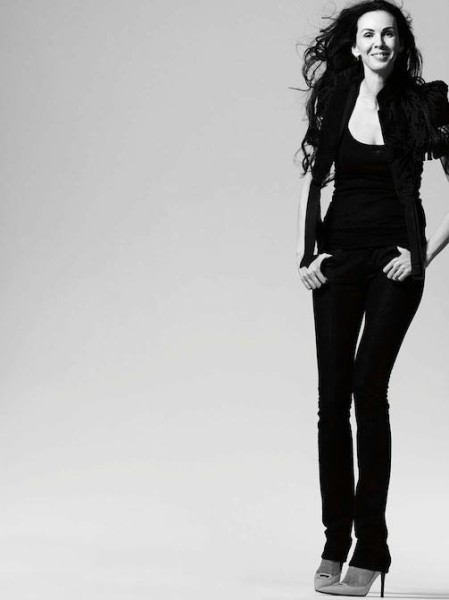 I almost didn't do this post because … I just can't. Ugh.
On Tuesday my heart fell into my feet.  One of my favorite designers, L'Wren Scott, apparently committed suicide on this past Monday, March 17th. I recently fell in love with her work when I saw this neck art posted in last year's Glamour Magazine.  I was so taken that I looked her up and absolutely was stunned by every piece she created.  Not only that, but she stood 6 foot 3 inches tall, and y'all know how I love a tall girl with style.
While watching television I learned that her assistant found her in her Manhattan apartment dead from an apparent suicide. Mental health is real ya'll, it's so real. Man.  I followed her on Instagram, but it seems they have deleted her account (and her Twitter account and YouTube channel are gone as well).  
Since then I've learned that she may have been in debt and at risk of having to shut down her show, which had shrunk each season per industry insiders.  She left no note explaining why she was at the end of her rope. Her long time boyfriend , singer Mick Jagger, is distraught but surrounded by family. Her loved ones are now planning a funeral. Man. 
Here is a Facebook page I found set up in her memory.
As you all know, my heart is for mental health and living a life that is well.  As with all the recent celebrity deaths by their own hand, my heart wept for her life, her struggles, her heaviness, her need to put on a glamorous good face online, her family, her boyfriend loved ones, and her choice. This horrible choice. Sigh.
My condolences to her family and those affected by this loss.
In 2012 I wrote:
Whenever I hear that someone has taken their own life my stomach drops into my feet and I sigh so deeply in my soul. I do so because, unlike many it seems, I totally get where that person's mind was/is at the time that they just wanted life to stop, for the noise to end. Before I go on, no one needs to write me any lengthy notes about the value of life at this time. I'm ok, I'm not there right now … but I have been and I can relate and understand the mind of the depressed and suicidal.
And yes, I'm still ok.
I decided to do this post because I feel every opportunity can be used to repeat the much needed message. Everyone who is secretly suffering with mental illness, discouragement, depression, hopeless, or suicidal please get help!
Please.
There is hope … there is light … you can laugh again … if no one else tells you today, ever tells you, I understand, I really do.
If you or anyone you know is in danger of harming themselves click here for resources and someone you can talk to.
Love & Light,
~ ini