Look what I did

  (I'm so easily amused)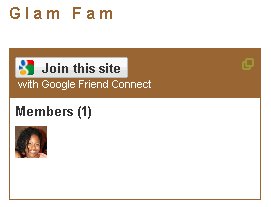 I added Google Friend Connect to my site so ya'll can join me

 hee hee, I'm excited! 
Ok so don't make me the only member of my site (yes I joined my own site, what?)…scroll down and join by clicking the 'Join this site' button in the box on the right of the page.
How exciting!

Oh and I'm not sure if I'll keep it called "Glam Fam" forever, but for now that works

… I'm still trying to figure out the entire Google Friend Connect thingy but this is a great feature, yippeedoo!!!!!