Last week while at the BlogHer 2013 conference in Chicago I attended the Lipstick & High Heels event held at Indique Boutique and hosted by Trina from The Baby Shopaholic, my girl Danyelle from The Cubicle Chick and Raijean from Swa-Rai.  The event was a fun start to my weekend and I met lots of great bloggers as well.
If you want to peep photos of the event taken by Mark Terrance Photography you can do so HERE.
At the close of the event attendees were given swag bags with items supplied by the sponsors. I kid you not, THREE of my favorite swag  from the entire weekend came in that swag bag: the Avon Mega Effects Mascara, this funky cute M325 Wireless Mouse from Logitech that I'm using right now as I type this post, and lastly the ♥ magical magic in a jar that is Eden Body Works Coconut Shea Cleansing Cowash  ♥.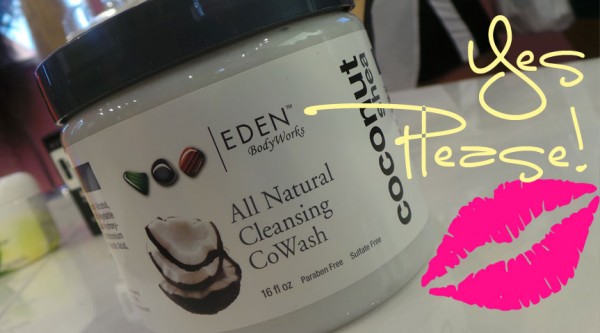 So as you may know, I actually took a the Curlicious Curls Cleansing Cream but only used it the first morning I was there because that night I received the Eden Body Works Coconut Shea Cleansing Wash, tried it the next morning and switched to using that the rest of the entire trip!
The Coconut Shea Cleaning Cowash is a product designed especially for you to conditioner wash (cowash) your hair and remove residue between washes with traditional shampoos. If you're not familiar with cowashing, it is exactly what it sounds like … you "wash" your hair with a conditioning product instead of traditional shampoo which tends to contain sulfates that are stripping to the hair and can leave it dry and brittle.  Cowashing can make your hair feel softer, more pliable, more moisturized, smoother and therefore less prone to breakage, splitting and exiting your head before you want it to. LOL
The sulfate-free, no suds gentle formula of the The Coconut Shea Cleaning Cowash   was exactly the kind of product I wanted to travel with because you never know what the weather or water will be like when you're away from home.  The first time I used the Eden's cowash my hair felt softer, with more slip and generally amazing; clean with no residue but not stripped bone dry. Perfection.  I was so excited I stopped in my hotel room (with my girl Kesha from Uncommon Chick in the background beating her face LOL) to film a video and tell YouTube about my new love.
Check me out here:

Click here to watch the video on YouTube.
Another thing I love about this product is it smells amazing but not too girly so it can be used by both myself and my husband. I also like the packaging being clean but not too girly for the same reason, and I love "pots" of products with flat tops because they are easy to stack in my cabinet or on a shelf (yes this has been an issue in the past).  Lastly this Cowash comes in an 16oz container for $8.99!  I have short hair so this will work for me for a long time.
I actually like this product so much I was sad when I had to stop using it because, as you know, I review a lot of products and I had to move on to trying a new brand *tears*.  This is the kind of product I would use and purchase on a regular and it has actually made me very curious to see what the other items from Edens Body Works are like.
Great stuff!
Do you have a favorite cowash product? Is this Edens Cowash it?