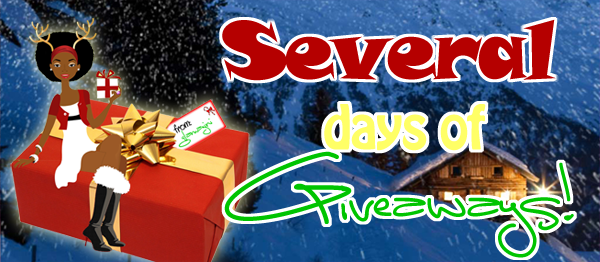 It's that time of year again.
Time for the holiday season to commence (at least in my world LOL), time for me to start acting even more silly on videos, and time for you to have a chance to win lots of goodies until the end of the year. It's "Several" Days of Giveaways time! WOOHOO!!
First up is a chance for you to win you a pair of button earrings from NIUS Creations. You can only enter on YouTube or on Instagram but I wanted my whole audience to have a chance to mosey on over and win if they'd like.
Here's the video:
or Click here to watch it on YouTube.
aaaaand here are the details:
❅ ❅ ❅ ❅ ❅ ❅ ❅ GIVEAWAY SPONSOR ❅ ❅ ❅ ❅ ❅ ❅ ❅
Many thanks to NIUS Creations! Be sure to check them out for your holiday shopping and more!
Shop: NIUSCreations.etsy.com
Instagram: @niuscreations
❅ ❅ ❅ ❅ ❅ ❅ ❅ GIVEAWAY RULES ❅ ❅ ❅ ❅ ❅ ❅ ❅
There are two (2) ways to enter this giveaway:
1 . ON YOUTUBE: Visit NIUSCreations.etsy.com then leave a comment on this video on YouTube only telling me which item you like.
2. ON INSTAGRAM: Share an image from @niuscreations on your Instagram account with the hashtag #niusglamgiveaway
You must be following both @glamazini and @niuscreations on Instagram.
You MUST be 18 or older.
You MUST have a U.S. mailing address (sorry International Glam Fam, check back, there will be giveaways coming up for you soon)
You can enter as many times as you please
Failure to follow these rules will result in disqualification of your entry or a new winner being chosen.
❅ ❅ ❅ ❅ ❅ ❅ ❅ GIVEAWAY DEADLINE ❅ ❅ ❅ ❅ ❅ ❅ ❅
Saturday, November 9, 2013 at 11:59:59 p.m. CST.
❅ ❅ ❅ ❅ ❅ ❅ ❅ GIVEAWAY WINNERS & SELECTION ❅ ❅ ❅ ❅ ❅ ❅ ❅
There will be two (2) winners, one (1) from YouTube and one (1) from Instagram. You cannot enter anywhere else. The winners will be selected by Glamazini (that's me). I will contact the YouTube winner via their YouTube inbox, and the Instagram winner via the comment section on Instagram. Winners have one week from day of contact to respond or a new winner may be chosen. I may announce the winners on Youtube and Instagram. By entering you agree to any winner announcements as well as to provide your full first and last names and U.S. mailing address.
❅ ❅ ❅ ❅ ❅ ❅ ❅ GIVEAWAY PRIZES ❅ ❅ ❅ ❅ ❅ ❅ ❅
This giveaway is sponsored by NIUS Creations. Both pairs of earrings will be sent to the winners by NIUS Creations.
Good Luck!