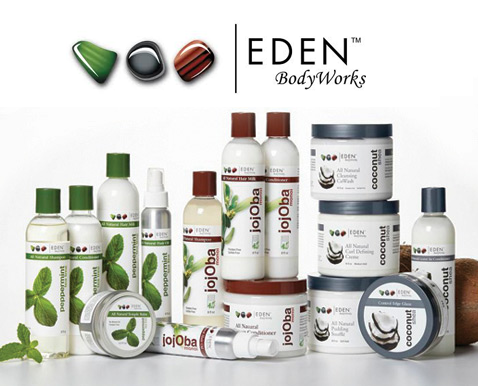 Hey hey now, I'm back with giveaway numero 8 in my "Several" Days of Giveaways holiday giveaway series!  This is too much fun ya'll. This week's giveaway is sponsored by EDEN BodyWorks a company dedicated to creating hair and body products that are all natural and actually work!  I was inspired to partner with EDEN when I received their Coconut Shea Cleansing Cowash in a swag bag and fell in love.   So much so that I contacted the company sure the rest of their offering was equally as heavenly. You won't believe what they agreed to do!
Watch this video to find out:
or Click here to watch it on YouTube.
Many thanks to EDEN BODYWORKS!  Be sure to check them out for your holiday shopping and more!
My previous EDEN BodyWorks Coconut Shea Cleansing Cowash review
/2013/08/eden-body-works-coconut-shea-cleansing-cowash.html
❅ ❅ ❅ ❅ ❅ ❅ ❅ ENTER THE GIVEAWAY HERE ❅ ❅ ❅ ❅ ❅ ❅ ❅
❅ You MUST be 18 or older.
❅ You MUST have a U.S. mailing address.
❅ Failure to follow these rules will result in disqualification of your entry or a new winner being chosen.
❅ ❅ ❅ ❅ ❅ ❅ ❅ GIVEAWAY DEADLINE ❅ ❅ ❅ ❅ ❅ ❅ ❅
December 27, 2013 at 11:59:59 p.m. CST.
❅ ❅ ❅ ❅ ❅ ❅ ❅ GIVEAWAY WINNER & SELECTION ❅ ❅ ❅ ❅ ❅ ❅ ❅
There will be two (2) winners, selected by Glamazini (that's me). One of the winners will receive five (5) full size products and a branded bag from the Eden Body Works Coconut Shea Collection. The other winner will receive five (5) full size products of their choosing from Eden Body Works. Prizes are subject to availability, substitutions are at the discretion of Eden Body Works. Only entries via Rafflecopter will be valid. Winners will be contacted via the contact information entered in Rafflecopter when entering and have one week from day of contact to respond or a new winner may be chosen. I may announce the winners on any of my social media accounts. By entering you agree to any winner announcements as well as to provide your full first and last name, complete U.S. mailing address and telephone number.
❅ ❅ ❅ ❅ ❅ ❅ ❅ GIVEAWAY PRIZES ❅ ❅ ❅ ❅ ❅ ❅ ❅
This giveaway is sponsored by Eden Body Works. Prizes will be shipped directly to winners by Eden Body Works.
❅ ❅ ❅ ❅ ❅ ❅ ❅ CLOSED GIVEAWAY WINNERS! ❅ ❅ ❅ ❅ ❅ ❅ ❅
NIUS Creations (Instagram): instagram.com/gweny_rad_bro
*NEW* NIUS Creations (YouTube): youtube.com/mznaturallife
Ross Winner (Glamazini.com): jay
ToniDaley.com (YouTube):  youtube.com/DrkNSwt
ToniDaley.com (Glamazini.com): Catherine E.
Houseful of Stitches (YouTube): youtube.com/ChinaDoll762
Celestial Crowns (YouTube): youtube.com/daktaricici
Celestial Crowns (Glamazini.com): Brenda B.
Sénica : ends December 18: /2013/12/sdogiveaways-senica.html
Purpose by Design: ends December 21: /2013/12/sdogiveaways-purposebydesign.html