It's that time again y'all … time for my
Fall Look Book featuring my BELOVED ❤ Long Tall Sally ❤!
I been riding with LTS since WAAAAAY before they partnered with me as a Long Tall Sally Ambassador, and have items from them (& their predecessor Tall Girl) that are over 20 years old.
The best part of this look book is, because of my effort to live with less stuff, I was able to bless a friend's beautifully tall daughter with 2 items in exchange for forced labor as a model.
BWAHAHAHA!!

No really.

Anyhoodles …
… I was sent 3 items to style, let's get into the outfits.
First up these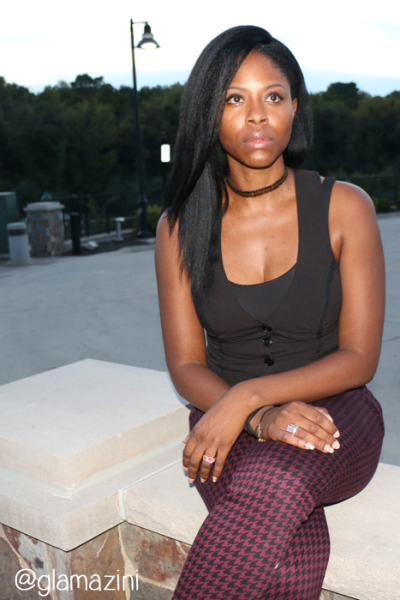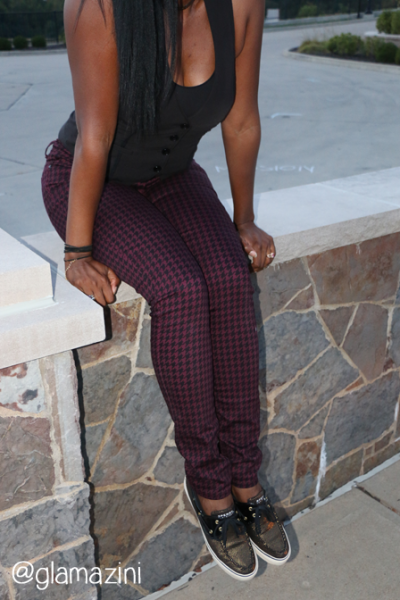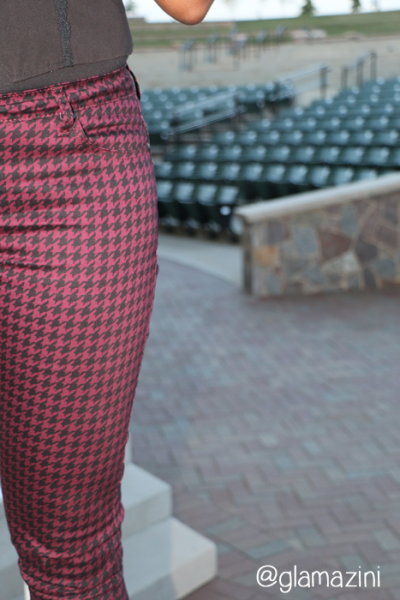 I put these jeans on and instantly fell in love. LOVE I SAY! They are trendy in this fabulous plum color with stretch in the denim. Love.
Do you see these jeans?!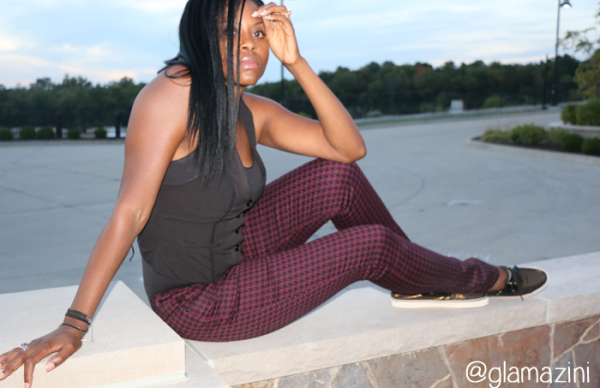 Do you see them now?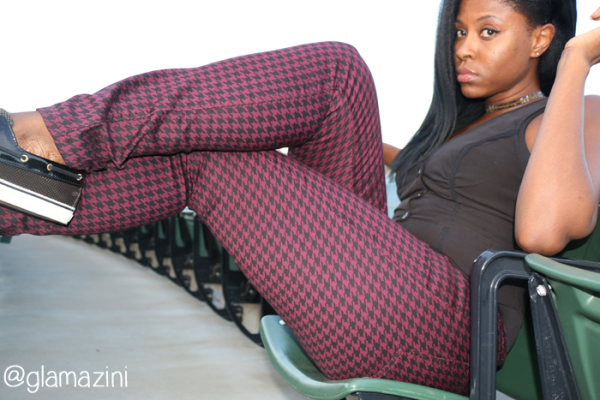 KABLAMY DAGNABBIT!!!
Listen y'all … full disclosure I've had some issue with the fit of pants from LTS in the past. Don't get me wrong, some of my favorite pants are from LTS, but it was pretty hit or miss when it came to the fit and I often had to return pants specifically. Some I purchased would fit perfectly, others would be saggy in the crotch. Well the folks at Long Tall Sally "reworked all their styles to give you a better fit" and chile lemme tell you these suckas fit me like per.fect.ion.
Changes made to revamped LTS denim fit
Pocket bags extended into the fly to hold in tummy and make it appear flatter
Repositioned the side seams for narrower hips
Back pockets are smaller and have been repositioned to give you a "pert and smaller bottom"
Now I don't know if my bottom is "pert" or if I want it to appear "smaller" #blackgirllife, but I do know that these jeans fit me so well I almost teared up real talk. I was so shocked when I put them on I started dancing around the house. As a tall girl it's hard out here trying to find cute clothes that fit well. I got a size 10 (yes chile I'm out here skinty) with a 36″ inseam. I. could. not. be. happier!
So much so that I went out and purchased two pairs of jeans from LTS with my own coins yes I did:
Exhibit A – Black Skinny Jeans
(Same 'skinny' fit as houndtooth ones pictured in this post)


aaaaand Exhibit B – Fuchsia Straight Fit Jeans ('Straight' fit jeans which I think I actually prefer even more than the blasted skinnies. They both ROCK! YAY!)
Seriously though, when I die bury me in these pink (or the houndstooth) jeans. I've worn all 3 pairs so far and they wash and wear well. So. Happy.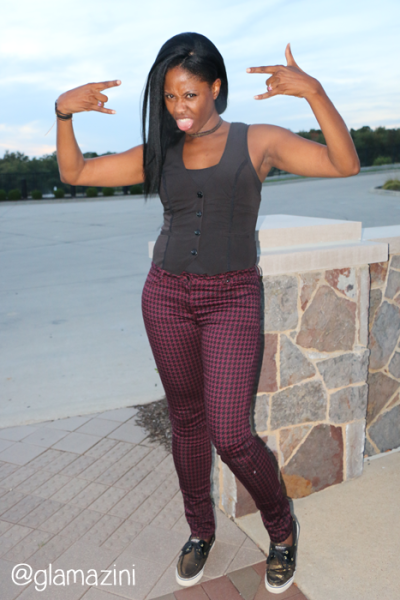 Hair – Kinky Straight Wig from Eva Wigs
Choker, Earrings, Bracelets – Owned for Years, Brands Unknown
Black Tank Top – Two-Way Seamless Tank from Nordstom
Vest – Brand Unknown from Von Maur
Jeans – Long Tall Sally Houndstooth Skinny Jeans (gifted)
Shoes – Sperry's Boat Shoes from Nordstrom Rack
Next up is Adia, who graciously agreed to help me with this look book and is rocking the next 2 items sent by Long Tall Sally.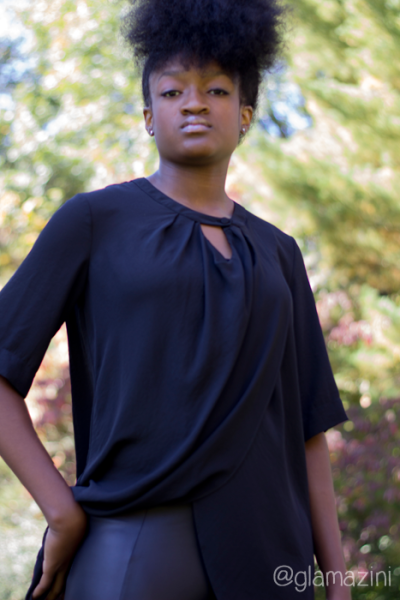 Yes yes, I know y'all are staring at the hair but focus, I need you to check out this tunic top for a sec.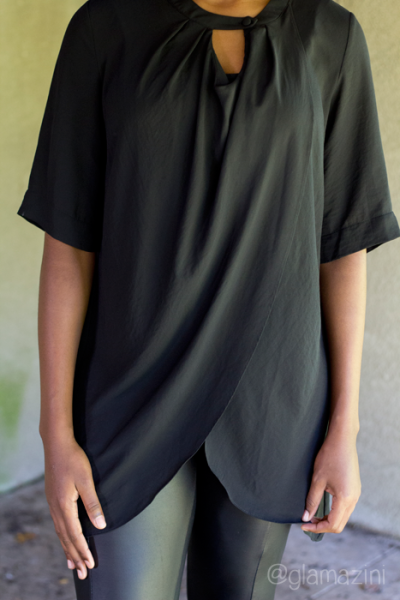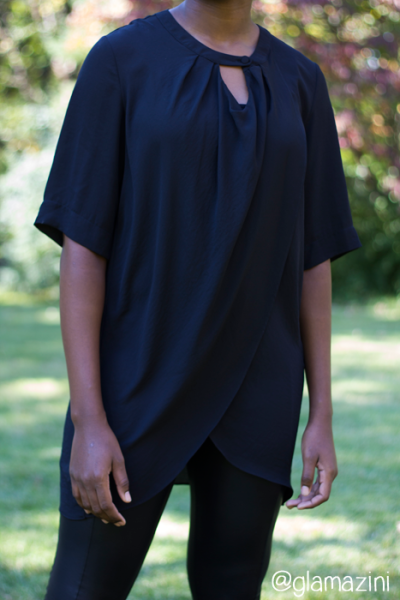 The fabric is sheer so it makes a great cover up over a dark tank. There's a cutout at the neckline that buttons and drapes beautifully. The hem reminds me of the petals of a rose and the back has a deep slit that makes it move with you when you walk.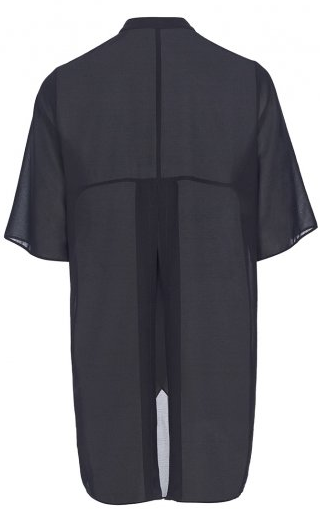 Adia paired the tunic with LTS's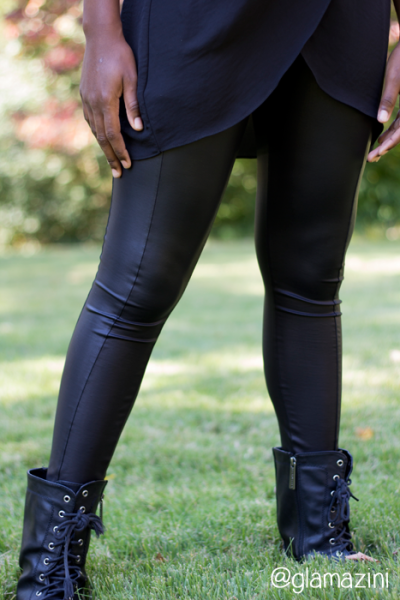 These faux leather leggings have a seam going down the center of each leg and are easy to pair with a dressy tunic, a casual top, even under a dress.
and as you can see, they pare perfectly with the Georgette Tunic.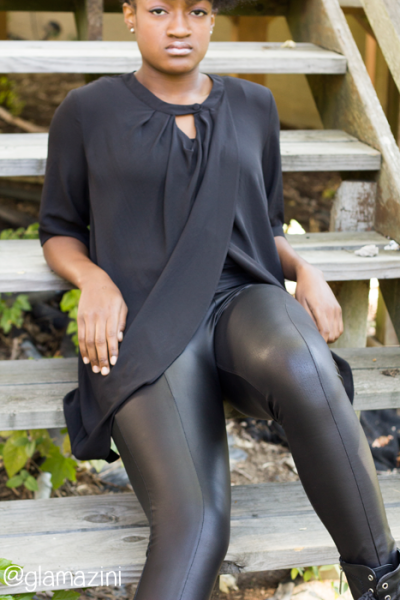 aaaand because I know you guys are still sorta thinking about her hair here ya go.
Hair – Growing out her scalp
Earrings – Previously Owned
Top – Long Tall Sally Georgette Wrap Tunic (gifted then gifted)
Leggings – Long Tall Sally Leatherette Leggings (gifted then gifted)
As always I made a video for you guys to see these pieces in motion. Someone on YouTube said I look like "jailbait" so you don't want to miss it LOL!!! Enjoy!

Click here to watch it directly on YouTube.
Leave a comment: Let me know which item you liked the best!